#IBMCodePatterns, a developer's best friend.
#IBMCodePatterns provide complete solutions to problems that developers face every day. They leverage multiple technologies, products, or services to solve issues across multiple industries.
Click here to know more
Advertisements
Snapdeal, the online shopping portal where the Micromax A116 Canvas HD was available exclusively, has taken to Facebook to calm angry customers who have ordered the Micromax A116 Canvas HD and still haven't received delivery of the smartphone.
The Facebook statement from Snapdeal reads:
"We know that some of you have been facing issue with regard to the Order placed for Micromax Canvas HD. We understand your concern and it is unfortunate that Micromax had to delay the orders due to procedural issues. Our team has vehemently dispatched the first lot of the orders despite the demand for it being at its peak. We along with Micromax have communicated by an e-mail (publish with this post) to each and every customer about the reason for the delay and the next course of action… We would urge you to understand that we are doing everything to serve you the best. We are here to answer every query of yours in the meantime… Hoping for your cooperation!"
The post of Facebook also says that due to the finance bill – which has made changes to the custom duty of mobile phones with an MSRP greater than Rs. 2,000, and has other implications – the price of the Canvas HD has been revised to Rs. 14,499. But if you are someone who has already ordered the Canvas HD, you will receive it at the original price, which was Rs. 13,990.
In addition, Micromax will be offering its customers a free carry case for the Canvas HD worth Rs. 700. If customers aren't willing to wait for the Canvas HD, Micromax promises to refund the billing amount at the earliest.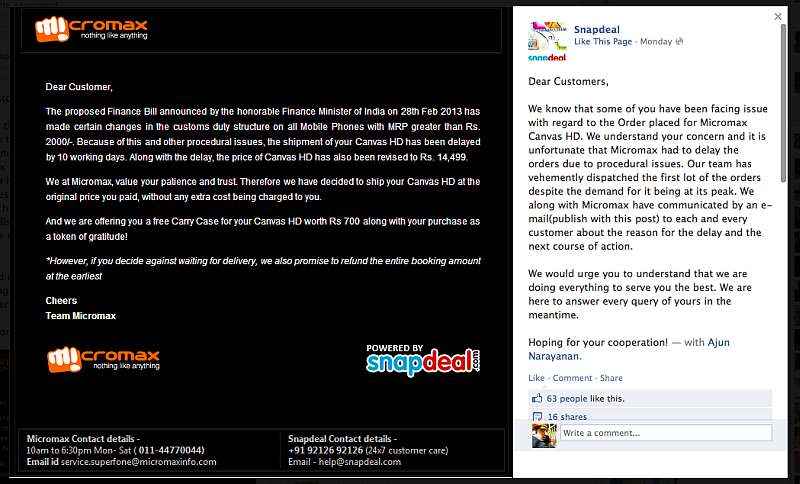 Micromax claims to have shipped 9,000 units on day one of the launch of the Canvas HD. Unfortunately, things don't seem too bright for the budget smartphone manufacturer's flagship smartphone, since then.
The Canvas HD is one smartphone that boasts of some pretty impressive specifications under the hood. It runs on Android 4.1.2 Jelly Bean and has a 5-inch display with a 1280x720 pixel resolution. It has 4GB built-in storage expandable via a microSD card. A 1.2GHz quad-core processor powers the smartphone along with 1GB of RAM. The rear of the device houses an 8MP camera and the front has a camera for video calling. It also boasts of dual-SIM capabilities and houses a 2000mAh battery.
If you are one who is tired of waiting for the Canvas HD, you can take a look at five alternate budget smartphones to the Micromax A116 Canvas HD.
You can also take a look at our comparison between the Canvas HD, the Samsung Galaxy Grand and the recently launched Xolo X1000.
Source: Facebook