At WWDC this year, Apple put the focus on Privacy and announced a number of iOS-specific features to restrict the way apps collect user information through iPhones. With iOS 13, Apple announced that users will be able to set up background location tracking alerts to check which apps are using location data and when. A way Apple would display these alerts when iOS 13 releases widely is to plot app-tracked location data of a user on a map. As spotted by 9To5Mac, Apple will alert users of apps tracking their location with pop-up notifications that appear when an app is tracking your location in the background. The publication has access to the developer beta of iOS 13, and has posted screenshots of how this activity will take place.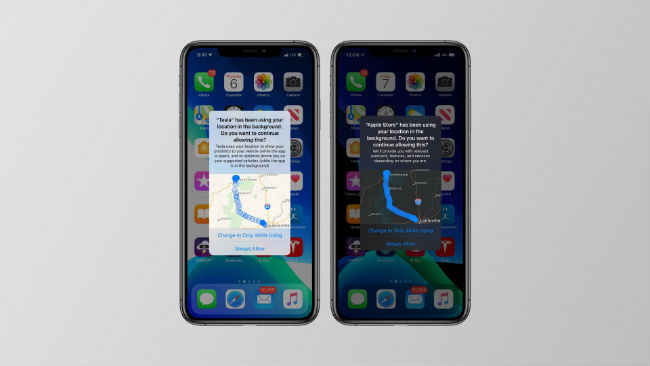 As you can see in the image above, pop-up location tracking notifications on iOS 13 will also display the reason why an app uses location data. In this case, the Tesla app and the Apple Store are seen tracking a user's location, the reasons for which are also mentioned in the notification. This will make developers more accountable for needing location data and apps will have to give users a convincing reason as to why they need location permissions. With iOS 13, users will also have an option to share their location data with an app "just once" so that it cannot be accessed by the app repeatedly. Apps will also be barred from accessing Wi-Fi and/or Bluetooth without user permission to fetch location.
According to Apple, the periodic pop-up alerts for location tracked by apps will give users an option to either give background location tracking access to an app, or revoke it completely, or modify it to "Just Once"/ "only while using" the app.
iOS 13 is currently in developer beta and will launch for public review in July.