It seems that Google has taken up the mantle to best the industry leaksters. Earlier, when tipsters were sharing source-based information about the camera of the Google Pixel 4, the company went ahead and posted an image of the camera module. Similarly this time around, when news of Google's Soli radar chip cropped-up, the tech giant edged forward and announced that the company will use Soli motion-sensing radar, which it has been working on for the last five years. This new technology is expected to enable Motion Sense and Face Unlock functionalities.
We have already seen these features in some other phones. Talking about Motion Sense, LG was first to introduce this concept in LG G8 that was launched at MWC this year. It called the feature Air Motion, which allowed users to use gestures to perform tasks like changing songs, increase/decrease volume, etc. When it comes to Face Unlock, it was first introduced by Apple in the iPhone X (Face ID) almost two years ago. Since then, other OEMs have been trying to replicate it by using the front camera, however, unlike others, Google is adding sensors in the Pixel 4.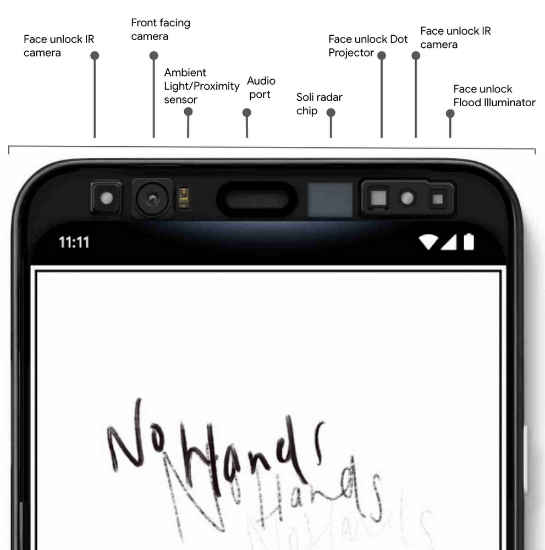 Moreover, the company also took a dig at Apple and said that keeping users' privacy and security in mind, it will store the facial data used to unlock the device on the Titan M chip on the phone. "As we shared last month, Pixel 4 is in the works. Today we're giving you an early look at the technology behind two new features coming to Pixel 4 that make your phone more helpful and represent the next step in our vision for ambient computing," the company said in a blog post.
Motion Sense
As mentioned above, Google has confirmed that it will be using Soli motion-sensing radar to power this feature. It said that the company's Advanced Technology and Projects team (ATAP) has been working on Soli for the past five years. Google says that it has developed a miniature version of the radar used to detect planes and large objects. The radar will be located at the top of Pixel 4 and it will sense small motions around the phone. Along with software algorithms, the radar will be able to recognise gestures. With the Soli radar at its disposal, the Pixel 4 will let users skip songs, snooze alarms, and silence phone calls, just by waving their hand(s). Google says that these capabilities are "just the start, and just as Pixel phones get better over time, Motion Sense will evolve as well." Motion Sense will be available in select Pixel countries.
Face unlock
"Unlocking your phone should be easy, fast, and secure. Your device should be able to recognise you — and only you — without any fuss. Face unlock may be a familiar feature for smartphones, but we're engineering it differently," Google noted. While taking a dig at Apple, Google said that unlike "other phones" that are required to be lifted "all the way up, pose in a certain way, wait for it to unlock, and then swipe to get to the homescreen", Pixel 4 does "all of that in a much more streamlined way." Apple has apparently improved upon the feature in the iPad Pro and it is likely to bring a better version in the 2019 iPhones.
Google says that as a user reaches for Pixel 4, Soli turns on the face unlock sensors and recognises that the user may want to unlock the phone. "If the face unlock sensors and algorithms recognise a user, the phone will open as you pick it up, all in one motion," Google claims. It adds that face unlock works in almost any orientation- even if the phone is held upside down - and the feature can be used for secure payments and app authentications. The comapny also released an image showing the components used for these features. There is no secondary camera on the front, it could mean that Google is going ahead with a single camera like the one in the Pixel 3a.
The company also mentions that it has taken into account the privacy and security of the users. It highlights that the face unlock feature uses facial recognition technology that is processed on the device. It claims that the images used for face unlock are not saved or shared with other Google services and the face data is securely stored in Pixel's Titan M security chip, which was introduced in Pixel3 devices. Similarly, Soli sensor data is said to be processed on the phone, and never saved or shared with other Google services.