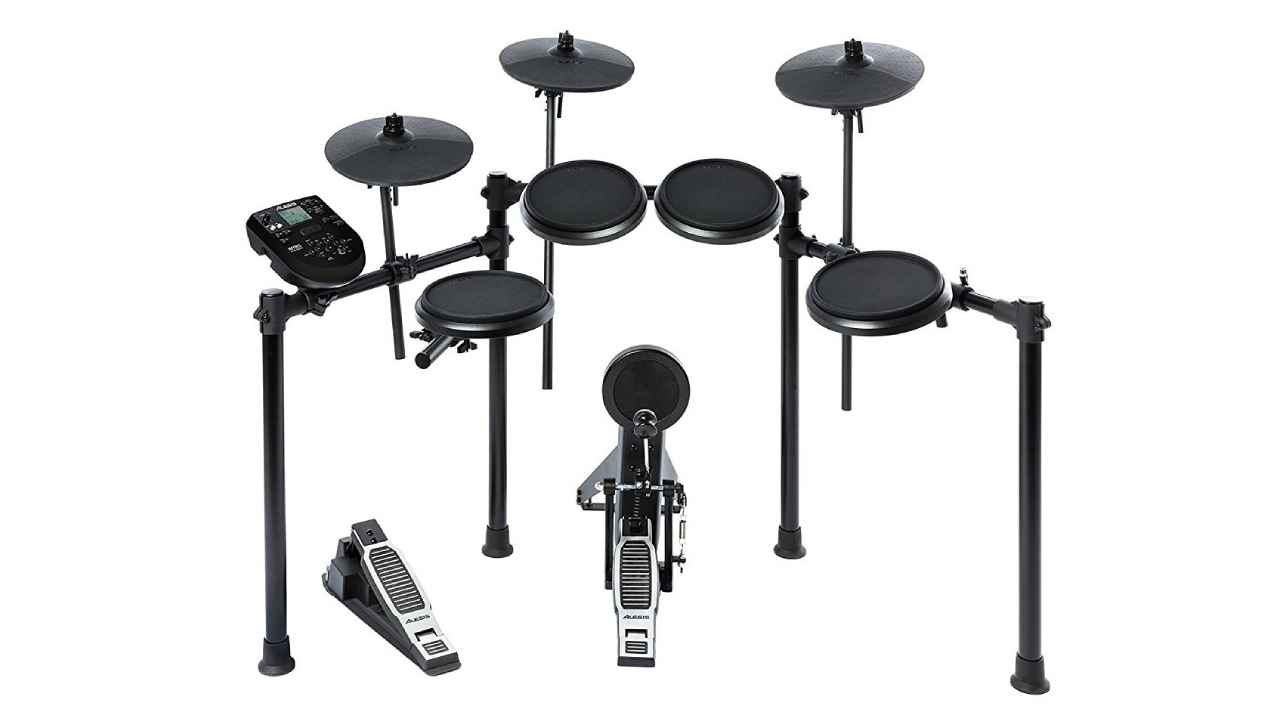 If you're just starting your journey as a drummer, investing in a good beginner drumming set is a complete no brainer. It will help you learn the basics while also letting you create music without any problem, and luckily you can find a plethora of electronic drum sets online, which makes finding a good one close to impossible. So to help you, here's a list of some of the top electronic drum sets that will help new drummers start their musical journey.
Alesis Nitro Electronic Drum Set
The Alesis Nitro is a complete 8 piece electronic drum set that includes three dynamic 8-inch tom pads, an 8-inch dual-zone snare drum, a kick drum pad with pedal, three 10 inch cymbals and 4 post aluminium mounting racks to keep everything bound together securely. Alesis has used a quiet and responsive rubber drum and cymbal pads to give the user a realistic drumming feel. This drum set comes packed with 40 ready to play classic and modern kits as well as 385 custom sounds and 60 built-in tracks to help you create good music in no time. To use this stand-alone drum kit, all you need to do is plug it into any stereo or headphones. You can also connect it to your PC or Mac via a USB port and create music.
Alesis CompactKit 4
Electronic drum sets from Alesis are so good that another one had to be added to this list, and this time it's Alesis CompactKit 4. This portable electronic drum set has a built-in speaker and a dedicated microphone jack to help you practice privately. It has four velocity-sensitive drum pads that deliver realistic drum sound and even responds like a real drum. Alesis is equipped with dozens of in-built songs and rhymes to help people practice without someone else's help. It also comes preloaded with 70 percussion voices, 10 effect voices and 50 play-along songs to help you get the perfect sound for your music. CompactKit 4 has a music coach feature that will help you become a drumming expert in no time.
Ashton EDP450
Ashton EDP450 is another portable drum set that offers great value. It has 2 pedals and 7 electronic drum pads with touch sensitivity to give you the feel and response similar to a real drum. To start drumming, all you need to do is hook it up to a good stereo or a good pair of headphones for a private session. You can also connect it to your PC or Mac using the USB port provided and create music from the comfort of your home. This portal drum set comes preloaded with 265 percussion voices, 128 general MIDI voices and around 100 songs to help you learn and create good music to your heart's content.
Behringer XD80USB
Behringer XD80USB is an 8-piece electronic drum set HDS240USB sound module. It comes with 10 factory preset drum sets along with 5 user-programmable drum sets. The large LCD panel and simple user interface help in easy operation without much help. It has USB and MIDI interfaces to help you connect to any virtual software for recording and easy music creation. Behringer is equipped with High Definition Sampling technology to ensure that the user has an authentic drumming experience. It comes preloaded with 175 studio-grade drum, cymbal and percussion sounds, and some in-built songs. Behringer XD80USB drum set includes an 8-inch dual-zone snare pad, three 8-inch single-zone pads, three 12-inch cymbals and kick pedal, pad and stand.