Highlights:
Google says the health of the Android ecosystem improved compared to last year.
The PHA install rates from Google Play increased from 0.02% in 2017 to 0.04% in 2018.
The company says this increase is due to the inclusion of click fraud as a PHA category.

In 2018, 0.45 percent of all Android devices running Google Play Protect had installed potentially harmful applications (PHAs), compared to 0.56 percent of PHA-affected devices in 2017, which equates to a 20 percent year-over-year improvement to the health of the Android ecosystem, Google has said in its "Android Security and Privacy 2018 Year In Review" report. It claimed that last year, only 0.08 percent of devices that used Google Play exclusively for app downloads were affected by PHAs.
The PHA install rates from Google Play increased from 0.02 percent in 2017 to 0.04 percent in 2018, Google said, noting that this increase is due to the inclusion of click fraud as a PHA category. Before 2018, click fraud wasn't considered a PHA and was treated only as a Google Play policy violation. "If we remove the numbers for click fraud from these stats, the data shows that PHAs on Google Play declined by 31 percent year-over-year," the tech giant notes in its report, the launch of which coincides with the tenth anniversary of Android.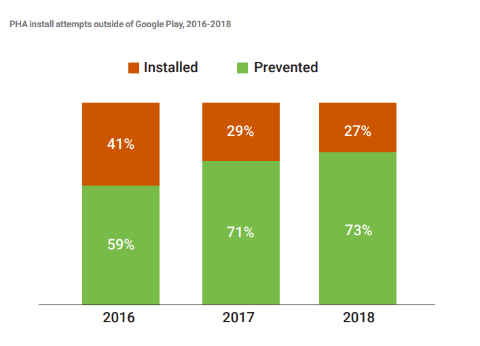 "Ten years ago, we introduced the first version of the Android operating system with the T-Mobile G1, and launched Android Market (now Google Play) the very same day. Android has grown up a lot since then—there are now more than 2 billion active Android devices around the world. The operating system itself has gone through some major transformations, too. The G1 ran on Android 1.0—a version so early, we didn't even name it after a dessert," Google said.
The search giant says that the devices that had apps installed from outside of Google Play were affected by PHAs eight times more often. Compared to the previous year, even those devices saw a 15 percent reduction in malware, thanks to Google Play Protect, Google's AI-powered feature which debuted in 2017 and which claims to scan over 50 billion apps daily.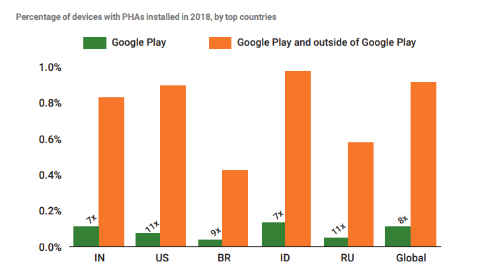 "The Android debut included features like pull-down notifications, sharing content across apps and multitasking between apps. But it didn't have more advanced features like voice search, turn-by-turn navigation or NFC. 10 years later, we've come a long way! Our latest release of the operating system, Android 9 Pie, has all of those features and harnesses the power of artificial intelligence to make your phone smarter, simpler and more adaptive," it added.
Google not only works internally to improve the security of Android, but it also runs a programme under which various independent researchers are awarded rewards for finding vulnerabilities in the ecosystem. In 2018, the company surpassed $3 million in total reward programme payouts. "These programmes offer some of the highest priced rewards in the industry," Google claimed. When it comes to the security updates, the company said that in the fourth quarter of 2018, it had 84 percent more devices receiving a security update than in the same quarter the previous year.
Google's claims come on the heel of several reports that have found the presence of scores of shady apps, including spyware and malware-laden ones on Google Play itself. A couple of cybersecurity companies have claimed to find such apps on the Store. Google, eventually, removed such apps but the question that 'how these apps were listed on the Play Store in the first place' is yet to get any specific clarification.
For example, in December, Quick Heal claimed that it found a few fake apps on the Google Play Store which were downloaded for more than 50,000 times. Those apps appeared to be genuine but were only being used to increase the download count of other applications and improve ratings. Similarly, Trend Micro said that Google Play Store is home to spyware apps that collect users data. These spyware disguised themselves as legitimate Android applications.
elated Read:
Google removes massive trove of malware apps and shoddy reviews from Play Store
For more technology news, product reviews, sci-tech features and updates, keep reading Digit.in or head to our Google News page.