Mumbai Comic Con is being held on the 7th and 8th of December at the Bombay Exhibition Centre in NESCO, Goregaon. The event will see the launch of a new issue of Age of Immortals by Holy Cow Publishing, as well as a performance by Geekfruit. Shemaroo is launching comic books based on classic bollywood movies, which is something new that the company is trying. There are also performances by Rahul Subramaniam, Choreo Culture, Jizzy + TS, and the mentalist, Karan Singh. Peppered around the floor are "experience zones", where fans can briefly become a part of their fandoms, and capture otherworldly moments. These zones are from Maruti Suzuki Arena, Warner Bros, WWE, Hamleys, Comedy Central, Doritos and Games The Shop. Those who like comics can pick up some from the stalls by DC, Marvel, Amar Chitra Katha, Kodansha and Indus Comics.
Fans can interact with international guests including, Larry Hama (GI Joe: A Real American Hero), Allison Sampson (Hit Girl, Jessica Jones, Mad Max) and Sachi Ediriweera (Lionborn). Indian comic book writers making an appearance will include Abhijeet Kini (Fanboys, Tinkle), Rakesh Khanna and Rashmi Ruth Devadasan (The Obliterary Journal) as well as Vivek Goel (Holy Cow Entertainment). The main stage is bigger this time, and there is a new format for the cosplay contest, with ₹2 lakh up for grabs every day.
We spoke to the founder of Comic Con India, Jatin Varma, ahead of the event, and quizzed him about the state of pop culture in India, and if anything can improve. Varma said, "Its honestly going well, we have come a long way from when just Bollywood and Cricket would be considered Pop Culture, thanks to the recent advent of OTT's and web based content, there is a lot of amazing stuff that is being created every year. Plus, access to content from outside, not just US, has increased tenfold, it way easier to now watch your favorite international series or movie, than it was earlier. And the same goes for associated areas such as merch, books etc. Gaming is also growing phenomenally, and I believe that this trend will continue, and we'll end up being one of the key markets for content globally."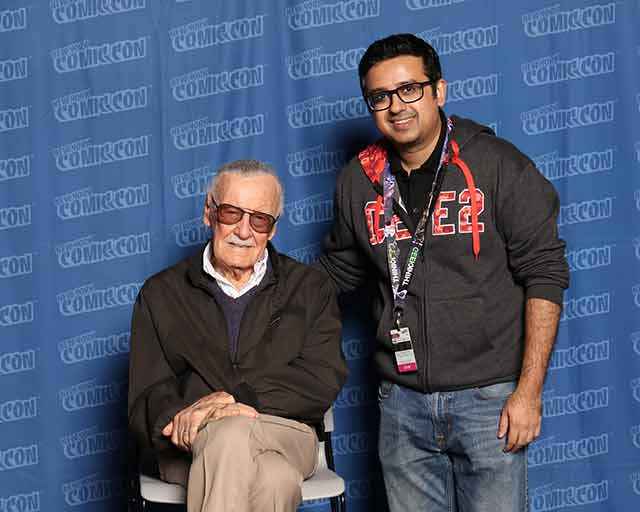 Stan Lee with Comic Con India founder Jatin Varma
A lot of the comic books that make it big in India have mythological themes, including Aghori, 18 Days, Ravanayan and Age of Immortals. Even the science fiction comics with a futuristic setting, such as Ramayan 3392 AD have a mythological theme. We wanted to know what other emerging trends are there for Indian comic books, apart from mythology. Varma responded by saying, "I have seen horror and action be genres where people have created new content. But as always Mythology and history rule the roost when it comes to Indian comics."
Then we spoke about Comic Con India itself, and the team behind the multiple events across the country. Varma explained the process of planning all the events, "We have a permanent team of 15 people that work year around, planning the show. And then at our shows we are joined by our volunteer army along with hundreds of vendors and partners that help us put together the show. We usually work 1 year ahead, and the work never stops!" When asked what happens at the show floor a day before the event, Varma said, "Like any other event, it's hectic, people building their zones, setting up booths. Its busy place to be even before the show starts."
Normally, Mumbai Comic Con is held on the weekend closest to Christmas, so we wanted to know why it was being held earlier this year. Varma said, "No particular (reason), just the regular issues around venue availability." And people in Mumbai could experience not one but two Comic Cons in their vicinity in 2017. We asked if Comic Con was coming back to Pune, and the answer was yes! Varma said, "We are not in Pune in 2020, but we are launching Ahmedabad on Feb 1&2, 2020. We hope to be in Kolkata, Chennai & back in Pune by 2021."
First timer? Read this
While steep discounts can be expected on the merch, it is very likely that the associated websites of the stalls will offer similar discounts, and have more options in terms of say colour and sizes for t-shirts. It is better to note down the websites of the stalls that you like. It is better to spend the cash on stalls that do not have a web presence, and there will be plenty of these that sell exclusively at events. It is also a good idea to carry along your budget in cash, as there is usually just one ATM, which has a long queue. While most of the stalls will support credit cards and digital payments, the cellular network can get burdened at the event, and the transactions are slow. The show floor is pretty big and can get exhausting, so it is good to take along a bottle of water. There are food stalls outside, and at times inside the venue as well. If you pick up the single day pass, be careful that the paper wristband does not get torn, or you will not gain entry into the venue again.
We also questioned Varma about the safety measures in place, to make sure everyone has a positive experience. The measures are strict, and apply equally to everyone in the venue. Varma said, "It's fairly straightforward, we are very strict when it comes to our show's security and our fan's wellbeing. We also have a strict Anti-Harassment policy that applies to everyone at the show, be it the visitors, exhibitors, volunteers or crew members. We work to make sure everyone has a lot of fun." You can check out the full schedule here, and take a look at the show floor here. 2019 will see the 9th edition of Mumbai Comic Con. For more details on what to expect, check out our previous coverage of Mumbai Comic Con in 2018, 2017, 2016, 2015 and 2014.
The passes
There are two types of tickets available, a single day ticket for ₹599 and a two day SuperFan VIP pass for ₹1999. The SuperFan pass comes with a bunch of goodies, including a Thanos Funko Pop, an Iron Man t-shirt, an Avengers bag, a special edition of Archie Comics, a Captain America badge and a Wonder Woman poster all in a special SuperFan box. The tickets can be purchased online, or at the venue. Does not look like there is a cape with the SuperFan box this year, but we might be surprised.