Moving to the sixth edition of Mumbai Comic Con, it looked quite natural to lose your kid in the heavily crowded hall, as the entire city poured in to unite with their fellow brethren of their fandoms. We witnessed hundreds of stalls and thousands of people having a great time buying merchandise and accessories, where many cosplayed as their favourite characters. Similar to last year's event, this yera we also saw imminent personalities including Jim Beaver, Edwin Huang, Dan Goldman and Cameron Stewart, interact with the audience. Let's head over to the highlights from the event.
Cosplay
Comic Con is all about cosplay, and anyone donning a costume, whether a highly detailed one or a simple dress up, they are treated as celebrities, being stopped for photographs, all across the showfloor. We saw some interesting and unexpected cosplays such as someone moving around as a Pokestop while someone helping fellow cosplayers in need of repairs, Cosplay Medic.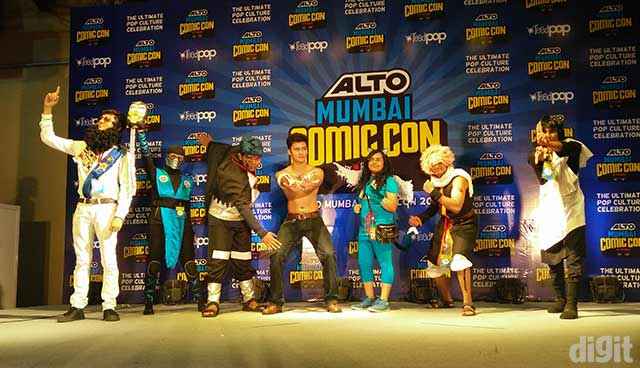 Cosplayers showing their best poses during the competition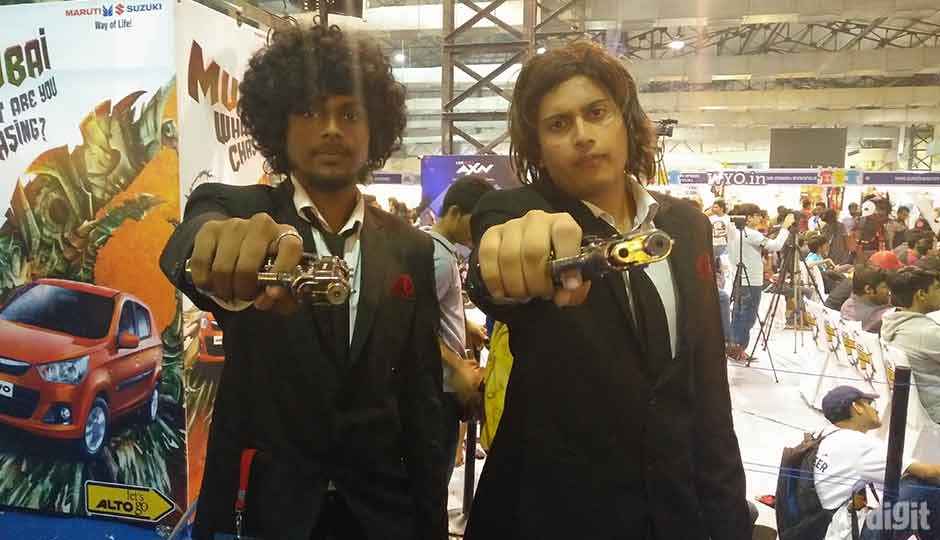 A comic con is incomplete without a Jules and Vincent cosplay
Broadly, most of the cosplays were from Anime and video games, where Naruto took over the Anime category while Overwatch and Dota 2 took over the video games category. We also got to see some healthy rivalry between Dota 2 and League of Legends players, but we aren't picking sides yet. It was refreshing to see parents bringing their children dressed up as superhero characters and the active participation of parents themselves was overwhelming.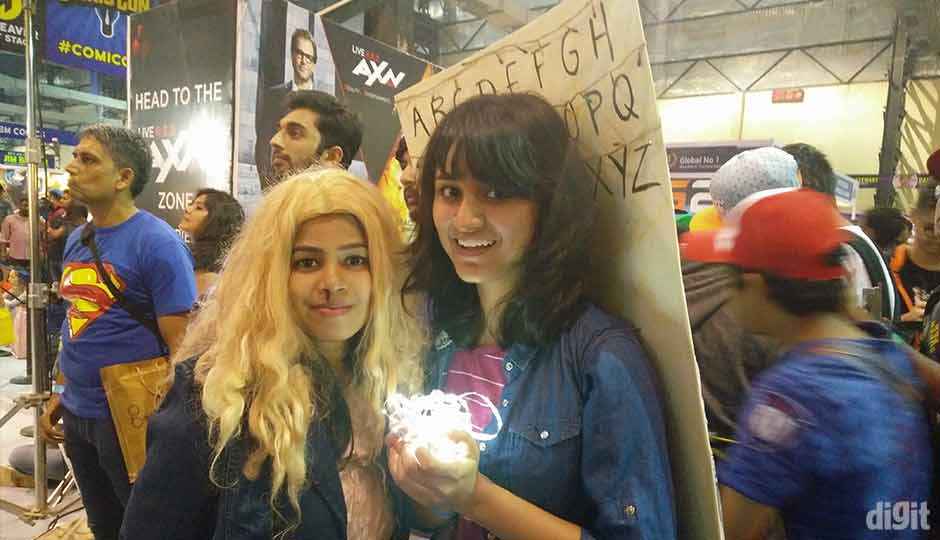 A smart cosplay of Evelen and Joyce (Will's mom) from Stranger Things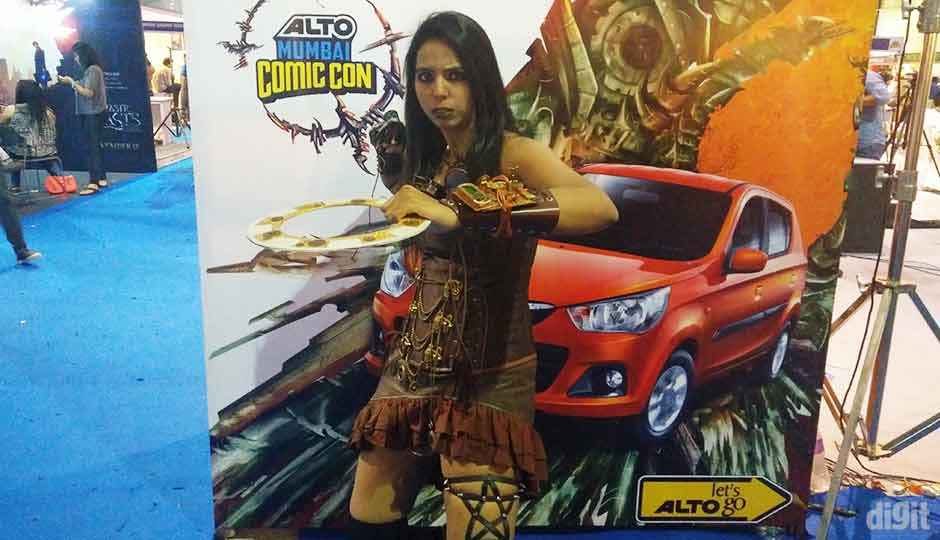 A steampunk version of Xena: Warrior Princess
As usual, The Joker was the most favourite character cosplayed this year as well. But, we also saw many ladies dress as Harley Quinn, the one from Suicide Squad.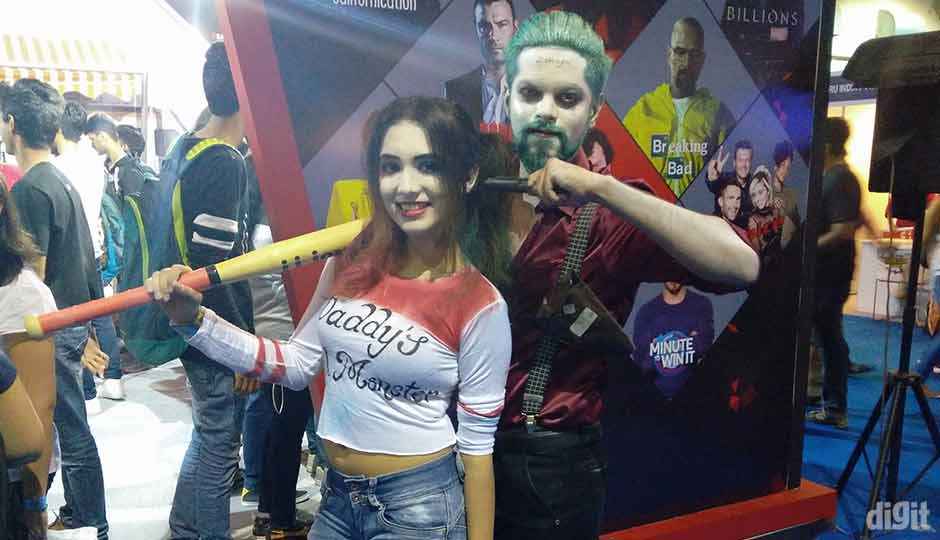 We spotted a lot of Harley Quinns and the new Joker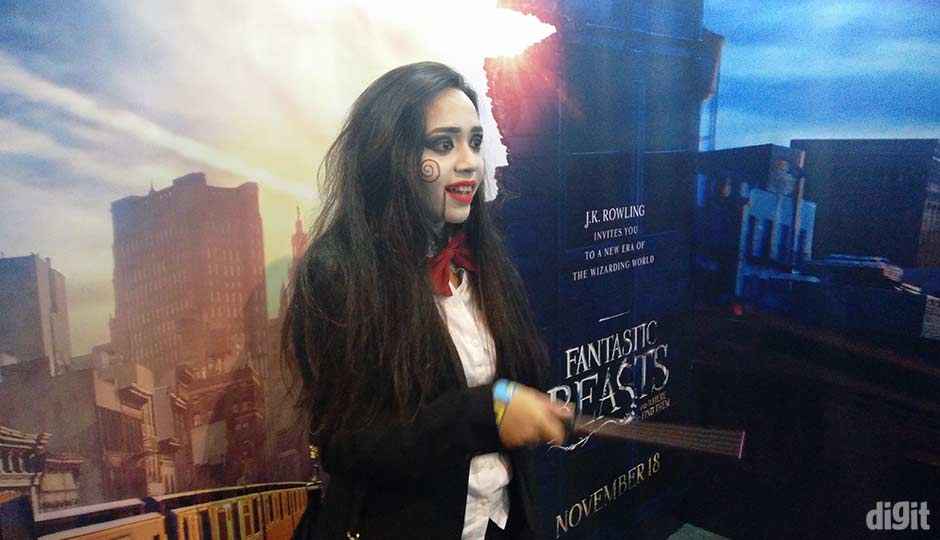 Jigsaw decides to try some wand training
Special guests and interactions
Every year, Comic Con invites several international guests to make your experience at the event memorable. These guests are usually movie or TV show stars, illustrators, content creators or writers. And this year, we saw Jim Beaver, Edwin Huang, Dan Goldman and Cameron Stewart gracing Comic Con Mumbai. Most of the names might not ring a bell, but starting off with Jim Beaver, we think Uncle Bobby might sound familiar. Yes, Jim is the same Uncle Bobby from the popular TV show Supernatural, who shared a few anecdotes from shooting for the series. With the noise created by the crazy fans, Jim was clearly the most popular guest at this year's Comic Con. Edwin is popular as an illustrator for Street Fighter, the iconic video game franchise which almost every gamer out there has played and are still playing.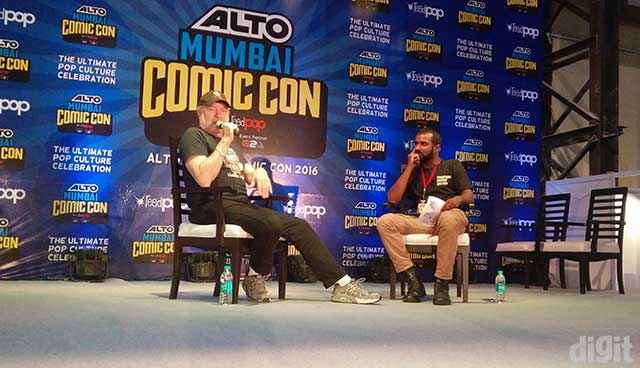 Jim Beaver aka Uncle Bobby from Supernatural interacting with fans
Dan is an artist and co-creator of the famous comic book series called Priya's Shakti, which is about an Indian female superhero fighting for gender equality. He had launched the first comic in the series back in 2014 at Mumbai Comic Con itself and has won several prestigious awards. Cameron is a comic book artist who has paint on his hands for popular publishers such as DC, Dark Horse Comics and Marvel. He's known for his artwork for Catwoman in the DC Batman series and he also was involved in Batgirl. Ajay Devgn had also come over to promote his next movie Shivaay and if you're wondering what was he doing there, then you should know that the movie has its own comics and merchandise out, making his presence relevant.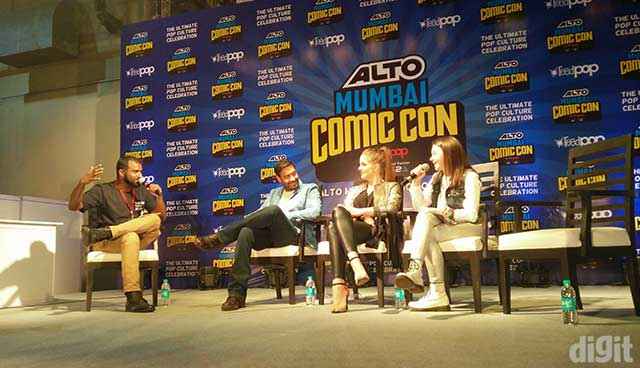 Ajay Devgn releasing comics from his upcoming movie Shivaay
Merchandise, merchandise, merchandise
This year's Comic Con Mumbai saw an incredible assortment of merchandise ranging from comics to movies to TV shows. Not that we are complaining but it was more about the variety of merchandise available rather than just the number of stalls. Artists from across the country had come over to set up their booths to showcase and sell their creations. They also found a platform to connect with fellow geeks and talk about their common fandoms. The themes of the merchandise weren't solely based on international characters or fandoms but we also saw t-shirts and accessories being sold consisting of local movies and comic content. Posters were selling by the dozen and we're quite sure the artists as well the fans went back home with a smile. Action figures and figurines were an attraction at several booths, the bob-heads probably being the cutest of all.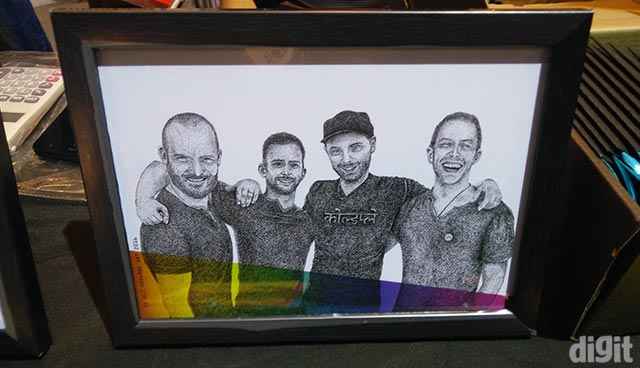 One of the many artwork being sold at the event
Activity centers, interesting booths
There were several activity centers placed across the showfloor that pulled in a lot of crowd such as the AXN booth where they organised little physcial activities where you could win merchandise from the upcoming shows on AXN. The WWE 2K17 area let you pick your favourite wrestler's theme song while you walked down the mini-ramp they had created, holding the championship belt, in an attempt to recreate the sense of the real arena. Doctor Strange fans got to wear the iconic cape and pose for pictures on a pedestal while attendees could also play an Iron Man Kinect game. Harry Potter fans got to try their hand out in wand training to celebrate the upcoming movie Fantastic Beasts and Where To Find Them, and yes, the secret was to swish and flick. YetiTech Studios' stall saw a crowd queuing up to get some time on their free to play multiplayer game called Helix Warfare, which they claim to have developed in just two weeks and under a month. Although the game is still in its pre-alpha stage, we loved the setting of the game and look forward to try out the final public version. Few stalls had artists conduct live sketching of portraits for anyone who had the patience to queue up, and we also saw attendees getting their face painted. Several booths had gaming systems set up, where few of them allowed you to play games in VR, which was a rage at IGX 2016.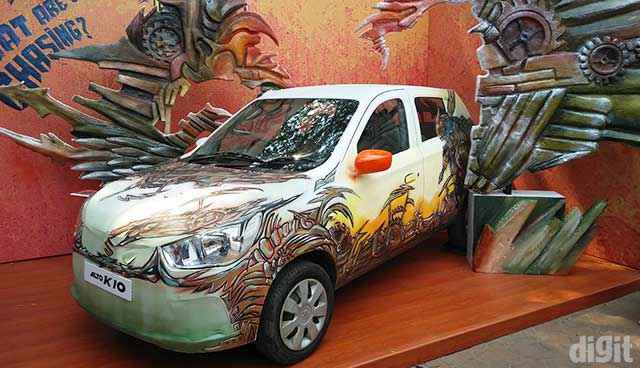 The entire event was fun, thanks to the endless number and variety of cosplayers, exhaustive collections of artwork and a healthy number of activity areas that kept us busy the whole day. Now, the standard for Mumbai Comic Con has been set pretty high, and hopefully we'll witness a great one in next year's edition.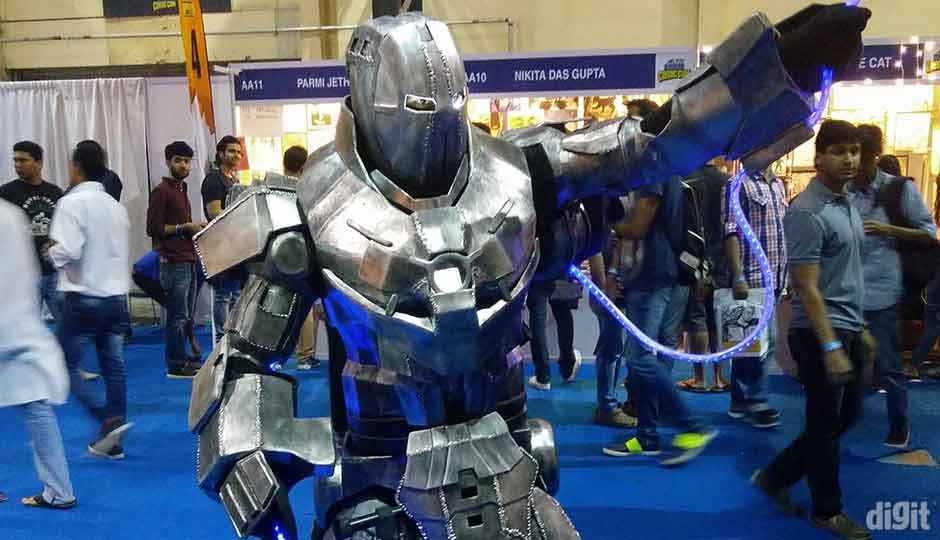 A combo of the Iron Monger and Whiplash from Iron Man and Iron Man 2 respectively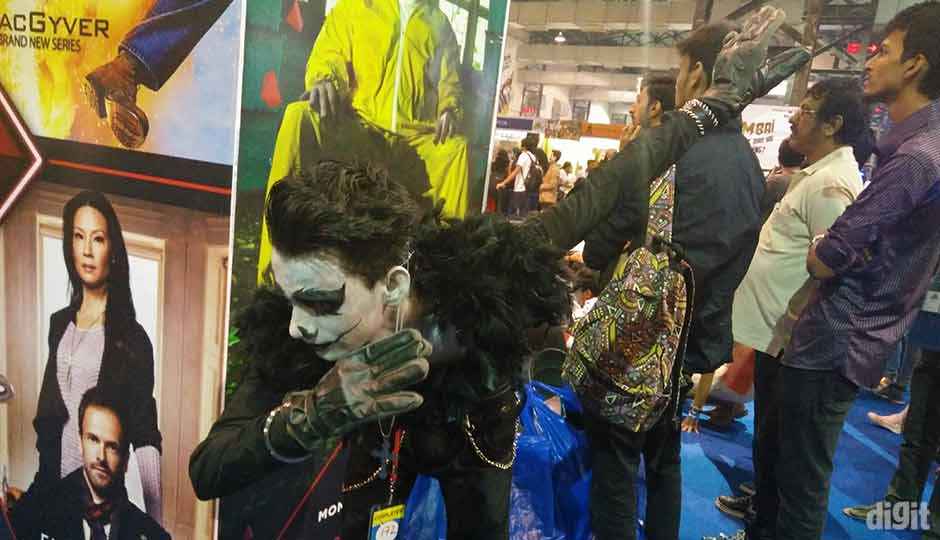 Apparently, dabbing has reached the Shinigami realm and Ryuk has mastered it