This month, the Mumbai Film and Comics Convention entered its fourth year since it was first held in 2011. The event saw the best cosplayers and artists from all over the country under a single roof. The sheer hardwork put in by the cosplayers was truly commendable, who obviously spent weeks making their costumes. This year again, there was a maze of t-shirt stalls spread across the venue, with great pieces of art equally dominating the venue. The event saw many sessions from writers to artists, including co-creator and executive producer of BBC's Sherlock, Mark Gatiss, who is also the writer of the popular revival of the Doctor Who series. Sessions had comic book author Nick Spencer and also the author of Kabul Disco, Nicolas Wild. The Comic Con also saw cosplay contests, that gave participants an opportunity each day to win an all expense paid trip to the Oz Comic Con in Australia next year.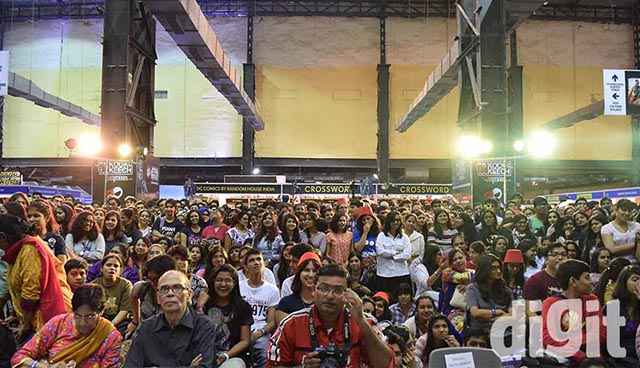 Huge number of people turned up at the event, enough to lose your kid among the crowd
We were quite intrigued with the level of details cosplayers had put into their costumes, making it hard to believe they weren't stolen replicas from the sets of movies or video game developers' studios. My attempt to cosplay was brutally destroyed due to bad time management and I ended up convincing myself that I would surely dress up for the next year (I'm great at lying to myself).
As we entered the Bombay Exhibition Centre, we easily guessed the amount of people we would be pushing through at the end of the day. Spotting the familiar characters across the floor was like a quick quiz-up, battling and testing each other's knowledge of popular geek culture.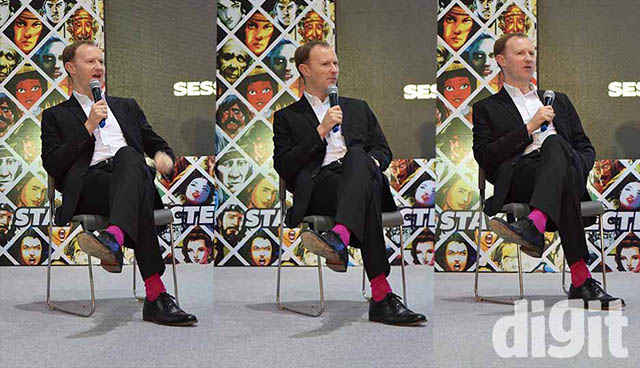 Only Mark Gatiss can carry those fuchsia socks like a Boss
What was probably the highlight of Comic Con this year was Mark Gatiss. He was present throughout the three days of the convention, attending the special screening of An Adventure in Space and Time and an interaction session with his fans. He was also there for signing sessions which was only for a selecte number of fans each day. The fans had many questions for Gatiss, mostly useless, because they were searching for spoilers from the upcoming seasons, which obviously he wouldn't reveal and he was repeatedly bombarded with silly questions. But you know what they say about the Brits, the more silly questions were shattered with a pleasant grin by Gatiss, showing utter wit and classy sarcasm. Gatiss may have even felt like a One Direction member owing to the incessant screaming from fans that went on throughout the session. There were hardly any good questions, but a couple of them were thankfully pertinent. You can read more on the Mark Gatiss interaction session in our slideshow here.
What is a Comic Con without mind-boggling cosplay? This year too we got to witness amazing costumes and also saw professional cosplayers taking the floor. Doctor Who fans were among the most spotted, with Doctors, Time Lords and people wearing the fez crawling all over the place. Talking about the best costumes, it had to be the cosplayers from the Naruto universe, or rather, everyone from the anime universe, who showed dedication and pride through their characters. There were many League of Legends and Final Fantasy cosplayers too, who could be right away cast for a live action trailer for both the games. L from Death Note was also a popular choice, one cosplayer actually showing up bare-footed. This year there were cosplayers and there was Captain Titus of the Ultramarines from the popular game Warhammer: 40K, who really made the whole suit. We expected parents dressing up their children as Elsa, and also thought we would bump into Star Lord (which we did but he didn't have a mask). Patrick Bateman from American Psycho was also seen in a groovy mood, carrying an axe, all covered in blood, nothing unusual.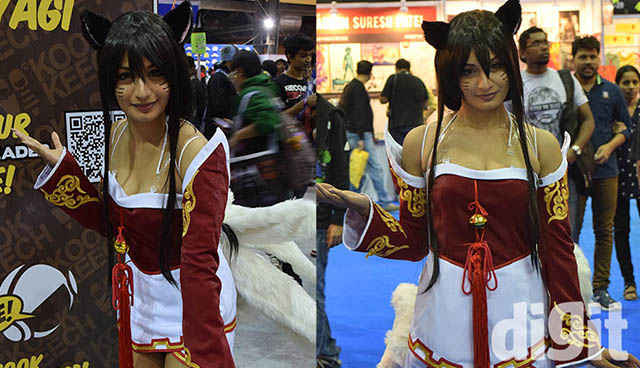 We got to see some amazing cosplays this year too
Have a look at the best cosplayers that we came across here. And also the cosplay contest, judged by professional Japanese cosplayers Miya and Shiguma, can be seen here.
Among the clutter of handmade weapons, one could not ignore the brilliant artwork that was seen in this year's comic con. From custom painted shoes to eco-friendly wallets to catchy coasters and wonderful sketches, they had it all. Many artists set up stalls and they made caricatures and live paintings, inspiring the budding artists who attended the event. You will love all the artwork at comic con in this slideshow.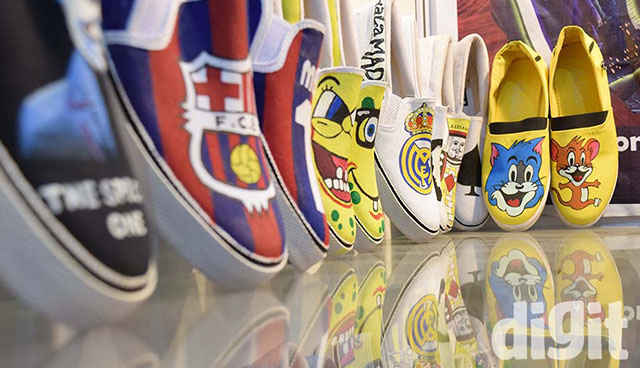 The beautiful artwork at the event could have easily emptied your pockets
It was nice to see parents encouraging their kids to cosplay and we also heard of a whole family dressed up as The Incredibles who left early. The volunteers did a great job in catering to the needs of the attendees, showing no signs of fatigue, wearing a pleasant smile all the time.
Though it may seem like a wonderful event, some things got us really distracted. Like last year, this year too we saw too much merchandise a lot of which appeared lazily made but costly. The Star Wars Zone was really disappointing, and totally not what it had been hyped up to be. After short sessions of eavesdropping on conversations we came across a few cosplayers who glared down on people who couldn't recognize their characters, questioning their existence in the world. But thankfully, we also met many folks who were open and friendly about their interests and invited discussions, putting a lovely shine on our experience at the Mumbai Comic Con 2014.
Other Popular Deals
Samsung A7 2016 Edition Golden

Rs. 18990 *

Buy Now

Realme 1 (Diamond Black, 4GB...

Rs. 10490

Buy Now

Redmi 6 Pro (Black, 3GB RAM,...

Rs. 8999

Buy Now
*Includes Cashback
​