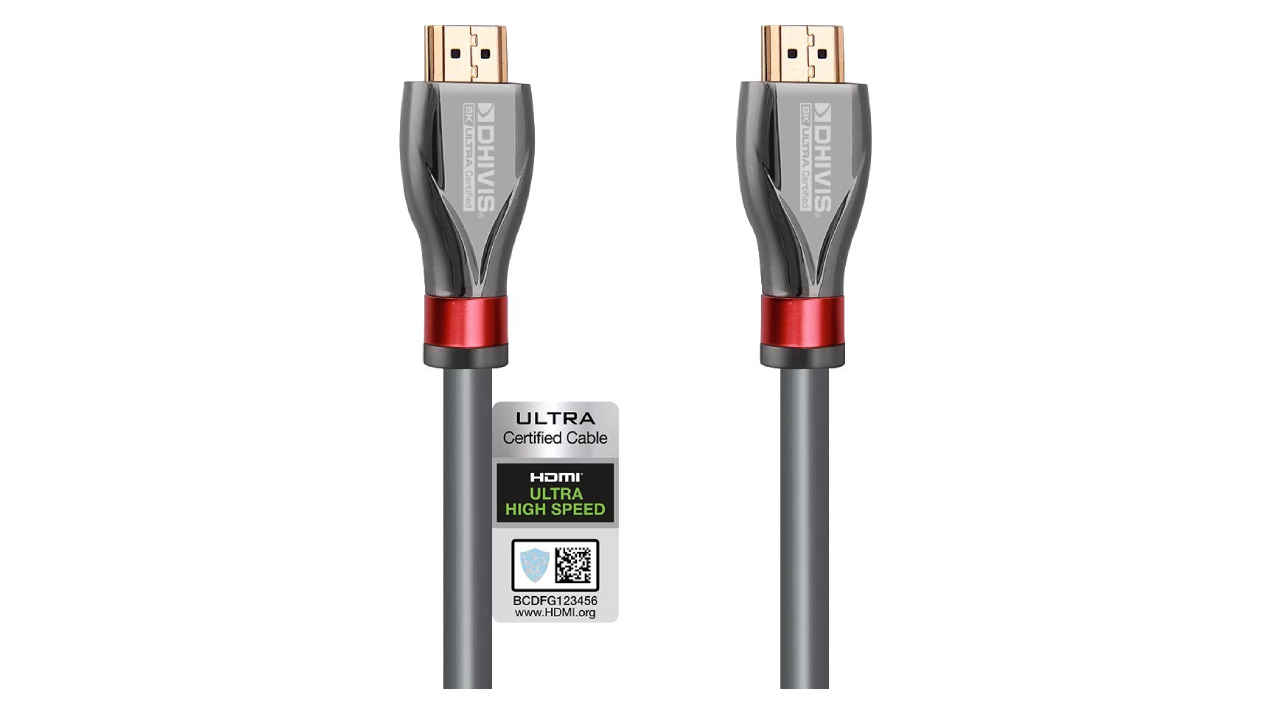 So you've just got a brand new 4K or 8K TV, and are ready to hook it up to your current home entertainment setup. To ensure that your cable doesn't clog the high resolution and frame rates you should be getting, it's important that you invest in a good quality HDMI 2.1 cable. HDMI 2.1 cables can support bandwidths as high as 48 Gbps. HDMI 2.1 brings loads of new possibilities to TVs that support it. You can play games at 4K resolution and 120fps configurations using Playstation 5 or Xbox Series X consoles, watch HDR 8K content, hook it up to eARC soundbars for rich sound details, and more. So, here are some high-speed HDMI 2.1 cables with 48Gbps bandwidth that you can pick from.
DHIVIS Royce 8K Certified HDMI 2.1 cable
This certified 8K ultra high-speed HDMI 2.1 cable supports 4K and 8K resolutions, high refresh rates, and full chroma bandwidth, and measures 3 meters in length. The cable is a great buy if you want to get the best out of your TV. The cable supports 4K 120FPS gaming along with VRR support, which stands for variable refresh rate, meaning you can get the most out of your Playstation 5 or Xbox Series X consoles and RTX 3000 series graphics cards as well. The cable will work for HDR 10+, Dolby Vision, Auto Low Latency Mode, Quick Frame Transport for no-lag gaming and Enhanced Audio Return Channel (eARC) transmissions.
CableCreation HDMI 2.1 Cable
Here's an HDMI 2.1 is a braided cable that measures 3.2 ft in length. It supports HDR 10+, Dolby Vision, quick frame transport for no-lag gaming, variable refresh rate, auto low latency mode and enhanced Audio Return Channel (eARC). Apart from that, it can handle 8K displays and deliver ultra-clear image quality. The cable can also support 4K resolutions at high frame rates up to 120Hz, which is pretty good for playing games on your 4K enabled TV via a console or a PC. The cable can be directly connected to your Apple TV box, which will automatically detect the cable and switch to recommended high settings.
CableCreation 8K HDMI 2.1 Cable
As far as HDMI 2.1 cables are concerned, this is quite a value for money pick. These cables can be quite expensive as they support such fast data transfer. This one is a bang for the buck, and for the price, you get 8K support, 4K at variable refresh rates, video smoothening and lots more. If you're looking for future-proof options, then this is the right way to go. If you have a compatible TV or other devices, the HDMI 2.1 cable will unlock the full potential of visuals on these systems. If you hook it up with a soundbar, you can leverage eARC to allow full-resolution audio transmission.
Kinsound 8K HDMI Cable
Here's a braided HDMI 2.1 cable that measures 2 meters in length and comes at a very reasonable price. You may use it to extend displays, duplicate them, and for high bandwidth transmissions between devices, including 4K@120fps and 8K@60fps. This is really helpful if you need crisp visual clarity when editing videos, photos or designing, while watching high-quality HDR content and also for gaming. The HDMI cable can also be hooked up to an eARC enabled sound system, which will make for theatre-like 3D audio with great clarity.