Google has introduced its Nexus smartphones - the LG Nexus 5X and the Huawei Nexus 6P, with both meeting most of the rumours surrounding them. The LG Nexus 5X features a smaller, 5.2" Full HD display, and is powered by a Qualcomm Snapdragon 808 SoC, coupled with 2GB of RAM, a 12.3MP Sony-powered primary camera with 1.55mi pixel size and laser-assisted autofocus, a 2700mAh battery pack, and 64GB of base internal storage capacity. It will run on Android Marshmallow v6.0, and is priced at $379. It will be available in three colour variants - Carbon Black, Ice Blue and Frost White.
On the other hand, the Huawei-made Nexus 6P features a larger, 5.7-inch WQHD display with a resolution of 1440x2560 pixels. It is powered by a Snapdragon 810 v2.1 SoC, along with 3GB of RAM, the same camera as present in the Nexus 5X, 3450mAh battery pack and 32GB of internal storage. It also features dual front-firing speakers, an 8MP front-facing camera with HDR+ shooting mode, Nexus Imprint fingerprint sensor that is further optimised with Android SensorHub power-efficient signal processor, and is available in Frost White, Aluminium and Graphite colours. It is priced $499 onwards. Both the devices will feature Android Pay integration, support 4K video playback, and support slow motion videos of 120fps on the LG Nexus 5X and 240fps on the Nexus 6P. The Nexus 6P also features a double power-button-tap to launch the camera. Pre-orders for the Nexus devices open today, and the USA, UK, Ireland and Japan have been earmarked as the first nations in which the Nexus devices will sell first. Shipping will begin later in October. More countries will be added to the selling list in the coming weeks, with India already on the 'Coming Soon' status. As Dave Burke, VP, Engineering at Google put it, the Nexus lineup is "Android the way we (Google) designed it".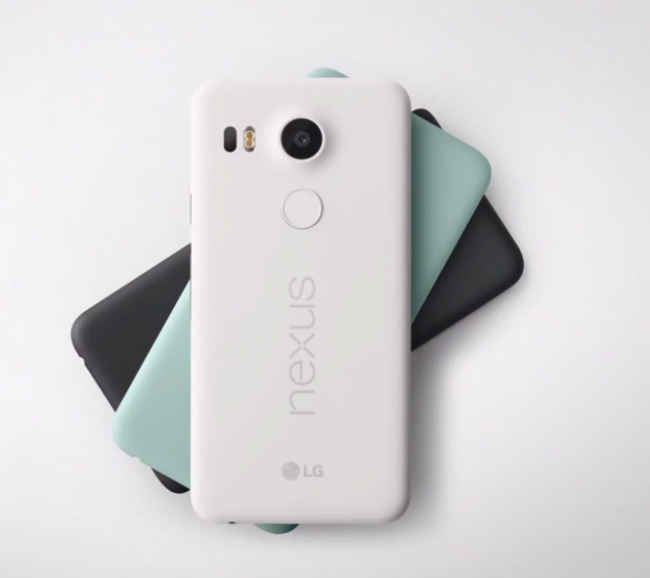 The new Nexus 5X by LG
Google chief Sundar Pichai had begun the press note by saying, "We build our hardware in order to support the software of our future." Pivotal to the new devices and falling in line with his philosophy, Android Marshmallow v6.0 was announced with a host of new, improved functionality and visual upgrades. At a glance, Android Marshmallow features Material Design and text selection improvements, a faster access to voice action, charging speed indicator on Lock Screen, improved heads-up notifications, fast scrolling, an on-device intelligent prediction engine, live run-time permissions, lesser pre-loaded apps, Now on Tap (with integrated Machine Learning capabilities), and a new, power-saving Doze mode. Android Marshmallow will start rolling out next week, on Nexus 5, 6, 7 and 9 devices, and will be available via Google Store.
Among the number of other, updated features that will come integrated with Android Marshmallow in future, are Google Play Music's new family plans, an updated Google Photos (which already hosts more than 50 billion photos) with easier sharing methods, and extensive Chromecast support that include Hide on Cast, and a massive Cast applications ecosystem. Nexus buyers will also enjoy additional 90-day free subscription to Play Music, and a $50 Play Store credit in the USA, on the new Android iteration. A new, Nexus Protect plan has also been introduced, which covers accidental and mechanical damage. The plan is priced at $69 and $89 for Nexus 5X and 6P respectively, and offers one business day device replacement service.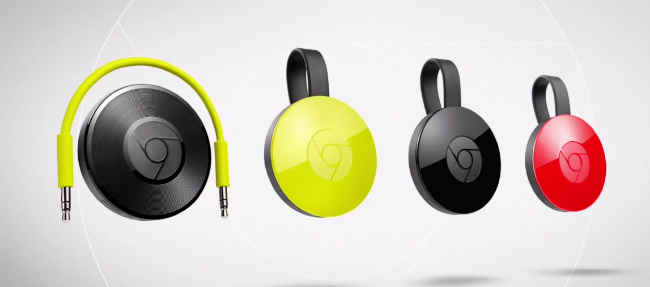 Left: Chromecast Audio, Right: Three colour variants of new Chromecast
There are two new Chromecast devices in store this time - Chromecast and Chromecast Audio. The new Chromecast features a new design, an integrated HDMI cable, improved WiFi band support, and is available in Lemonade and Coral colours, along with Black. The new Chromecast will feature new services like Content Discovery (presently rolling out for Android and iOS devices), Fast Play, Remote Display and Cast Games, along with cellphone usage capabilities without disrupting cast playback. Chromecast Audio is a WiFi receiver/router with an integrated 3.5mm jack with RCA/optical cable support, which can turn any home speaker into a smart music system. Chromecast Audio includes Android Wear support, multi-phone Cast synchronisation, multi-speaker audio distribution, and support for major music streaming applications. Both the Chromecast devices are available for sale across 17 different nations, and is priced at $35. Google's push for Chromecast services is backed by its sales data of over 20 million Chromecast devices being sold globally.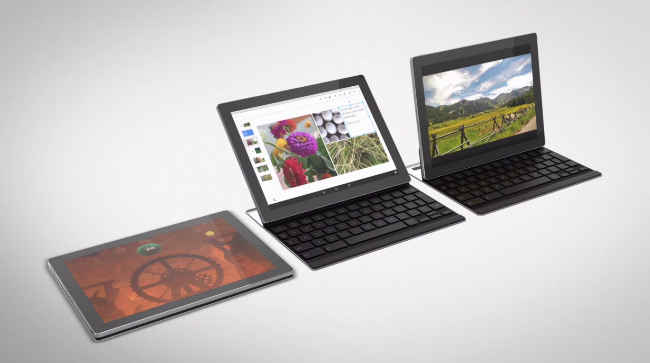 The new Google Pixel C tablet
Ending the event was Google's new tablet, the Pixel C, with the 'C' standing for 'Convertible'. It has a 10.2" screen size with 1:sq.rt. 2 aspect ratio, is powered by NVIDIA X1 quad-core processor with Maxwell graphics, stereo speakers on either sides, four microphones, and has an accompanying keyboard that attaches to it via self-aligning magnetic lisps. The Bluetooth keyboard, available for a separate price of $149, has improved key travel of 1.4mm, and will reportedly last about two months of active usage on a single charge. The Google Pixel C tablet is priced at $499 for the 32GB variant, and $599 for the 64GB one.