Facebook has started to roll out the Remove for Everyone feature to its Messenger app on iOS and Android. The feature will allow people to edit a message that was sent with a mistake or delete it in case it was mis-sent to someone else. Till now, users could only delete the message from their own chats and a copy of the message with the sender would still remain. The features works like WhatsApp's "Delete for Everyone" feature which deletes the message from the sender and the receiver's chat.
According to TechCrunch, the messages can only be unsent for the first 10 minutes after they're delivered and users won't be able to edit ancient history. There will be a button and if a user retracts the message, it leaves a "tombstone" indicating a message was deleted - just like it does in WhatsApp. The company says that this limitation will prevent bullies from using the feature to cover their tracks. Also, Facebook will retain unsent messages for a short period of time so that, if reported, they can be reviewed for possible policy violations.
"The pros are that users want to be in control...and if you make a mistake you can correct it. There are a lot of legitimate use cases out there that we wanted to enable. We need to make sure we don't open up any new venues for bullying. We need to make sure people aren't sending you bad messages and then removing them because if you report them and the messages aren't there we can't do anything," Facebook's head of Messenger Stan Chudnovsky was quoted as saying.
Facebook generally offers end-to-end encryption which means only the sender and the receiver will have the key to access the encrypted chat. This means that if Facebook can retain the unsent messages and review them for possible policy violations, the company has access to deleted messages. We have contacted Facebook seeking clarity on the encryption issue and how it works in tandem with the new feature. We are awaiting a response on the same and will update this article if we get one.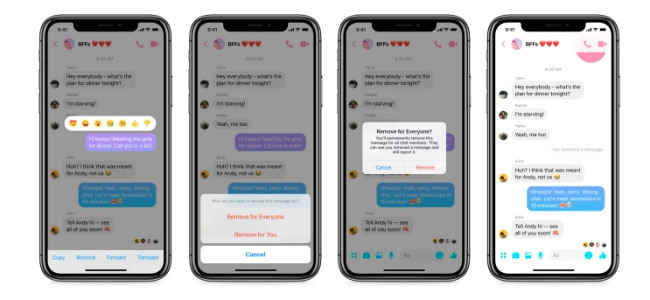 The Remove for Everyone feature is being rolled out in Poland, Bolivia, Colombia and Lithuania first and the company is also planning "to roll it out globally as soon as possible." TechCrunch also says that Facebook is also working on more unsend features, "potentially including the ability to preemptively set an expiration date for specific messages or entire threads."
The development comes a month after Facebook had confirmed that it was working on an unsend message feature. The feature was probably conceptualised when Facebook faced heat after it deleted the messages of company CEO Mark Zuckerberg without disclosure. Facebook, however, claimed that it did so in full compliance with its legal obligations to preserve messages. "After Sony Pictures' emails were hacked in 2014 we made a number of changes to protect our executives' communications. These included limiting the retention period for Mark's messages in Messenger," the social media company said.