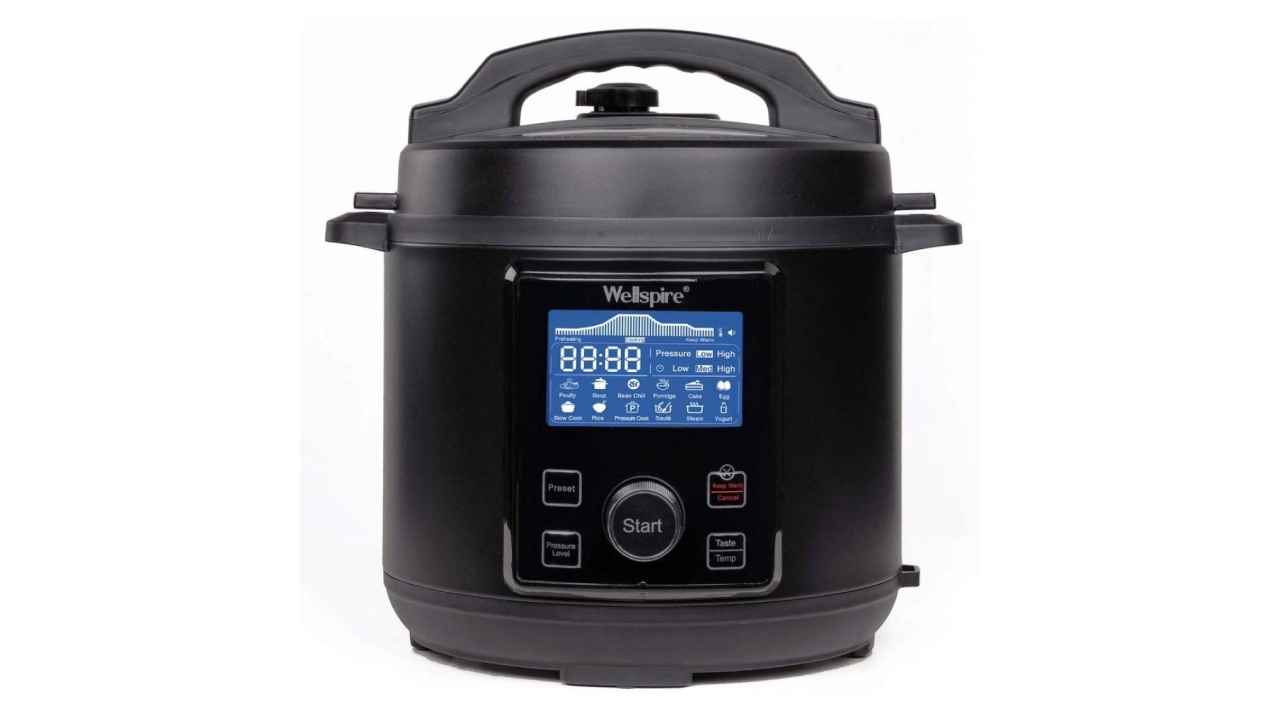 Electric pressure cookers can be a great addition to your kitchen. The amount of work they take away from cooking is phenomenal but finding the right one might take several hours of research and roaming around! So to help you, we have shortlisted some of the best electric cookers that can keep your food warm for longer durations so you can enjoy your food without reheating!
Geek Robocook Zeta Electric Pressure Cooker
If you are looking for a cooker that is easy to use, maintains food temperature for hours and is easy to clean, do check out Geek Robocook Zeta Electric Pressure Cooker. This corrosion-resistant, stainless steel electric pressure cooker uses PiC Intelligent cooking that manages temperature, heat, time and pressure and helps preserve the nutritional quotient of the food while cooking. Geek Robocook is certified by BIS and secured by 7 safety guards. The preset menus (controlled by advanced microchips) ensure utmost safety and easy cooking. You also get access to tons of yummy recipes which means you can cook even more delicacies without searching the web! It is available in three variants, 5L, 6L and 8L and comes with a detachable inner pot, sealing ring, collecting container, steam release valve and lid so you can store and clean it without any hassles!
Wellspire Smart Electric Pressure Cooker
If you are new to cooking and are looking for a user-friendly product for quality and time-saving, then buying this electric pressure cooker by Wellspire will help! It comes with 12 one-touch preset functions for quick and easy cooking. This multi-cooking pot uses the latest 3rd generation technology that monitors the temperature, cooking time and heating intensity, as per the selected preset menu. The cooker comes with an incredible range of accessories which makes cooking easy and helps cook food 70% faster (as claimed by the company) which is a boon in today's fast-paced life. Its 10+ built-in safety features like overheat protection, multi-layered safety mechanism guarding pressure and safety lock ensure a safe cooking experience. Last but not least, this cooker can replace several utensils as you can use it to slow cook, steam, saute, or make yoghurt with ease!
Crock-Pot Express Electric Pressure Cooker
If you are always in a rush and don't have a lot of time to cook, then Crock-Pot Express Electric Pressure Cooker could be a great option to invest in. It is a 12-in-1 Programmable multi-cooker with a storage capacity of 5.6 litres. It is easy to use, versatile and easy to clean, so you don't have to worry about cooking or maintaining this utensil. It has a stainless steel body that is non-reactive, unlike aluminium and iron, which increases its durability. Its cooking pot can be sealed airtight, which allows pressure to build up inside; thus, pressure cooking completely infuses flavour in your meal and preserves nutrients as well. So if you want to cook several delicacies using minimum utensils (you can use the cooker to saute, pressure cooking, steam etc.), this electric pressure cooker can prove to be a good companion!
SHARP Electric Twin Pressure Cooker
In today's world, where you struggle to take your time out even for the basic activities, SHARP's Twin Cooker can be a rescuer for many for cooking nutritious meals. Sharp's Twin Cooker allows you to cook four dishes at once with ease, without compromising health. Its 12-hour warm mode keeps the food warm, so you don't have to reheat food every time you want to eat. SHARP claims that it is the first Dual-Pot Multi-Cooker with a storage capacity of 2.5L each which means you can cook four dishes at once! It even has 12 auto cooking modes, 24-hour time delay mode, and you also get a recipe cookbook that includes recipes for 30 dishes!