Want to modernise your banking loan application?
Build an application that analyses credit risk with #IBMCloud Pak for Data on #RedHat #OpenShift
Click here to know more
Advertisements
DJI and other drone manufacturers have been shrinking the size of their drones, making them compact and portable in the process. After introducing the Mavic Pro in September last year, DJI has unveiled the Spark, a mini-drone that is compact and portable. DJI says that the drone has the size and weight of a soda can. The foldable drone weighs less than 300 grams and manages to offer some of the features available on DJI's more premium drone offerings. While DJI's previous drones have been aimed at professional video makers, Spark is aimed at consumers. The new Spark will compete against similar offerings from other manufacturers like Yuneec and Parrot.
DJI Spark comes with intelligent flight control features like ActiveTrack and TapFly, which are found on the company's Phantom 4 drone. In TapFly mode, users can direct Spark towards a direction by simply tapping their phone screen and capture multiple shots, while ActiveTrack enables the drone to track objects of different shapes and sizes. The Spark can also be controlled by hand gestures and click selfies with simple hand motions.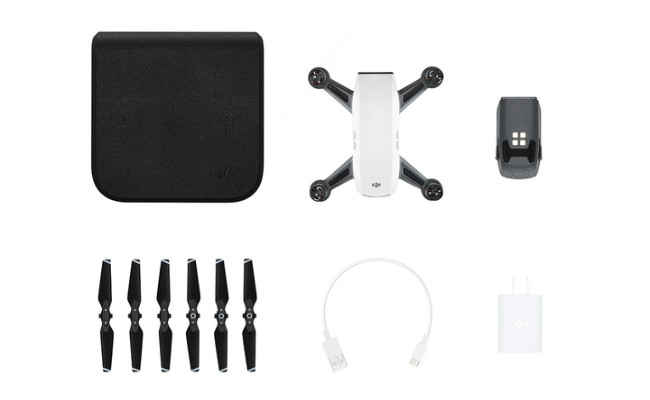 DJI Spark's lower price tag comes with certain tradeoffs. These include a limited flight time of 16 minutes and a maximum speed of 31 miles per hour. The Spark's camera is supported by a two-axis gimbal and can shoot 12-megapixel still photos and record 1080p videos as opposed to 4K video recording feature on DJI's other drones. With the Spark, the company's is also introducing a new QuickShot feature that allows users to shoot one-minute videos and edit it down to 10 seconds for sharing on social media.
DJI says Spark will be available in five colours including Alpine White, Sky Blue, Meadow Green, Lava Red and Sunrise Yellow. The company says it has learned from the issues found with the Mavic, which led to delay in shipments and has fixed the same. The drone is currently available for preorder at $499 and is expected to ship from June 15. The company has now confirmed that the Spark will retail in India at Rs 43,000 and the entire setup will include the drone, battery, a USB charger and three pairs of propellers. The company will also sell its Spark Fly More Combo, which includes the drone, two batteries, four pairs of propellers, a remote controller, propeller guards, a charging hub, shoulder bag and all the necessary cables at Rs. 60,000.