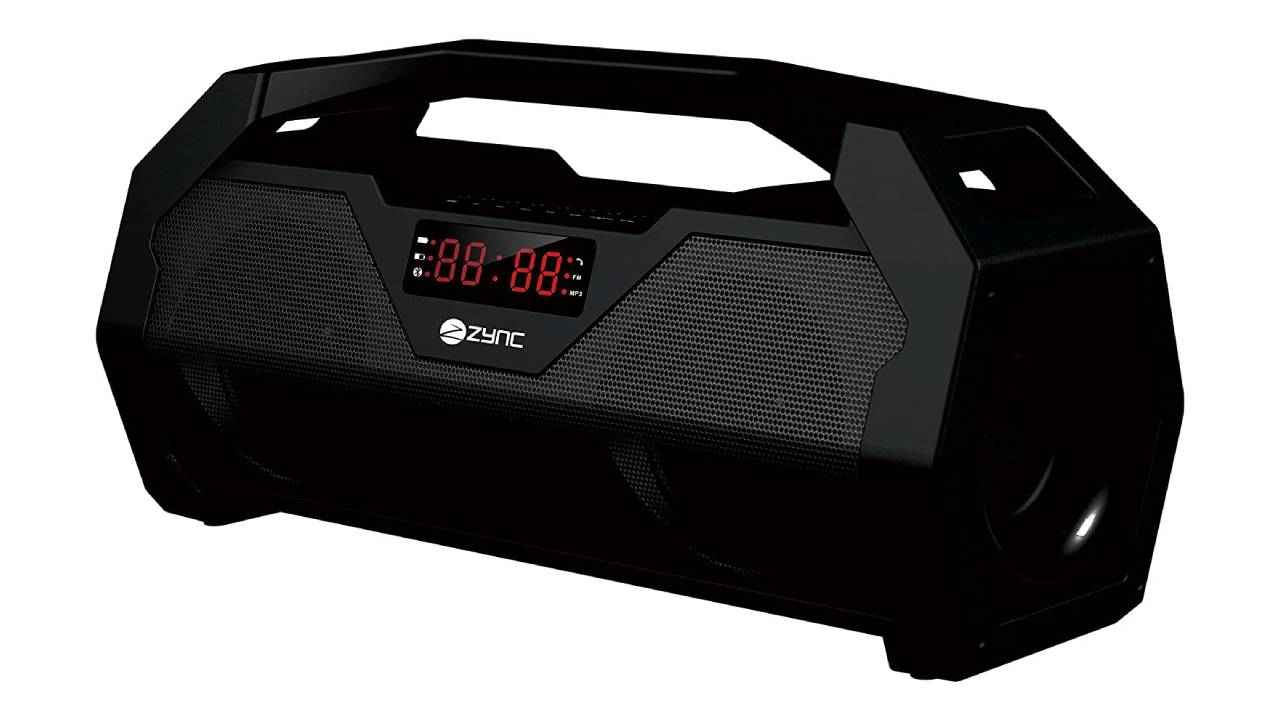 In the world of audio devices, the boombox is an iconic form factor. Popular initially due to its woofer drivers, it was often sported as a way of carrying the party with you. While the CD and cassettes used with them have phased out of popular usage, the form factor has seen a resurgence in the domain of Bluetooth speakers. These modern counterparts can last longer and often come laden with several useful features that you would expect today. If you're looking for a combo of nostalgia and modern features, here are some models available on Amazon that promise that mix.
Mitashi MX 2020
The MX2020 boombox speaker from Mitashi promises a powerful bass output with its 20 watts RMS power. You get to choose your source for music as the model comes with built-in digital FM radio, a plug & play USB port, micro SD card support, AUX input as well as Bluetooth connectivity. To add to the aesthetics of your playback sessions, the device plays flashing lights along with the music. Additionally, the 3000mAh battery on the model promises a four-hour battery life with a charging time of five hours, so your music sessions can continue uninterrupted for a long time. Lastly, the easy-carry handle makes it highly portable.
FIADO Kimiso Boom Box-S1
If you want your boombox to double up as a karaoke speaker, the FIADO Kimiso S1 comes with support for an external microphone to facilitate that. In addition to that, the Kimiso S1 also lets you customise the audio output from the speaker itself with the five equaliser modes that it offers. There's also an LCD on the model to help with this and to convey other information. You can also adjust the bass and treble output using convenient knobs on the top of the model. Additionally, you can connect external sources through AUX, USB, micro SD and more.
Zoook Rocker Boombox+
With 32W of power under the hood, the Zoook Rocker Boombox+ speaker promises to be loud enough for any party. Additionally, the bass and treble dials allow you to tweak the audio output to your preferences so that you can get the best output for every song you pick. The speaker promises excellent performance with bass powered by XBass technology and dual passive subwoofers. Once fully charged, it promises a long usage time of nine hours. There's also a digital LCD as well as support for FM radio playback on the Zoook Rocker Boombox+ speaker.
Zync Zumbox
With just 3-4 hours of charging time for the 4400mAh battery through the included USB cable, the Zync Zumbox promises a playback time of up to 8 hours depending on your input method. Additionally, the dual passive radiators and enhanced bass output aim to deliver an impactful audio experience. In the Bluetooth mode, the Zumbox promises a range of 33-feet, making it usable from all over the house without having to carry it around. Additionally, the device can also automatically reconnect to the last device it was connected with when Bluetooth is turned on. For non-Bluetooth usage, you also have connectivity via AUX-in, USB and more.