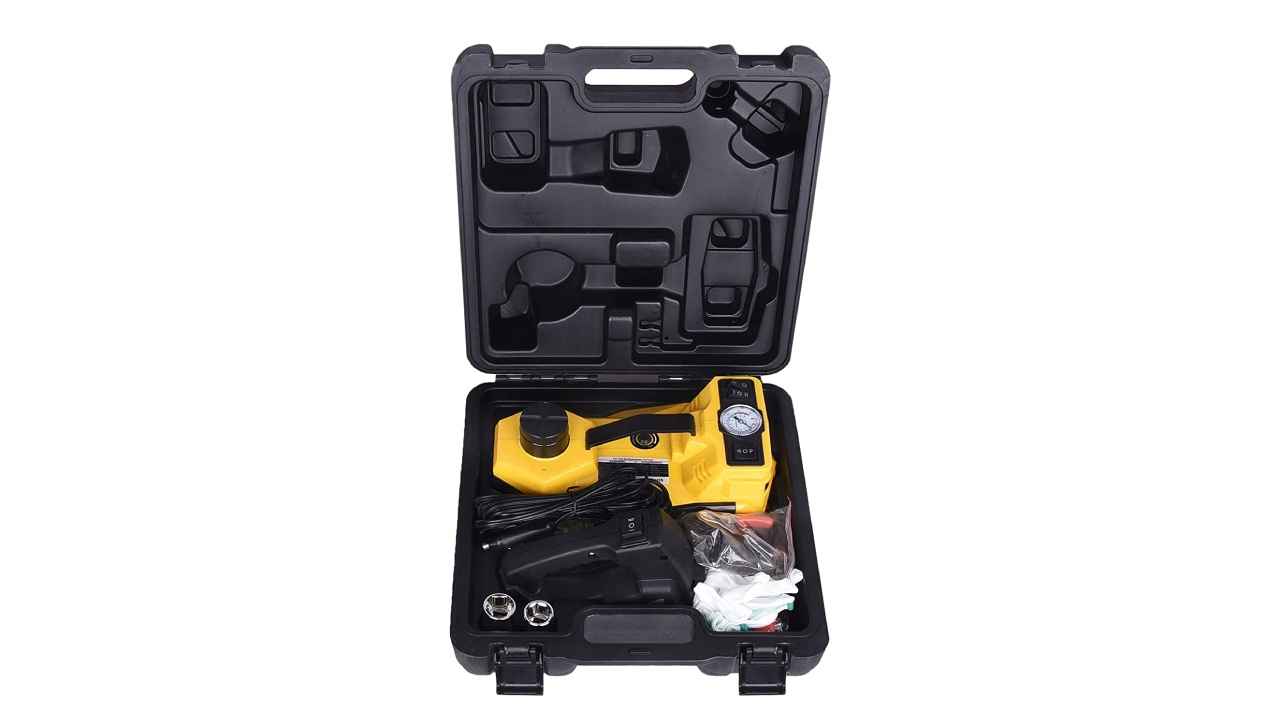 Fixing a flat tyre on your car is no longer the laborious chore that it used to be. With the help of hydraulic and electric jacks, you can get the task done in no time. When stuck beside a road, it is always best to have the most convenient equipment possible, and an electric car jack is the way to go. These car jacks are versatile- and can be used with small saloons, or even large off-road SUVs. Electric jacks cut down on the manual labour of cracking the jack-up and down, and make the entire process easy to be carried out by all manner of drivers – experienced as well as new. Here are some electric jacks for your car.
Automaze 12V DC 3 Tons Electric Hydraulic Car Jack
This car jack comes with all the important accessories and then some. In the box, there is a jack, battery clamps, wrench sockets, fuses, gloves, case and even a window shatterer. It has a lifting range of 135 to up to 365mm, making it suitable for all hatchbacks, mid-size sedans and even SUVs. The maximum loading car weight of the jack is about 3 tons, meaning you don't have to worry about what kind of car you have. It has an input of 12V DC which should work with all power sources.
VOLTZ TY155HJ 5T Electric Hydraulic Jack
This car jack from VOLTZ isn't just electric, it happens to be a hydraulic jack which makes the whole process of switching out a flat tyre for a space much shorter. It has 5 tons of lifting capacity and can lift up cars in less than 2 minutes, making it perfect for roadside tyre change and repair. Besides, it's totally waterproof so you can use it even on a rainy day. The lifting height ranges from 6.1 to 17.7 inches. The hydraulic jack has a built-in inflator pump and LED light; it also comes with an extra safety hammer. Thanks to high stability and premium quality it is an easy solution for tyre emergencies.
JANVITHA DC 12V 3 Tons Electric Hydraulic Car Jack
Here's an electric hydraulic jack that comes with up to 3 tons of lifting power. It is a 4-in-1 tool kit to meet all your flat tyre requirements when in a fix. The high weight lifting power means that it can be used to swap tires on small hatchbacks to larger SUVs. The kit comes with a pair of gloves, an impact hammer, a wrench, and wrench sockets. It can be connected to either a 12 V car cigarette lighter or car battery making for convenient operation. The permanently lubricated DC motor can ensure the stable operation of the jack. The compact case design is space-saving and can be conveniently placed in the carry. The toolbox is also easy to carry.
TY42SP Electric Jack VOLTZ 12V DC 3.0T
This 3-in-1 car jack is a great pick if you want to upgrade to a newer, more efficient car jack. It has an electric jack, electric impact wrench and inflator pump. It has a 3-ton capacity and the lifting height ranges from 4.72-inch to 16.53-inch (120mm-420mm). It can be used to lift up sedans or SUVs under 3 tons. Also included is an electric impact wrench with 480 Nm max torque. With this electric impact wrench, you can replace the wheel easily, no matter how experienced you are. All in all, the kit is designed to meet all your needs.