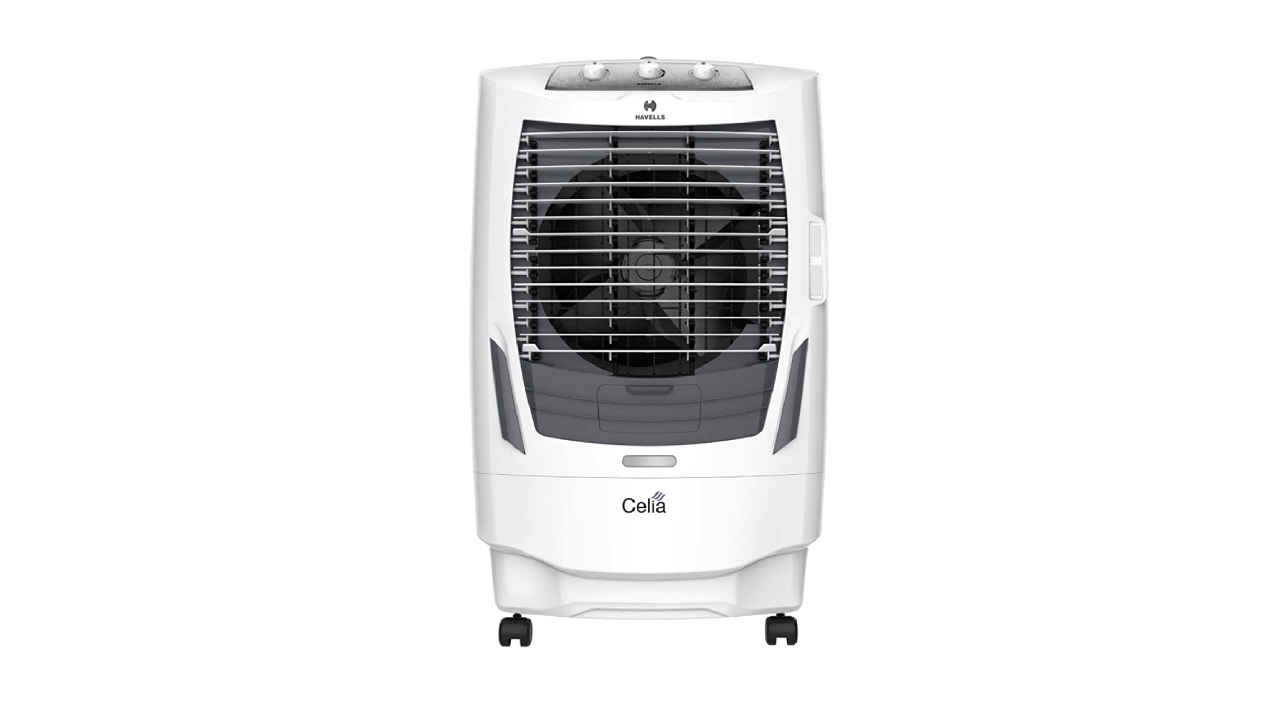 A sound investment in an efficient Air cooler can be worth your while. There are some great options to pick from, and this list will help you out. These desert coolers come with the latest innovations that make them efficient at cooling your room. They will help you combat the dry, sultry summer heat and let you enjoy your days at home. These coolers rid the room of dryness as they use water to deliver constant cool air to your room or office space. Coolers also help you cut down on operational costs, especially in the long run. So, here are some of the best air-coolers to keep a medium-sized room cool in summer.
Havells Celia Desert Air Cooler
This option from Havells boasts an innovative set of features. It includes a unique fan design for low noise cooling, collapsible louvres to prevent dust and insects from entering the air cooler, an ice chamber for instant chilled air, and an auto-fill setup for continuous water supply. It has 3-Side Honeycomb Cooling Pads. These pads have anti-erosion, anti-deformation and hydrophilic properties, which helps in absorbing dust particles and cleanses the air thoroughly. These pads require low maintenance and have a long life. With the bottom wheels, you can move this cooler anywhere in your house, for cooling whenever you want it, wherever you want it.
V-Guard Whiz Air VGD65H Desert Cooler
The V-Guard Whiz Air desert cooler comes packed with a wide range of features to make it an all in one cooler during challenging weather conditions, especially in the sultry summers. The highly efficient cooling pads on 3 sides offer better cooling levels at all times and aid the user in providing uniform distribution of air all through the room. The 65-litre tank capacity allows you to enjoy uninterrupted cooling for an extended period, meaning this cooler is hassle-free. It also comes with speed and cool controls on the front, along with wheels at the bottom, making it ideal for the entire house. The Unidrip Flow Water Distribution ensures that you're always getting cool air.
Maharaja Whiteline Abs Arrow Dlx Co-124 Air Cooler, 50 Liters
Enjoy summers with the high cooling capacity of the Arrow Dlx 50 air cooler from Maharaja Whiteline. It has a high air delivery of 1500 m3/hr and a heavy air throw of 35 feet. This tabletop cooler has a 50L tank that lasts for hours, thus eliminating the hassles of refilling. It has wood wool pads as cooling media that are easy to maintain and provide perfect cooling. The motorised louvres and low noise operation make this cooler a perfect instalment for your home and office. It is also quite small and efficient and won't take up too much space wherever you place it. The shockproof body ensures additional safety by preventing current leakage from the body.
Natural Air Cooler Combo 30-30, 20 Litres Desert Air Cooler
Here's a small cooler for small rooms. It comes with features such as easy-to-remove wood wool pads that keep water cool and fresh and an ice chamber for instant cool air. Thanks to the castor wheels, you can conveniently move this compact cooler from one place to another, making it ideal for homes. This air cooler is designed to use less electric power as it runs on an operating cost of a fan. The cooler is equipped with a powerful 12" fan with 5 Wings, along with specially designed grills that ensure better air throw and faster cooling. Not only is the fan efficient, but it is also low noise and maintenance, which is quite helpful in many cases.