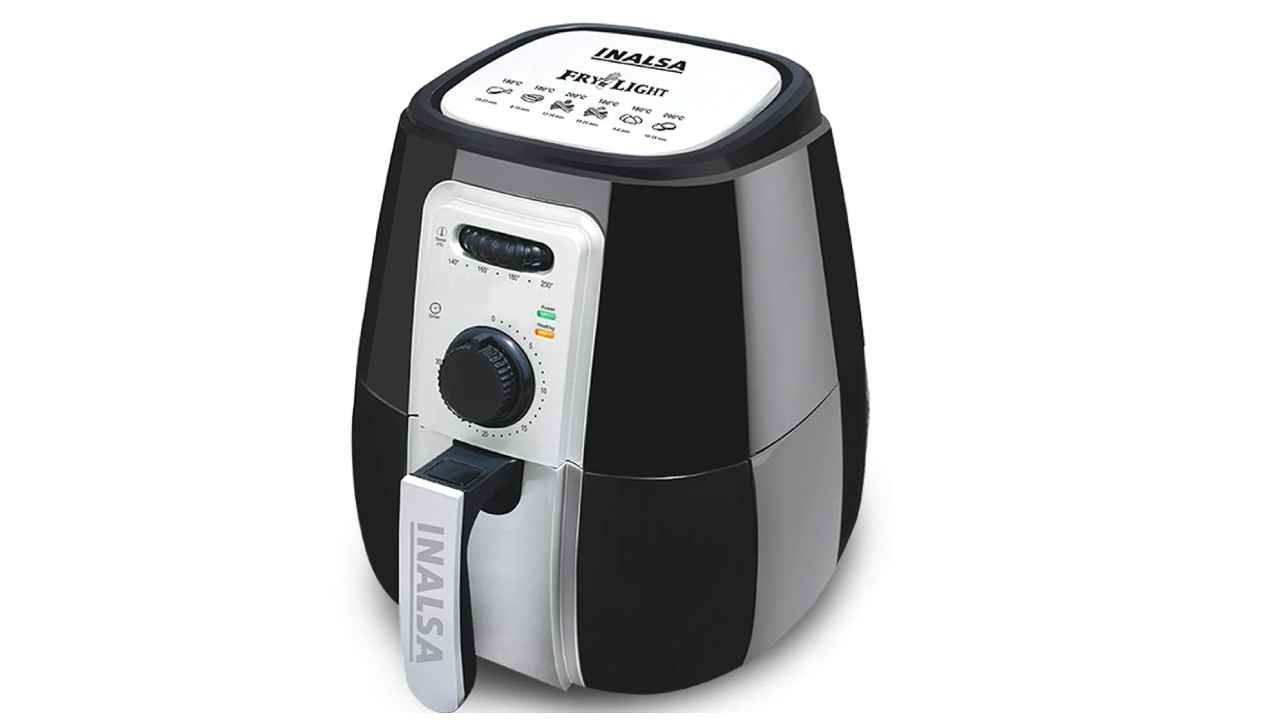 Who would have thought fries could be made without oil? Air fryers have truly revolutionised cooking but cleaning them is a demanding task. Oil and food residue can stick around the grills, making the cleaning process nothing short of an arduous task. However, with air fryers that come along with non-stick and dishwasher-safe baskets, such cleaning issues would no longer pester you! If you are on the lookout for an air fryer for your kitchen, make sure that it comes with non-stick and dishwasher-safe baskets. Apart from this, it also ensures that it features advanced safety mechanisms that offer protection to both the appliance and you. Following are a few good options for air fryers on Amazon that come with non-stick and dishwasher-safe baskets.
SOLARA Digital Air Fryer
The SOLARA Digital Air Fryer has six preset cooking functions, including fries/chips, paneer, chicken, steak, shrimp, and cake settings. This enables the appliance to fix up food for any occasion! Tailored to suit the needs of an Indian family, the SOLARA Digital Air Fryer offers a large capacity of 3.5 litres. With a substantial capacity, this appliance can be used to cook food at one go for your entire family. It also features an advanced one-touch control panel that lets you switch between different preset cooking functions, change the temperature, and cooking time. Moreover, since it comes fitted with non-stick and dishwasher-safe baskets, you have to spend minimal effort to clean it. Some of its other notable features include an auto shut-off function that prevents overcooking and fast air circulation for quick, efficient, and even cooking.
Inalsa Air Fryer Fry-Light
The Inalsa Air Fryer Fry-Light uses the Rapid Air technology that leverages an air circulation mechanism to reduce the need for oil. This gives way for healthier and low-oil alternatives to traditional fried delicacies! The appliance would provide a boost to your culinary creativity, enabling you to cook pork chops, rotisserie chicken, and other exotic dishes quickly and efficiently. Coming equipped with an adjustable thermostat and timer selection, it helps you maintain a consistent temperature throughout your cooking. This air fryer has a 2.9 litres food basket and 4.2 litres cooking pan capacity, making it ideal for family get-togethers! Moreover, since its baskets are non-stick and dishwasher-safe, these appliances don't take up much of your time in cleaning. The Inalsa Air Fryer Fry-Light also has an auto-off and overheat protection function that shields it from any accidental damage.
Balzano Digital Air Fryer
The Balzano Digital Air Fryer comes with inlet and outlet openings through which hot air can get regulated in all directions. It has an extra-large capacity of 5.5 litres that enables you to cook food in big batches, allowing you to cook quickly. It comes equipped with built-in features to ensure that the air fryer shuts off automatically when the basket is removed. Moreover, it also boasts a cool touch body and overheating protection to eliminate any chances of accidents. Using 90% less oil than traditional deep fryers, the Balzano Digital Air Fryer makes sure your food isn't only tasty but also healthy and nourishing. It comprises ten pre-set functions that enable you to switch between your favourite recipes conveniently. All you have to do is rotate the dialer and select the option of your choice. Its basket has a non-stick coating and is dishwasher-friendly, making it a low maintenance kitchen appliance.
Philips Daily Collection HD9218 Air Fryer
The Philips Daily Collection HD9218 Air Fryer is powered by the Rapid Air technology through which hot air gets circulated around a metal mesh cooking basket. This mechanism helps you cook food that is crispy on the outside and tender on the inside. With the ability to cook fries, cakes, tikkis, grilled vegetables, and roasted chicken, the Philips Daily Collection HD9218 Air Fryer is a versatile appliance that can be used for any occasion. Its integrated timer allows you to pre-set cooking times for up to 30 minutes, while its temperature control allows you to pre-set the best cooking temperature for your food up to 390 Fahrenheit. This ensures easy, efficient, and quick cooking. Moreover, its removable nonstick coated drawer and the food basket are dishwasher-safe for a quick and easy clean up.