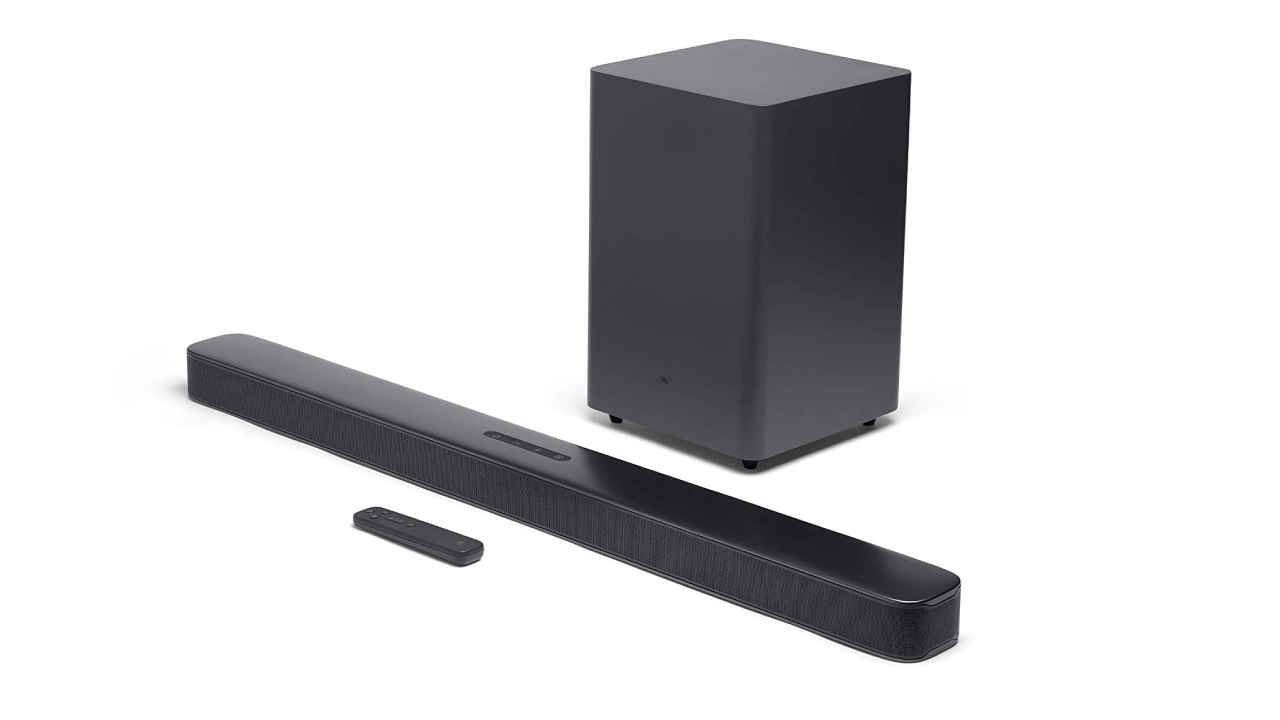 Apart from enhancing the audio experience, Soundbars also add to the home decor. A soundbar needs to be sleek and simple so that it doesn't take away from the viewing experience but should also have all the right components to help immerse you in fictional worlds. When paired with a subwoofer, the use of a soundbar amplifies. So, if you're in the market for a new sound system, check out some of these soundbars available on Amazon. Not only will they look elegant under a 55-inch or larger screen (or even smaller), but they will also deliver great audio quality for a better experience.
Sony HT-G700 3.1ch Dolby Atmos/DTS:X Soundbar with Wireless subwoofer
This soundbar, which comes in a 3.1 channel configuration, is equipped with Dolby Atmos for a more immersive experience. Not only that, it has a nice design that will fit the aesthetic of your room under your 55-inch TV. The soundbar also supports DTS: X and Vertical Surround sound Engine, which is quite thrilling as it ensures sound clarity, specially directional sound. Incidentally, the wave-front technology delivers three-dimensional sound fields to a wider area, such as large rooms. This makes it great for parties and large spaces. It has an AE audio upscaler, which enhances sound quality and gives more detail.
LG SN4 Dolby Digital 300 W Bluetooth Soundbar with Carbon Woofer & Wireless Subwoofer
If you want a clean and to the point sound system for your home theatre setup, you may opt for the LG SN4 Soundbar and subwoofer combo. It comes with a sleek design and can fit well under a TV. Once you hook up your TV to this sound system, it's going to be hard to let go. It comes with impressive surround sound, which is just perfect for watching movies and TV shows on your 55-inch TV. In addition, it comes with AI Sound Pro technology that can customise audio based on different parameters. The wireless subwoofer is a neat touch and can deliver crisp and clear bass, at all volume levels, without the need for wire clutter. Since it has Bluetooth, you can use it as a central console for music and entertainment.
Philips Audio TAB7305 300 W Soundbar with Wireless Subwoofer
This is a high tech soundbar and subwoofer setup. It comes with support for surround sound, which adds to the movie watching and gaming experiences; and for HDMI ARC, which enables high audio quality and impressive details in sound – be it music, movies or games. The subwoofer is wireless and can deliver high-quality audio, along with deep, crisp and powerful bass that can immerse you in the content you're watching. It is designed to sit on a table or can be wall-mounted, both of which are good options if you want to fill up your room with as much sound as possible.
JBL Bar 2.1 by Harman Deep Bass Soundbar with Wireless Subwoofer
Here is a soundbar that comes with a subwoofer, enhancing the sound quality that you from it. It can be set up in a 2.1 channel configuration. It supports Dolby Digital surround sound, as well as JBL, surround sound, making it ideal for movies, music and games. It has various modes suited to different varieties of content. Overall, the bass is key here, and it is dynamic, crisp and deep. The bass is handled by the 6.5" Wireless Subwoofer, while the soundbar manages surround sound and room fill. Apart from this, it supports high-quality sound and also has a sleek design. It will be a neat addition to your entertainment zone.