LG has previewed a new 55-inch OLED HDTV, ahead of the official CES 2012 announcement. For now, no pricing or availability details have been revealed – we presume the Korean giant won't stay mum at CES however.
The new 55-inch OLED HDTV has been detailed slightly, with LG announcing such features as its 4-Color Pixel, adding a white pixel to the usual primary trio of blue, green and red. Also onboard, is the Color Refiner technology, which uses a special algorithm to enhance hues and tones.
Interestingly, as the panel used is of the OLED type, LG has announced the new 55-inch HDTV will have an infinite contrast ratio. The OLED panel will also feature much improved response times, 1,000x faster than conventional LED and LCD panels. The panel is made using what is considered a cheaper production process, Oxide TFT technology, so hopefully, the price will not be too high. No exact details about the expected lifespan of the display are known yet.
Astonishingly, the superlatively-endowed television set will also be superlatively-slim, with a 4mm thick bezel and extremely thin width, all weighing in at less than 7.5 kg, making wall-mounting a non-issue. LG is not skimping with the technology additions also, providing 3D support as well as, presumably of the passive FPR type – though no precise details have been shared on that side yet.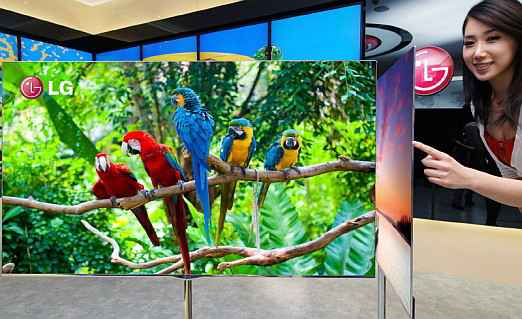 Source: SlashGear