WhatsApp is reportedly working on a new security feature for its iOS app. iPhone users have never been able to lock their WhatsApp messenger with a PIN or any other form of third-party authentication so WhatsApp is looking to enable support for both Touch ID and Face ID to lock and and unlock the messaging app on iOS.
According to Wabetainfo, the feature is currently in the alpha stage of testing and needs some improvements before it can be made available to everyone. The option could be available for some iOS users who have the latest version of WhatsApp on their iPhones. It will show up under Privacy Settings, but it won't be enabled as of now because the feature is still under development. Wabetainfo states that the Touch ID option will show up for iPhones that support the older authentication method, while for iPhone X and upwards, the Face ID unlock option will show up in the app.
Once enabled, the feature will allow iOS WhatsApp users to authenticate their login every time they open the app. If Face ID or Touch ID fails, then WhatsApp will ask iPhone users to fill in the PIN for their devices to unlock the app.
The report further notes that "no data about your fingerprint and passcode are sent to WhatsApp, due to the very restricted iOS APIs".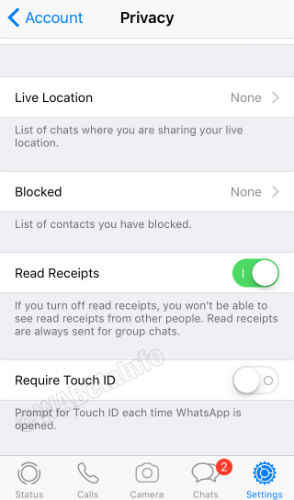 Just yesterday, WhatsApp for iOS received an update bringing support for iPhone XS and the larger 6.5-inch display of the iPhone XS Max. Before the update, the app did not conform to the devices' larger resolution and the app screen, keyboard sizing were slightly off. These problems should be fixed with the new update. Alongside the fix, one will also get new features like continuous voice playback of voice messages and a redesigned quick actions menu. You can read more about the new update here.