Highlights
Facebook now lets you reply to specific texts
The feature can be accessed by long pressing any message in the chat window
It works with text, images, GIFs, and video messages
Facebook has added the ability for users to quote and reply to specific messages in a conversation. First reported by VentureBeat, the feature can be accessed by long pressing any text. Next to the reaction emoji, users will now see an option to reply to that particular conversation. This works with text, images, GIFs, and video messages. The feature was already available with WhatsApp, another messaging service owned by Facebook. The addition of the new feature should make it easier for users to keep track of a conversation, especially in a group.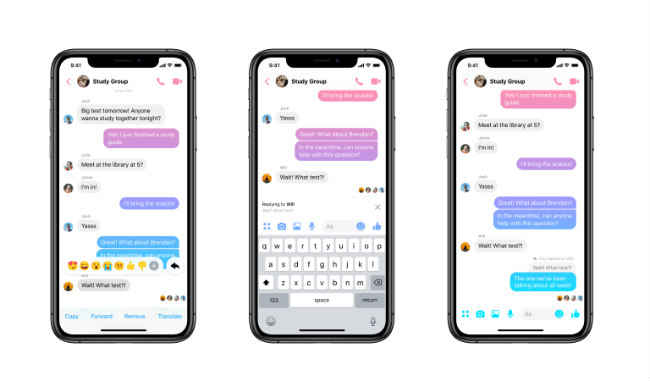 The addition of the new feature is in line with a report back in January this year, which said that Facebook CEO, Mark Zuckerberg planned to integrate WhatsApp, Instagram, and Facebook Messenger. The addition of the new feature to Messenger should help with interoperability within the three messaging platforms.
Facebook also recently added a new 'Dark Mode' in Messenger, but has hidden it. It can be activated by sending a moon emoji. After that, users will have to exit the app and then they will see the toggle for Dark mode in the app's settings.
However, security is something that the social media giant has to take into consideration. Earlier this month, cyber security firm, Imperva reported that a vulnerability in the web version of Facebook Messenger allowed any website to see who the user had been chatting with. While it was noted that the flaw did not reveal the contents of the users' chat, it enabled attackers to know who the person was chatting with. However, Facebook says that it patched the flaw back in December 2018.
Security isn't the only concern on Facebook's mind. A few days ago, it was reported that Facebook, WhatsApp and Instagram users around the globe were facing outage. People reported issues with sending messages on Facebook Messenger, while some were unable to send photos on WhatsApp. Many said that they were not able to log into Facebook hours after the outage started.
Releated reads
Facebook stored millions of passwords in plain text for several years: Report
Facebook lobbied in India, US, UK and multiple other countries against data privacy laws: Report