How to link Pan with Aadhaar card by vising the official website, via an SMS. Pan card link with Aadhaar card has become mandatory and helps you get benefits from the government.
Under the current laws of the Indian government, it is now mandatory to link your PAN with your Aadhaar number. Indian nationals have to give their Aadhaar number at the time of filing income tax returns, applying for a new PAN, as well as to get monetary benefits from the government including scholarships, pension schemes, LPG subsidy, etc.
Why do you need to link a PAN card with an Aadhaar card?
If you don't initiate the Aadhar card PAN link, your PAN card will become inoperative post the deadline of 30 June 2021. You will not be able to use your PAN card to do financial transactions where the PAN number is mandatory. However, once you link the PAN with the Aadhaar card it will become operative again. The government will also impose a fine of Rs 10,000 in case the PAN and Aadhaar cards are not linked by the deadline given.
The Aadhaar card is a 12-digit identification number that has been issued by the Unique Identification Authority of India (UIDAI). It works as a proof of identity and a proof of residence for Indian nationals. The PAN or Permanent Identification Number is a ten-character alphanumeric number issued by the Income Tax Department of India under the supervision of the Central Board of Direct Tax (CBDT). The PAN card is necessary for filing income tax returns and also works as identity proof.
The Supreme Court of India has made the Aadhaar card mandatory for filing IT returns. Under section 139 AA (2) of the Income Tax Act every person with a PAN card as on 1 July 2017 must give his Aadhaar number to income tax authorities.
Linking your PAN card with an Aadhaar card is a very simple process and the government has provided various methods to do that. The deadline for linking a PAN card with the Aadhaar card is 30 June 2021. In this article, you can see the steps on How to Link Aadhaar with PAN Card Online.
How to Link your PAN number to Aadhaar Card Online through e-Filing Website
You can PAN card link with Aadhaar number by following the process mentioned below.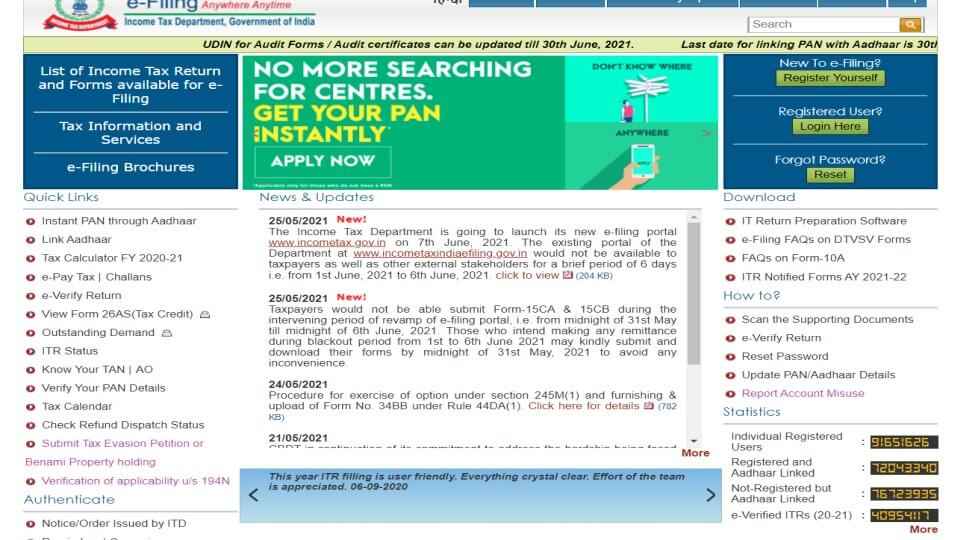 1. Go to the Income Tax e-filing portal - https://incometaxindiaefiling.gov.in/
2. Next, you will need to register on the website. Your PAN number is your user id as well.
3. Log in by entering the User ID, password, and date of birth in the portal.
4. A pop-up window will appear, which will prompt you to link your PAN with Aadhaar. In case the window doesn't open, go to 'Profile Settings' on the Menu bar and click on 'Link Aadhaar'.
5. The website will ask you to enter your details such as the name, date of birth and gender which is written on your PAN card.
6. Verify the PAN details with the details on your Aadhaar card. In case there is a mismatch, you need to get the same corrected in either of the documents before linking your PAN to your Aadhaar card.
7. If the details match, then enter your Aadhaar number and go to the "link now" button.
8. Next, a pop-up message will inform you that your Aadhaar has been successfully linked to your PAN.
9. You can also go to https://www.utiitsl.com/ OR https://www.egov-nsdl.co.in/ to link your PAN and Aadhaar.
How to Link PAN card with Aadhaar via an SMS
If you are unable to use the e-filing website of the IT department for linking your PAN number and Aadhaar card, you can also do so by sending an SMS. The Central Board of Direct Taxes (CBDT) has provided an alternate method to link PAN and Aadhaar cards as well.
You can link your PAN number and Aadhaar card by sending an SMS. To link your PAN card to your Aadhaar via an SMS, follow these steps:
1. You have to type a message in the format UIDPAN<12 Digit Aadhaar> <10 Digit PAN>
2. Send the SMS to either 567678 or 56161.
How to link PAN card and Aadhar card by filling up the form
The Indian government has also given an option to link the Aadhaar with the PAN manually. For this you will need to visit the PAN Service provider NSDL, and fill up the required form. You will need to submit all relevant documents and proofs to link your Aadhaar with the PAN card.
How to edit/change your PAN card details to link with Aadhaar Card
PAN and Aadhaar card linking is successful only when all your details in both documents are the same. In case there are errors such as spelling mistakes in your name, your PAN card number will not be linked with Aadhaar. To make changes you will have to visit a nearby Aadhaar Enrolment Centre or through the portal of NSDL PAN. To correct any errors in your details, follow the below-mentioned steps.
1. The user can correct his PAN details by visiting the NSDL website
2. The NSDL link will redirect to the page where you can apply for the correction of your name or other details.
3. Submit signed digital documents of your identity proofs to get your PAN details updated
4. Once your details are corrected in your PAN, they will be confirmed by NSDL over mail and then you can link your PAN with your Aadhaar card.
How to check Aadhaar PAN card linked
First, you will need to check your PAN-Aadhaar link status. Follow the below-mentioned steps to check whether your PAN is linked to your Aadhaar card or not.
1. Go to the e-Filing Income Tax Department page i.e., https://www1.incometaxindiaefiling.gov.in/e-FilingGS/Services/AadhaarPreloginStatus.html
2. Next, Enter your PAN Number
3. Then Enter your Aadhaar Number
4. Now, go to the 'View Link Aadhaar Status' button
5. Your Aadhaar PAN link status will be there on the screen