YouTube has become a powerful medium to share video content. In this article, we will talk about how to get verified on YouTube. Anyone can verify a YouTube account; all you need is a phone number to prove your identity. However please note that verification doesn't mean you get a verification badge. The verification badges are reserved for YouTube channel creators who have at least 100,000 subscribers. YouTube considers these content creators to be "established." It doesn't bring any additional features though.
If you have created a YouTube account then verifying your account will allow you to upload videos that are longer than 15 minutes, as well as unlock more features. It is also vital for content creators who want to create a valid channel and monetize it. The YouTube channel verification with your phone number is done to make sure that your channel is authentic.
What are the benefits of YouTube account verification?
Once your YouTube account is verified you will be able to
1. Upload videos that are longer than 15 minutes
2. You will be able to add custom thumbnails
3. You will be able to Live stream content
4. You will also be able to Appeal Content ID claims
Why does YouTube ask for a phone number?
YouTube asks users to verify their phone numbers in order to stop spam and fake accounts. Using phone numbers to verify identity is a way for the company to protect the community and combat abuse.
How to verify YouTube account- a step by step guide
In order to verify your YouTube account, you must have an active internet connection and a valid phone number. Do note that some countries don't support the text message option for verification.
Here's how to verify your YouTube account: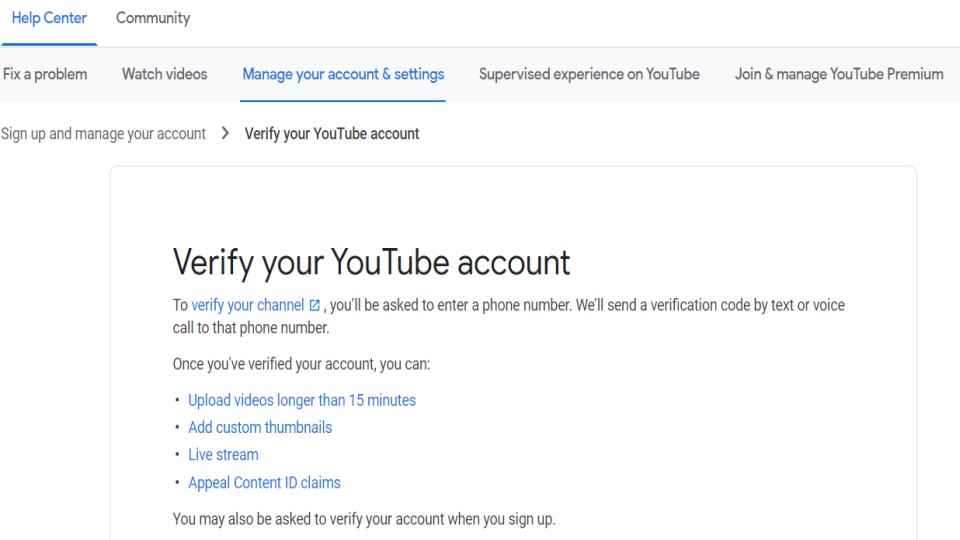 1. Go to youtube.com, and on the left-hand toolbar you will scroll down and see "Settings."
2. Click on view additional features which are placed under Your account.
3. Next click on Verify
4. You will have to select your country of residence and choose whether you would prefer to get a phone call or text message for receiving your verification code.
5. In case you select the phone call option click on Confirm.
6. You will receive a phone call immediately to verify your account.
7. In case you choose the SMS option then you will receive a code on your mobile phone. Enter the code and hit submit.
Once the process is complete, you will receive a confirmation message from YouTube. Simply click "Continue" to return to the status and features page of your account. You will be able to see the word "verified," along with a check mark, right below your channel name.
What is a Verification badge?
YouTube verification badge is given to content creators who have over 100000 subscribers. The badge indicates credibility and confirms that your channel is being run by a real human being, an established creator, or an authenticated brand/organization. A verification badge protects your channel and helps your followers to separate it from other fake channels.
This is different from verifying your YouTube account. Verifying your YouTube account with your phone number unlocks new features for you as mentioned above.
Please note.
1. Content creators who get the verification badge don't get any access to exclusive features. Please note that being verified on YouTube or getting a verification badge doesn't mean you'll get access to any exclusive features on the platform. It validates your brand and channel. YouTube viewers will be able to trust your channel when they see your video on their feed.
2. The verification badge prevents stolen traffic. It prevents copycats or impersonators from stealing any traffic that should have gone to your YouTube channel.
How to Get YouTube Grey Checkmark
The YouTube verification badge looks like a grey checkmark or a grey music note that can be seen next to the channel name of the YouTube content creator.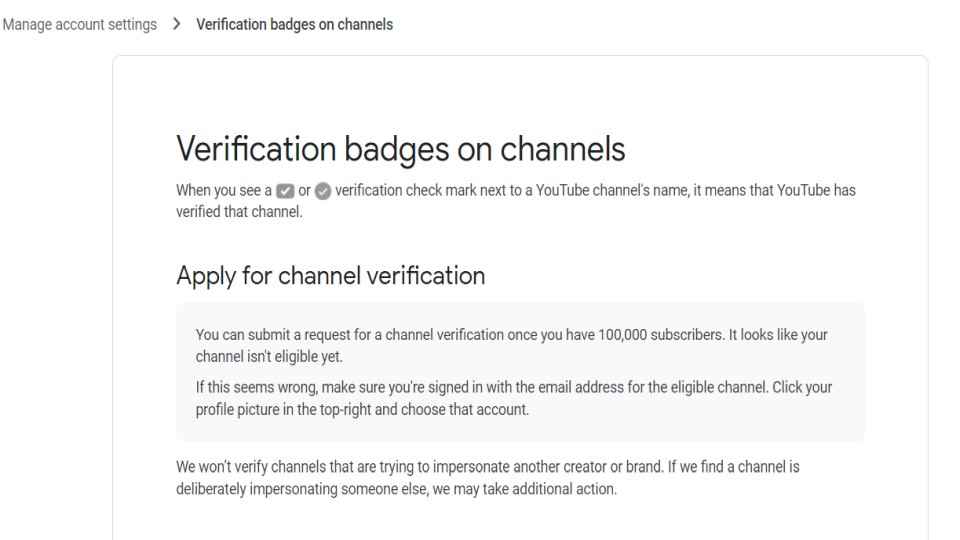 1. To get a verification badge you must have at least 100,000 subscribers.
2. You will need to be authentic, so your channel must represent the real creator, brand, or entity.
3. Your channel must be public and have a proper description, channel icon, and content. You have to be active on YouTube to get a verification badge.
Once you receive your verification badge it is important for you to post content regularly and encourage user participation to drive engagement. It is advisable to go for a multichannel approach and share reciprocal links to build a great channel brand. It is also important to follow YouTube's Community Guidelines and Terms of Service. If you don't follow those, you'll soon find your verification revoked. Take note that the verification badge is also associated with your channel name, if you change the name of your channel or rebrand it, you will be unable to transfer your YouTube verification to your newly named channel.