Bharti Airtel is one of India's biggest telecom service providers. The company offers its subscribers attractive calling and data plans along with added services. Airtel Hello tune is a service provided by Bharti Airtel to its customers. Hello tunes allow your callers to hear whatever music you choose instead of a ringing tone, till you answer their call. The telecom operator is providing the service to its users through its music streaming platform called Wynk Music. Airtel customers can easily activate caller tunes on their mobile by downloading the app on their smartphone and setting any song in the catalogue as their Airtel free caller tune.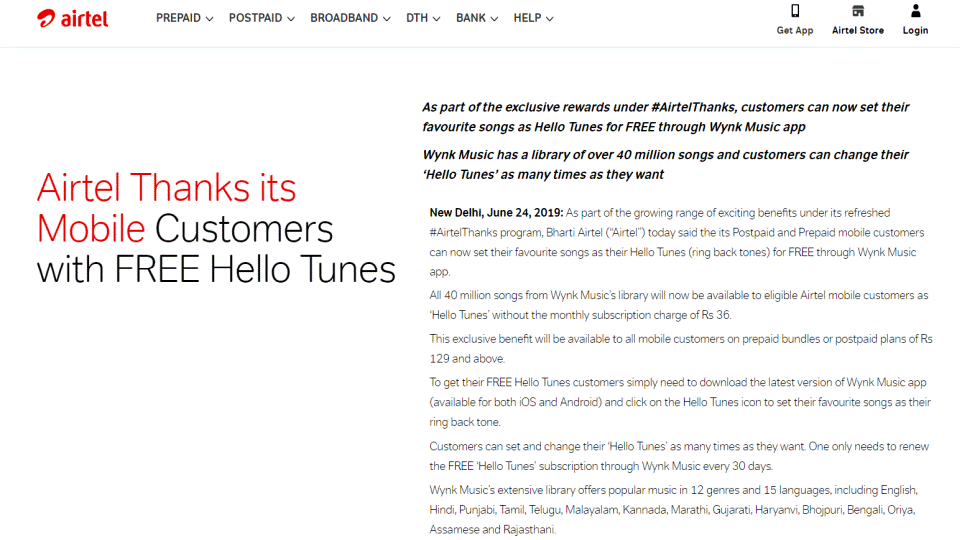 Airtel states that its Wynk Music app has over 6 million songs across Indian and International music genres. Wynk Music's extensive library offers popular music choices across various genres in more than 15 languages, including English, Hindi, Punjabi, Tamil, Telugu, Malayalam, Kannada, Marathi, Gujarati, Haryanvi, Bhojpuri, Bengali, Oriya, Assamese, and Rajasthani. Wynk Music from Airtel has a campaign called #ExpresswithHellotune, to enable customers to share their current moods and feelings with friends and loved ones through music, with a song of their choice. Airtel Hello Tunes services have been provided for free for all Airtel Thanks customers with a minimum plan of Rs 129.
The company allows users to pick any of these songs to greet their callers for free. Do note that Airtel customers will require the Wynk Music app to set a Hello Tune. Prepaid customers who have an Unlimited plan can set a Hello Tune free of cost. However other prepaid customers will have to pay a small charge of Rs. 19 per month for the service. Here is a step-by-step guide on how to set a Hello Tune for your Airtel number.
How to set caller tune on Airtel for prepaid and postpaid customers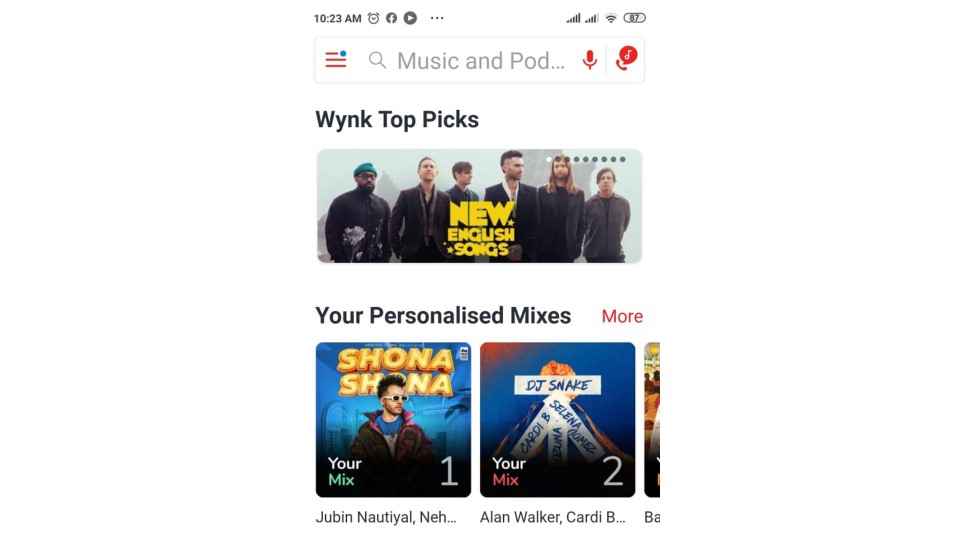 1. First, to set the caller tune in Airtel, you will need to download the Wynk Music app from Apple App Store or Google Play Store. It is a free app available for all Airtel customers.
2. Next, launch the app and log in using your Airtel SIM number.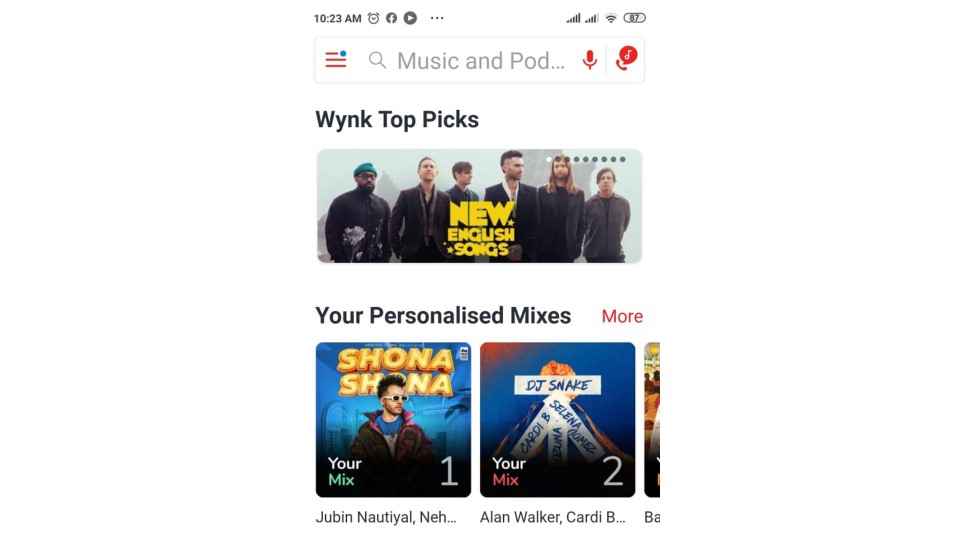 3. Then you have to click on the icon of Hello tunes.
4. Simply search for your favourite song that you want to set as your caller tune by artist, genre, movie, etc.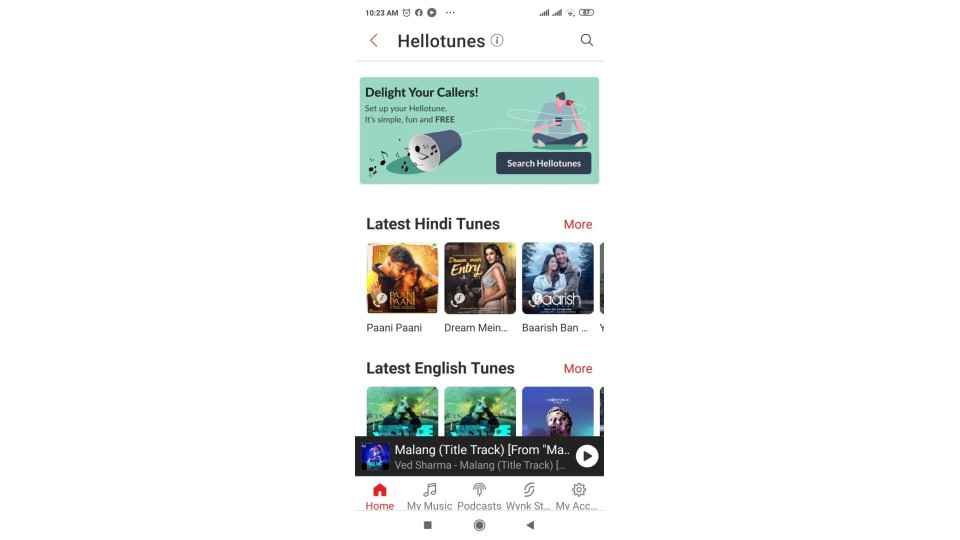 5. Then click on the play icon to listen to the preview and then click on 'Activate for Free' to set it as your caller tune in Airtel.
Alternatively, if you are listening to some song on the music player, you can also set it as your Airtel caller tune on mobile, just click on the Hello tunes icon and then on the 'Activate for Free' option. Once you have done that, you will receive a confirmation SMS on your Airtel number.
How to disable Hello Tunes via Wynk app
To disable Hello Tunes on your Airtel mobile number you can
1. Simply tap on the hamburger menu on the top left in the Wynk Music app.
2. Go to Manage Hello tunes, and click on the three-dot menu next to the current Hello tune.
3. Select Stop Hello tune
4. And press done. This will stop the Hello tunes on your Airtel mobile.
How to use USSD code for setting Airtel caller tune
Airtel also allows users to set caller tune in Airtel by using USSD code.
1. Dial *678#, and select your favourite tune, and reply with its serial number.
2. Next, confirm the caller tune activation.
Airtel also allows you to copy someone else's Airtel caller tune and set it as your Hello Tune.
1. You will have to call that particular Airtel number and press *9.
2. Airtel will set that tune as your caller tune.
Airtel subscribers will be able to go to the Hello tunes section in the Wynk Music app anytime and it will display the currently active Hello tune on the top. If you want to keep using the same Hello tune, you will need to click on the 'Extend validity' button.
In case you want to change the Airtel hello tune, you can search for a new song and set it for the next 30 days. The Airtel Hello tune service provided by the Wynk Music app is completely free for Airtel customers. The Hello tune is activated for 30 days and subscribers will have to keep extending the validity in order to keep using the tune.
How to deactivate caller tunes via SMS
Do note that although the company has currently stopped SMS service for setting the caller tune in Airtel, you can still use the messaging service to deactivate it. To deactivate the Hello tune via SMS simply send STOP to 543211.