While some of us consider the end of the year to be a time when everyone winds things down, some brands consider it a time to get one last product out. Realme has announced the Realme Watch S Pro, their latest smartwatch, which the company is pegging as "Pro" in every which way. We've had the watch for sometime and here's what we think of it so far. Do note that this is just a first impression after some light usage and the full review is going to be out very soon.
Realme Watch S Pro Features and Specifications
Realme is taking the "Pro" in the name of the Realme Watch S Pro rather seriously, and wants you to do the same. To this end, they're offering a host of features and specs the company feels should be a part of a professional grade smartwatch/fitness tracker. You get an SpO2 sensor alongside the usual heart-rate monitor, both of which combine to give you the relevant metrics across the 15 workout types this watch supports. It's interesting to see that just like the Mi Watch Revolve, the Realme Watch S Pro is also focusing on giving you quality over quantity when it comes to activity tracking. The watch also comes with on-board dual-band GPS which should be good for tracking your runs and walks without the need for a smartphone. However, for the best and most accurate results, wearables typically resort to using three GPS platforms and not just two. We are looking forward to testing the Realme Watch S Pro's GPS accuracy in this regard.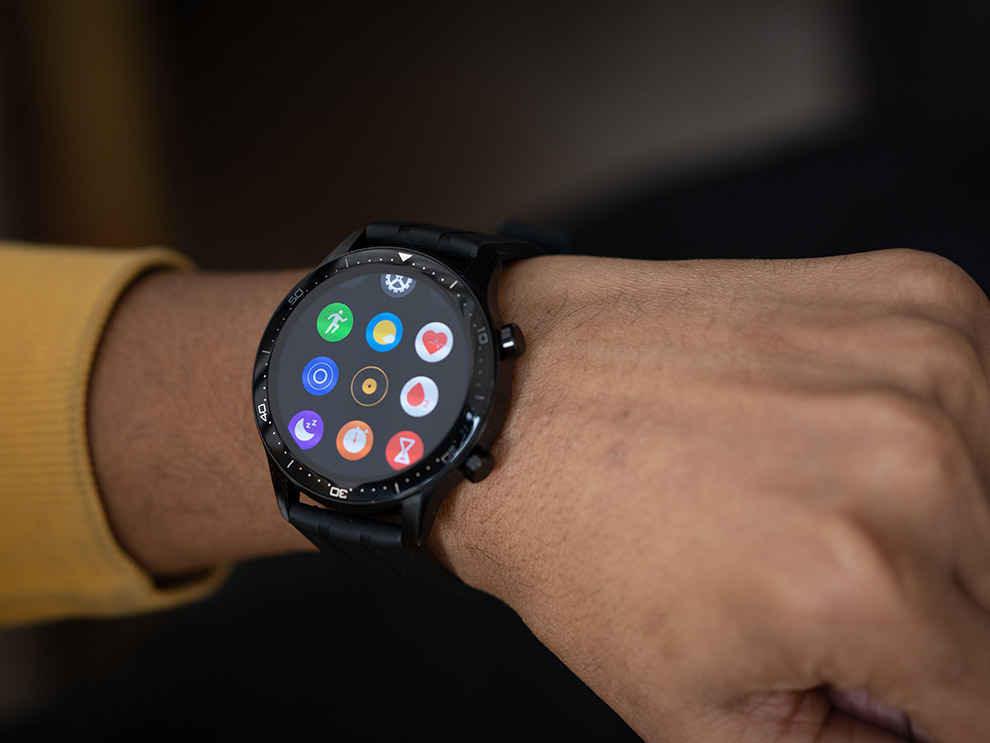 We also have an always-on display which when not in use, shows the time, allowing the Realme Watch S Pro to also fulfil the function of a regular watch. Lastly, there's Realme's claim that the watch has a 14-day battery life. This last claim is another one that we're definitely going to be testing. Typically, this kind of battery life is only achieved when the smartwatch is ideally put in low power state, or not used for tracking workouts. Normally whenever the on-board GPS of any smartwatch is activated, especially for tracking a workout, the drain on the battery is significant. For example, the Apple Watch Series 6 gave me a day and a half of use when I didn't work out, but on days I used the Watch to track my bike rides, I got less than a day of battery life. The GPS tracking does take a huge hit on battery life, so we're eager to find out the conditions under which the 14-day battery life claim stands true.
Realme Watch S Pro Build and Design
The Realme Watch S Pro has a stylish aluminium build that is reminiscent of any well-made wrist-watch. You can choose a variety of straps to go with the watch, but ours came with the black vegan leather strap pre-installed. The strap, being leather, is a little stiff at the moment, but I do expect it to soften up with use. The dial is nice and large and although it has engravings around the periphery, this is not a rotating dial like the Samsung Galaxy Watch 3. All navigation is done using a combination of swipes and the two buttons on the right side. I do like the fact that the company has used Corning Gorilla Glass to protect the fascia, and while I don't expect it to withstand strong blows, I do hope it will survive the occasional brush against a wall or door handle.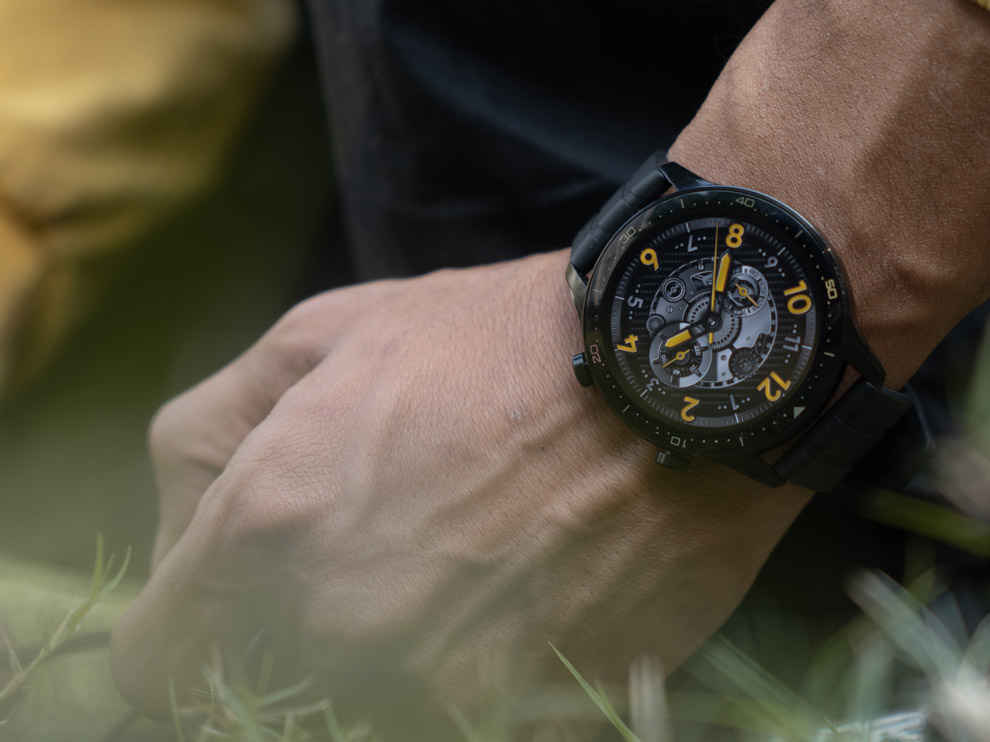 Realme Watch S Pro First Impressions
The Realme Watch S Pro feels like a solid attempt from Realme to cater to a market that's ripe for the taking. The under-10K market is an interesting spot because it is the right budget for those who want to upgrade from a fitness band, but don't want to overcommit to their fitness fantasies by investing in a Garmin or even an Apple Watch. Currently, Realme Watch S only has one real competitor in this space, the Mi Watch Revolve, as both the Oppo Watch and the Huawei GT2e are priced just a hair more expensive. What has to be made very clear, however, is that the Realme Watch S Pro does not have an on-board speaker, so you cannot take calls on it, limiting the "smartwatch" aspect of this wearable device. Regardless, this is definitely an interesting product to have come into our labs just before the year's end, making it easy to go into the new year on a fitter note.
Photos by: Prateek Khatri