It might come as a bit of a surprise to many consumers that OLED panels for TVs haven't been updated very often. Almost all OLED TVs today source White OLED panels with White, Red, Green, and Blue sub-pixels from LG displays. White OLED was a revolutionary technology, but since 2016, we have seen only two major upgrade in White OLED TV panels - OLED Evo in 2021 and MLA OLEDs in 2023. But if you are researching before buying an OLED TV, you will run into four different panel types of OLEDs including QD-OLED, OLED WBE, OLED WBC, OLED Ex and the MLA OLED or Meta OLED.
QD-OLED is another technology which has now progressed to its second generation, while White OLED panels are available in four varieties with MLA OLED being the most advanced offering. So, what's the difference between all these OLED panel types?
Update: At CES 2023, LG announced its third-gen OLED panel, the Meta OLED or MLA OLED panel which uses Micro Lens Array (MLA) to improve the brightness by up to 30 per cent. This means White OLEDs will be able to give QD-OLEDs a better fight in 2023.
White OLEDs: MLA OLED Meta vs OLED Ex vs OLED WBE vs OLED WBC
OLED WBC is the older panel that you get if you buy most of the last-gen OLED TVs like LG C1 or Sony A80J. Some of the 42-inch LG C2 models in 2022 were also found using the WBC panel, which is a clear indication that you might end up with an older WBC panel even for current-gen TVs based on the manufacturer you buy from and the market of purchase.
With the OLED WBE panel (popularly known as Evo panels), LG made two significant changes that helped increase the brightness by up to 20 per cent over the OLED WBC.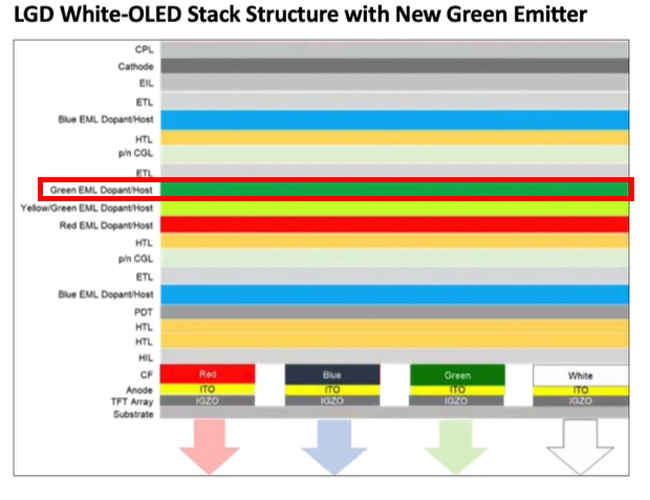 Source: DSCC, Via: Nanosys
Each pixel of a White OLED screen (used on almost all OLED TVs) has a white, red, green, and blue sub-pixel. The OLED material only emits white light which is passed on as it is through the white sub-pixel and the other three colours - red, green, and blue - are achieved using a colour filter layer. The older WBC panels use 2 Blue OLED emitters with a yellow-green and red emitter in between to create white light. For the Evo or WBE panels, Firstly, LG added an extra Green emitter layer between the two Blue OLED emitters (as shown in the image above). This results in brighter and more efficient white light.
Secondly, the Hydrogen-based OLED material used in the blue emitters has been replaced with deuterium-based OLED material. The change in OLED material to deuterium has a significant impact and enhances the lifetime of OLED manifolds. The panel was first used on the LG G1 OLED TV which also won the Digit Zero1 Award for the Best 4K HDR TV in 2021.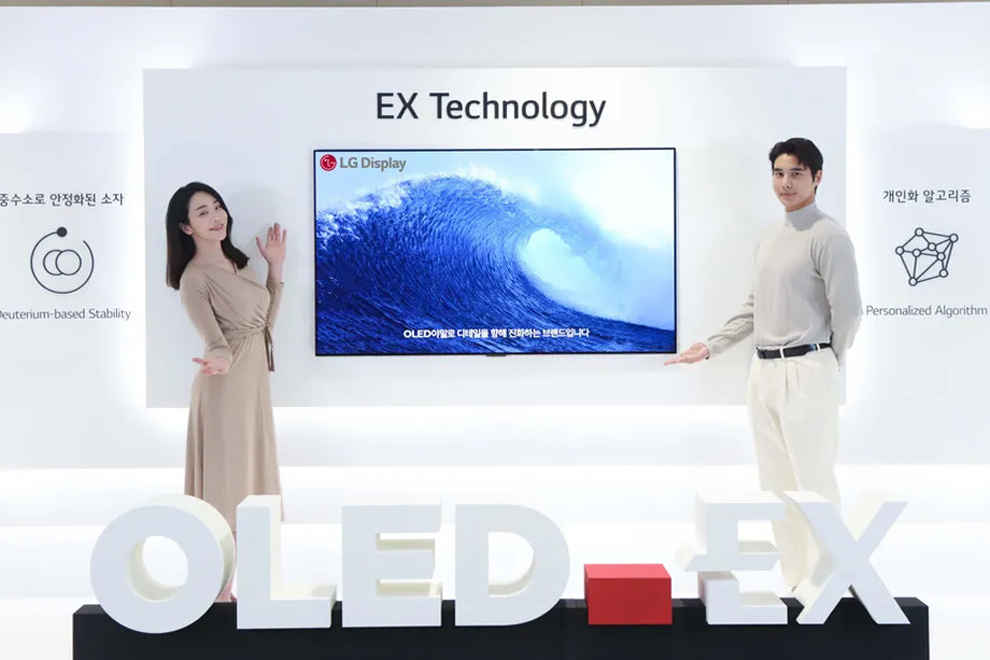 The OLED Ex panels that were introduced in 2022 have been pitched as a rebranded OLED WBE, but there are a few other notable changes to consider. The most important is that the OLED Ex panels have an additional heat dissipation layer that enables them to go much brighter. This also further reduces the risk of burn-in and reduces image retention on OLED Ex panels. LG has also managed to increase the pixel aperture ratio on the new OLED Ex panels. The Pixel aperture ratio determines how much light a section of the display can emit and a higher pixel aperture ratio implies that pixels can get brighter. LG claims that the OLED Ex panel can get 30% brighter as compared to older WBC panels (not WBE panels).
LG's new LG G2 which was introduced at CES 2022 is one of the first TVs to debut with the OLED Ex panel.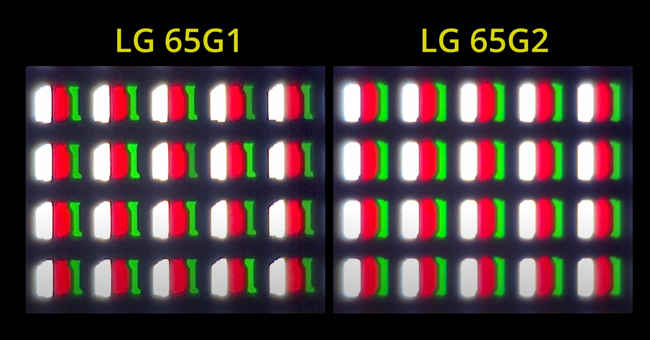 Source: HDTVTest
OLED Ex panels reduce the spacing between sub-pixels (larger aperture ratio) and have a slightly different green sub-pixel structure.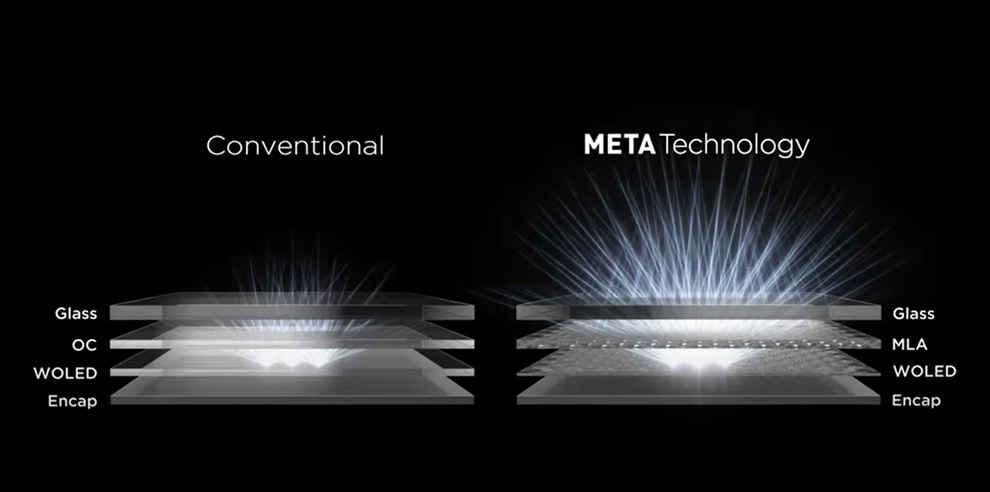 Source: LG Displays
A significant portion of the light generated by the OLED substrate is lost to internal reflections. The new LG OLED Meta panels use a Micro Lens array (MLA) layer that pushes back light reflected internally within different OLED panel layers, thus resulting in significant brightness improvements. The improved light scattering in the LG Meta panels also results in wider viewing angles. Other positives of the other previous generation white OLED panels like deuterium-based OLED material and larger Pixel aperture ratio of OLED Ex are integrated within the LG Meta panels. LG also adds a meta booster algorithm that maximizes the peak brightness of different areas on screens after analysing luminance data in the video signal. LG Claims that the MLA technology and Meta Booster algorithm together result in a 70% improvement in brightness in LG G3 over an older generation "conventional OLED" panel.
Update: LG has confirmed that all OLED Panels manufactured starting from the second quarter of 2022 USE OLED Ex panels. This implies that all new OLED TVs in 2023 will have an OLED Ex panel or the new OLED Meta panel with Micro Lens Array (MLA). The models manufactured in 2022 could have any of the older OLED panels as well.
QD-OLED vs Regular White OLED: What's the difference?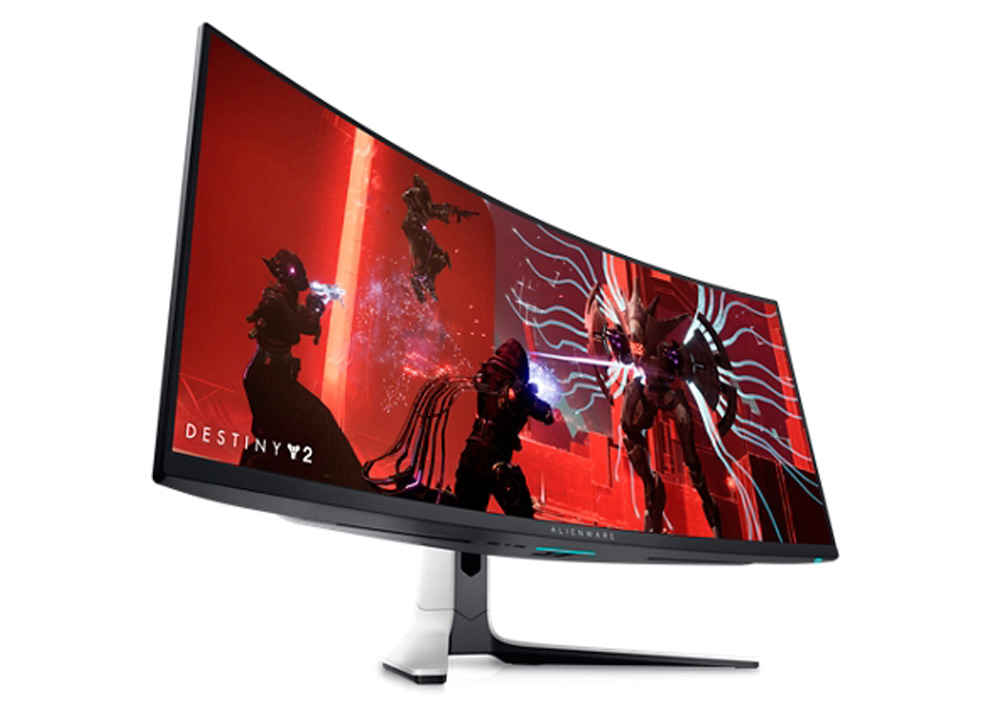 QD-OLED displays are currently being manufactured by Samsung Displays. Unlike White OLEDs that you'd get on all other OLED TVs, these panels don't have a white sub-pixel and use quantum dot colour converters instead of regular colour filters for red and green sub-pixels. This helps avoid the loss of luminance due to colour filters, enabling the panel to produce a much higher brightness and support a much wider colour gamut (more than 90% of BT2020) as compared to the best White OLED panels including OLED Ex.
Red and Green Quantum dots for the Red and Green sub-pixel on QD-OLED are exited using Blue light and for the Blue sub-pixel, the blue light is passed on as it is. With Quantum dots, there is no loss in energy and complete brightness can be transmitted. This is why the QD-OLED displays essentially behave as the RGB OLED panels that you'd find on smartphones.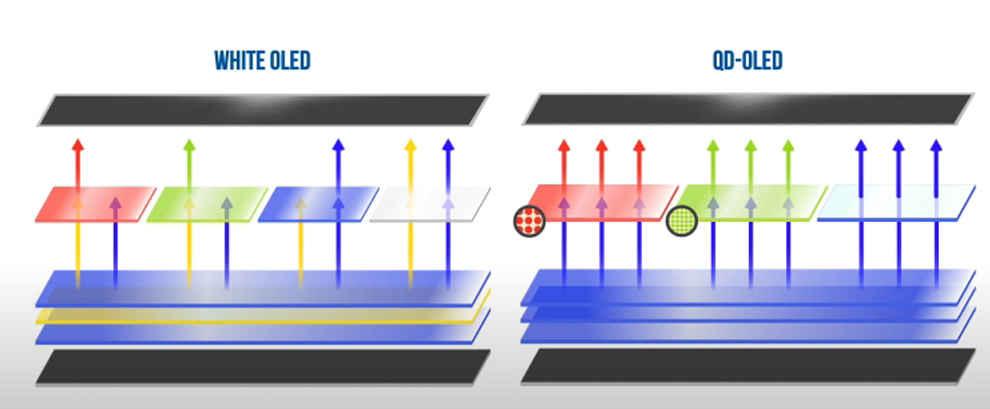 Source: Nanosys
In 2022, two TVs launched with QD-OLED panels - the Sony A95K and Samsung S95B. These TVs can get brighter than conventional OLED Ex panels and the overall picture quality is neater. They offer higher colour volume, better screen uniformity, and better details in the near-black regions. On the downside, many reviewers have pointed out slightly under-saturated dark colours in dark sequences. The Sony A95K won our Zero1 Best OLED TV award for 2022.
In 2023, we will see brighter QD-OLED panels in more sizes from more manufacturers including TCL.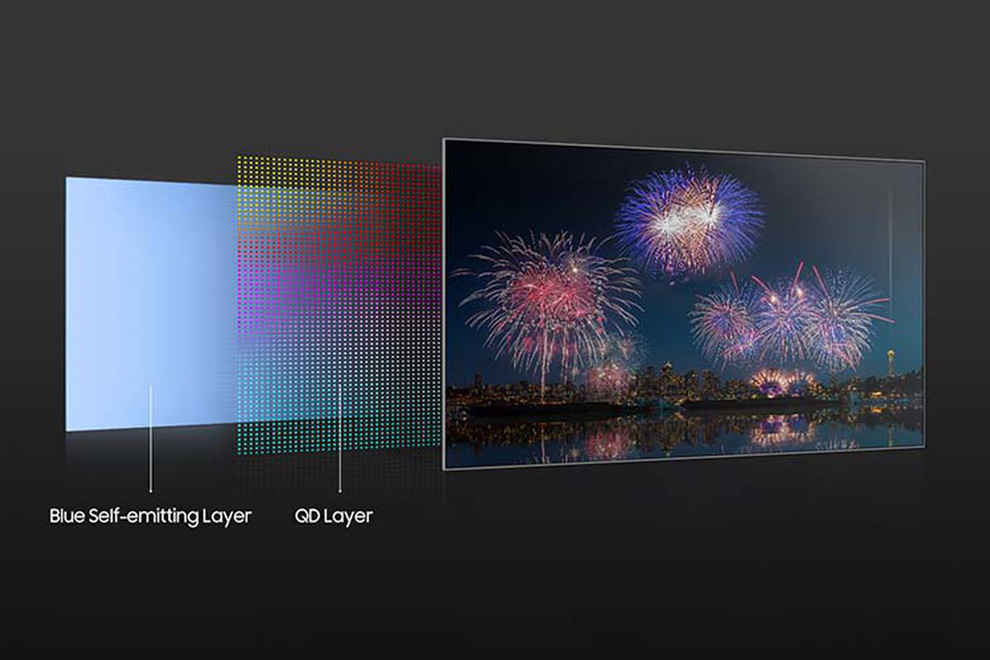 Apart from TVs, Dell has launched its 34-inch Alienware QD-OLED gaming monitor that costs $1200. As expected it supports a wider colour gamut and higher peak brightness than any other OLED monitor. On the downside, this monitor panel reportedly has an unconventional sub-pixel arrangement that can lead to fringing for text edges and lacks a polarizer layer on top, which makes the blacks appear grey when viewed in a well-lit room.
How to tell if your TV has OLED Ex, WBE or WBC panel?
One way to tell the difference between WBC and WBE panels is by measuring their spectral density using a spectroradiometer. The WBE panels are characterized by a narrower blue half-width and clearer separation between the Red and Green spectrum.
Understandably, consumers don't have a spectroradiometer handy. So, the next easy way to check is to put a completely white image on your TV. Now, if you see a pink tint off-axis, you most probably have a WBE panel or OLED Ex. WBC panels show a slight cyan tint.
If you have an OLED TV from LG, you can also check for WBC or WBE panel in the service menu.
The OLED Ex panel has the same spectral density and the same characteristic pink tint off-centre as the WBE panel, so you will have to check for reviews and the manufacturer claims to be sure.
Can normal consumers tell the difference in quality between OLED EX, WBE, and WBC panels?
Peak brightness has been a notable shortcoming of OLED displays, and that's what LG Displays has been trying to fix with each upgrade. The Ex panel is significantly brighter as compared to the WBE or WBC and that will make a significant difference when you are watching HDR content. At the same time, OLED Ex panels used on mid-range and affordable OLED TVs might not see the brightness gain as manufacturers might choose to instead side with a longer life span of OLED material.
LG Displays will gradually phase out all other OLED panels except WBE, which is to say that consumers might not have to worry much about what panel they are getting sometime later. OLED Ex panels are currently being manufactured at the Guangzhou fab (GZ) and the older WBC panels are being manufactured at the Paju fab in China. There is no clear timeline for when the Paju fab upgrades to manufacturing WBE panels.