The way we use our operating systems has changed drastically over the years. From Office tools to entertainment, everything within an operating system, be it Windows, iOS or Linux, has evolved to become more mature than ever in the past. And one of the constant features of the connected computing world – the web browser – has perhaps shown some of the largest leaps in terms of capabilities. There couldn't be a better example of this than Google's Chrome OS, an entire operating system based on Google's Chrome web browser.
The Chrome OS came into being after Google realised that their people were using their browser for most of their computing needs. Be it Google's cloud based office tools (Docs, Sheets, Slides) or web apps from third parties (Skype, Pixlr and more), on the surface Google's Chrome OS can offer you everything that you might need from a typical computing platform. But can it really? I spent a month with the Chromebook as my only device to find the answer. Here's my log:
An exercise in trust
Day 1: Setting it up
Setting up the Chromebook was as easy as setting up a new Android phone (Hurrah for Google accounts and their synchronisation!). As an update from previous versions of the Chrome OS, it now has a desktop (with customisable wallpapers, no less!). Basic tasks like connecting to the Wi-Fi, Bluetooth, etc., are pretty intuitive with a browser like Windows. And personally, I am absolutely all over the touchpad gestures, which seem to have taken a cue from Macbooks.
Day 3: A speedy experience
The Chrome OS makes the Chromebook a truly open and shut device. None of my logins took more than 10 seconds to bring up the login screen from a complete shutdown. As a default setting, it brings up all the windows that were open when the Chromebook was shut down. Personally, I prefer it that way. But if you need to disable it, go to Settings -> Advanced settings -> On Startup and select the 'Open a New Tab page' option. You can even set it to open specific pages on startup.
Day 4: Device friendly
Devices can be added as plug and play. It detected my standard mouse without a hitch. It also played HD video off a pendrive without any lag on the VLC app. Also, the app launcher is a welcome Android inspired feature and the Downloads folder is the root drive, which makes sense on a browser based OS.
Day 6: The power saver
I haven't really shut it down over the weekend, but then I barely used it for 4 hours. The Chromebook uses almost no power if you simply close the lid in the logged in state, as it turns off the Wifi adapter, which it turns on again once you log in.
Day 8: A mapping hitch
The first day for the Chromebook at the office. The first problem faced – connecting to network drives. But Google has a solution in the form of Network File Share for Chrome OS. It is an app that lets you map network drives in the form of shared folders. It supports the share path in the Windows format (\\server\share) or an smb URL e.g smb://server/share, along with the option of logging in with a username and password if the directory is password protected.

The Network File Share for Chrome OS app
Day 10: Cast-ing through
Chromecast is detected very easily. The system tray on the bottom right corner adds a section showing 'Cast devices available', which lets you cast your screen. Within the Chrome browser in Chrome OS, you also get a button next to the address bar that lets you cast a specific tab or the entire application. If only I could play games that I could cast!
The roadblocks set in
Day 11: Games, where art thou?
The only way I can play games on this one are the apps that already available on the Chrome Web Store. That includes some of the popular ones like Cut the Rope, King of Thieves and Angry Birds, which have been created as web apps as well. No Steam so No CS: GO for a month. But I've heard that browser-based emulators work fine, so retro games, here I come!
Day 13: The annoying notification
Annoying popup notification keeps repeating because Chrome OS cannot connect to the network drives when I am offline. Even hitting 'Abort' doesn't help.
Day 15: Good old Chrome!
The memory limitations of Chrome have started to set in. Although the number of blank tabs that can be opened seems to be more than a 100 before some of the tabs are closed by the system, that's not the case when the tabs have content. Depending on how long the Chromebook has been on for (in my case - 2 days), this one starts killing tabs anywhere between 10-20 heavy sites. Even though this might appear to be a grave issue, this should not be a problem on beefier Chromebooks.
Day 16: A memory diagnosis
Hitting the memory snags repeatedly as the system has begun to lag. After a fresh reboot, using the crosh console to run a memory diagnostics (command: meminfo) reveals that out of the 2GB memory on board, around 1.6GB is available for the system. With no other application running other than the crosh extension itself, the system has around 1GB memory free. That is not enough for the Chrome OS apparently once it has been running for a few days without a shutdown. Although most operating systems do struggle with the same issue, Chrome has a bad reputation when it comes to memory and it is all the more imperative that it is optimized, considering the 'lightweight' characteristic being advertised heavily.
Day 17: Losing the mapped drives
Ending the process for 'Files' to free memory unmounts the shared network drives added via Network File Share app. This is harder than I thought it would be.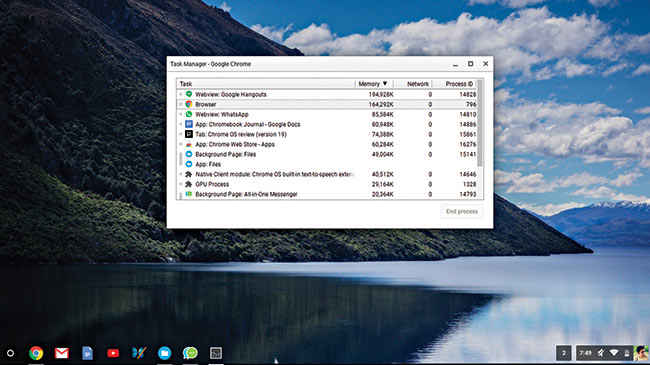 Hit Search+esc to launch the task manager on Chrome OS
Redemption
Day 20: Offline!
Contrary to what I thought earlier, most of Google's apps do work offline, but only if Offline editing is explicitly enabled from account settings. This instantly makes the Chromebook insanely useful, considering the fact that these apps are actually lightweight and snappy. And more apps are headed its way everyday.
Day 23: Browsing friendly
The unique set of keys available on top of the laptop keyboard (which are a part of the Chromebook specification) are extremely useful. The Chrome OS supports a lot of keyboard shortcuts around those keys. Even without the shortcuts, the 'reload' and 'windows open' keys are a blessing while browsing online. Coupled with the trackpad gestures (three finger tab scrolling, two finger right click, and more) and all the keyboard shortcuts out of the box, I think this makes the Chrome OS design one of the most user friendly laptop OS designs out there, unless you're a stickler for Macs.
Day 27: Chromebooks love Android
Connecting my phone to the Chromebook once again demonstrated Google's sync between its apps. Once the OS detected the phone, it immediately offered to backup the media on the phone onto Google drive. Although this is not something that you cannot do on your own, who doesn't like a little easy prompting once in awhile?
Day 30: How about some torrent apps, eh?
There is even a torrent client available, although it is not free. Let's hope the developers change that soon enough!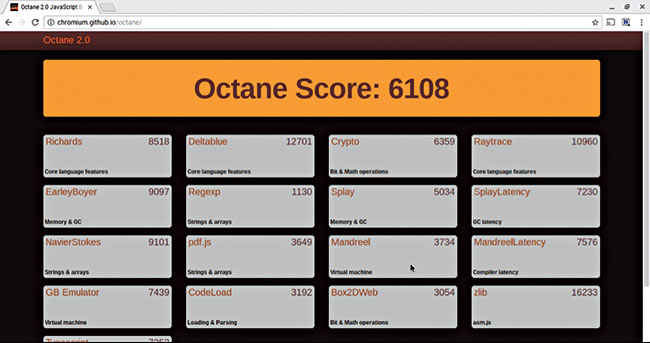 The Octane Score for the XOLO Chromebook that I used
Conclusion
Honestly, I wasn't expecting the Chromebook to be much more than a 'use while you're travelling' device. In spite of the drawbacks, what I got out of the Chromebook was a pleasant surprise, both in terms of usage and the novelty of the idea. If anything, the Chrome OS is a strong indicator of the direction computing is headed - cloud-based applications, lightweight open-and-shut devices with perfect synchronisation. Just take a look at the Nextbit Robin if you doubt that statement. It may not be there yet, but it certainly does give an impression of being headed that way.
This article was first published in October 2016 issue of Digit magazine. To read Digit's articles first, subscribe here or download the Digit e-magazine app for Android and iOS. You could also buy Digit's previous issues here.