06
office productivity in the cloud
Working remotely and on collaboration basis, where people had to edit may be the same file; share their ideas and work-in progress in real-time became essential in the Enterprises of today. The tedious process of downloading a file, editing it and uploading it all over again was so time consuming that more time goes into managing these files than the actual work.
OFFICE PRODUCTIVITY IN THE CLOUD
Office suites have traditionally been something to pirate and install. But now reasonable pricing and the shift to the cloud has brought with it many benefits and many players.
Working remotely and on collaboration basis, where people had to edit may be the same file; share their ideas and work-in progress in real-time became essential in the Enterprises of today. The tedious process of downloading a file, editing it and uploading it all over again was so time consuming that more time goes into managing these files than the actual work.
The dynamic start-up culture that Enterprises adapt these days and the team generally being spread around the globe increased the need for collaborative cloud-based Office productivity tools.
There are a lot of major players in this domain including giants like Google and Microsoft; but you'll be surprised to find some of the office productivity tools from start-ups that just as good.
1. Google Apps:
Web: http://www.google.com/intl/en_in/enterprise/apps/business/
Let's start with one of the most used office tools - Google Apps. Google Apps is a culmination of all the awesome services that Google already provides like Gmail, Drive, Calendar, Hangout, Quick office (for mobile) and in addition to that the freedom and flexibility to customize all these according to your enterprise needs.
Features:
E-Mail:
• A custom Gmail id that lets you operate all your office email from a Gmail account. The ever-engaging and simple UI, the powerful search, the chat system; all would be part of your office email now.
Calendar:
• An integrated calendar system with your email.
• Share your calendar with others or even publish it on to web for others to know your schedule.
• Various widgets like "Free or Busy" - which basically helps you track the calendars of people whom you closely work with. This lets you know they might be free according to their calendar and you might just pop in for a small chat or a meeting.
Google Drive:
• This is the mainstay of the productivity suit. It includes what was formerly known as Google Docs which provided applications for spreadsheets, drawing, presentations and word processing.
• It features seamless real time and often collaborative editing within of all the above services.
• Can be accessed from any browser on any mobile device.
• Maintains detailed revision history of all the changes.
Hangout:
Hangout is one of the most used and effective video calling tools on the internet allowing up to 10 people in one video-call. This is integrated into the Office experience which makes collaborations and meetings seem easy. Hangout as part of Google Apps have the following features:
• In the initial plan, allows up to 15 people in one video call.
• Allows real time editing of any Doc/ Slide/Sheet along with a Hangout session.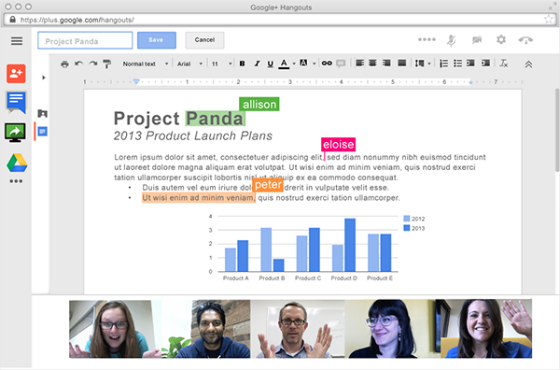 Google Docs real-time editing with Hangout
• Integration of Hangout with Calendar allows to plan calls depending upon the person's schedule. Of course there are many more services but the ones above are the most important. Lets look at pros and cons now.
Pros:
• Along with Google Apps comes the powerful search of Google, the power of prioritizing thing, categorizing them and easily arranging them and an uninterrupted service guarantee.
Cons:
• Only 30GB of space for Drive/user and 10GB limited space for sites/user in the basic initial plan is provided.
• The individual services such as Drawing and Sheets don't have very detailed features when compared to collaborative drawing boards and Microsoft's Excel.
Who is it for?
Google aims to target both small scale and large scale enterprises with Google Apps. But, right now it might suit small enterprises better than the large ones due to the lack of detailed and customizable features in the individual services. All of this is priced at about `150 per month per user for businesses. Of course for individuals many of these features are free to use and come as part of your Google account.
2. Microsoft Office 365 For Business:
Web: http://office.microsoft.com/en-IN/
Microsoft is betting big on cloud. It brought one of it's biggest Office Enterprises - Microsoft Office onto Cloud through Office 365. With it, users need not download native software like Word, Powerpoint; instead these services can be used on a subscription basis.
Features:
Microsoft created web apps for all of their native applications which users can use as part of Office 365 subscription. The centralized panel which Office 365 provides is pretty simple, impressive and easy to use. The panel connects the users to SkyDrive, Word, PowerPoint, etc. Office 365 for Business has three different pricing plans and the following features:
Office Applications:
Microsoft Office applications that include Word, PowerPoint, Excel are till date the best on the globe and with every version of Office 365, users get the web applications of these products.
• Multiple editing on a single file is allowed.
• Real-time editing is not allowed. One cannot see in real-time the changes another author is making on a same document unless he/she saves it and stops editing. The part of the document being edited is locked from edit for all the other users.
• With desktop applications, files can be used and edited offline. Once the user goes online, SkyDrive automatically syncs all the versions on all devices.
Conferencing and IM:
• Office 365 allows users to do web conferencing by connecting to Lync.
• Skype users can also be invited.
• It provides standard IM service too.
Of course there are some more services such as MS Project etc but the ones above are the most important. Lets look at pros and cons now.
Pros:
• Files can be edited offline with the help of native desktop applications and synced with other versions online once online.
• Office applications like Word, Powerpoint and Excel are the best in terms of features when compared to any other applications in this domain.
• Better centralized panel where Newsfeed and other user activity can be tracked.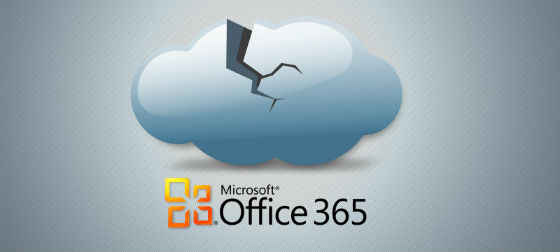 Office 365 in the cloud
Cons:
• Google Drive allows realtime editing and SkyDrive doesn't. In SkyDrive one has to save the changes for it to get reflected in all the other's versions.
• Pricing-wise, Office 365 is more expensive.
Pricing:
• There are various subscription plans that suits businesses of all types. The basic plan which includes online-only versions of all Office applications costs Rs 215/user/month and supports up to 25 users only.
• Office Pro plus plans are also available which includes Project Pro and more secure e-mail and file systems.
Who is it for?
• Targeted to aim at all types of businesses. But, might be more useful to big enterprises where applications like Microsoft Project, Excel are extensively used.
• Also suitable for Businesses who cannot operate online all the time. Office 365 allows native desktop/mobile applications where the files can be edited offline.
3. Zoho Office Suite:
Web: https://www.zoho.com/
Zoho Office suite is an alternative to Google Apps. It provides all the apps that are provided by Google and in fact a little more. All these Apps are web-based cloud applications. Following are some of the wide-range of web-based applications Zoho Office suite provides for Businesses.:
Zoho Docs:
• Zoho Docs is very similar to Google Docs (now Google Drive). It provides real-time creation/editing/collaboration of documents, spreadsheets, presentations. It also supports embedded media from hosting sites like Flickr, Picasa, Youtube. Zoho Docs also allows direct publishing of text/ charts/diagrams to blogs and other websites.
Zoho Projects:
• It is project management software that allows users to create and manage tasks and mini tasks and assign people respective ones.
• Zoho Projects internally have Time-tracking software, Bug Tracking Software, Project Reports, Project Calendar and meetings
• It allows sharing of files and with integration of Zoho Docs, sharing and editing stuff is very easy.
Zoho Meeting & Chat:
Zoho allows web-conferencing with users of the same Organization; allows sharing desktop and files.
• Doesn't require any native applications; completely web-based.
• Number of people per session depends upon the subscription model and ranges from 5 users/session to 100 users/session.
• Zoho chat allows users to live chat with their customers, overview chats of sales department and intra-chat within employees.
• Zoho chat is integrated with Google Talk, Yahoo Messenger and Facebook.
Zoho Discussions:
• Provides templates for forum creation and managing comments, miniforums and topics.
• It allows integration with Google Apps and seamlessly shares of documents, spreadsheets from Google Docs.
• Zoho discussions is customizable and can be suited according to brand identity of Organizations.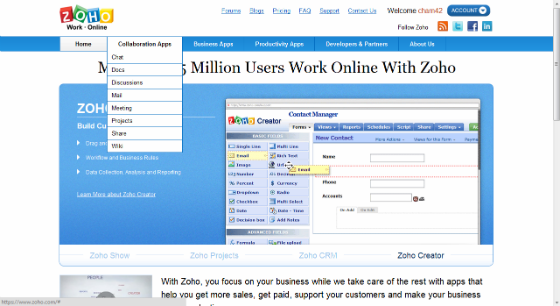 Zoho Office
Beyond all of the above there are many more offerings from Zoho. If you want to get a quick idea of all of them head on to our thinkdigit article on Zoho here: http://dgit.in/zohotd For now we'll quickly get into the pros and cons.
Pros:
• Zoho Office suite appeals to almost every office need possible in an Organization and has the largest number of applications when compared to any other Office suite including Google
Apps
• Each individual application has individual subscriptions. Hence, the Organizations can choose the ones that they presently need.
Cons:
• Looks quite old-school, which is not the case in terms of functionality.
Who is it for?
• As individual apps can be subscribed individually, it might be suitable for Organizations of all sizes and kinds.

Pricing:
• There's a free version of every individual app and has reasonable limitations. If you have a very early stage start-ups, these might not even be limitations to you and can be used full-fledged for free.
• There are a lot of subscription models.