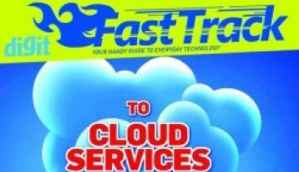 FastTrack To cloud services
A lot has been said, written and discussed about cloud computing over the past decade. From being a buzzword in its early stages, to a fashionable catchphrase in IT circles, to a downright cliché and to sometimes actually even being used correctly, the term has seen its share of ups and downs. The problem however is that as with any phrase that develops organically (like say Web 2.0) there are always bound to be different definitions propagated by different stakeholders. Some believe it is the ability to lease out scalable virtual servers on demand. Some believe complex applications being delivered to end users through a web browser is also cloud computing. Some believe that vendors who provide the infrastructure and underlying frameworks that enable developers to create their own remote apps, are engaging in a form of cloud computing. Cloud computing may be a lot of things but it certainly isn't what Mr. Vishwa Bandhu Gupta, a former additional commissioner of income-tax, believes it is. If you haven't yet seen the video we're referencing, do yourself a favour and do watch it – http://dgit.in/raincomput. Mr. Gupta warns unsuspecting viewers of catastrophic data loss if clouds burst into rain. It's hilarious but we won't spoil it for you any further, so do watch.
Meet the cloud
Computer Science technologies have been sprouting up like wild weed in a rainforest. We now have better computers and faster systems. Along with system performance scientists have managed to boost data storage capacities which have opened up a whole new window of avenues for the computing community. "Cloud Computing" is a buzzword you might have randomly picked up from a geek discussion. You might have heard one of those technology aware people say –"Take it from the cloud." It is a hardly a recent technology actually, but it's still one of the most exciting developments in computer science.
What are cloud services?
Whether its photo apps, online format conversions or large scale IT operations cloud services are in the middle of it all. Cloud Computing infrastructure provided by big players like Amazon are changing the way companies manage their working. Shazam, the nifty music recognition app has cloud services to thank for its massive online capacity. Companies like Unilever are boosting research output thanks to faster data processing supported by infrastructure on cloud. Cloud service has not only benefited business corporations but has also bought the power of cloud computing to the common man, in the form of web apps, and applications on hand held devices.
Cloud storage and syncing
The 'cloud' is just a word for the online space wherein gigabytes of data is stored. So how does one go about using the cloud? There are several web sites and applications that offer cloud storage services, namely Google Drive, Apple iCloud, Windows Skydrive, NortonZone, Dropbox, etc. The list is nearly endless. Now, upon opening any of these web sites or applications, the page opens to a login page asking for your username and password. Once your register or sign up, your files can be added to the cloud through a simple upload procedure. Most web sites often have dedicated email or image storing while there are those which offer free data storage up to a certain gigabyte of space. Upon exceeding the offered limit, you either have to pay to avail further services, or look elsewhere. Google Docs, YouTube, all email providers, Facebook, Picasa, Flikr, etc., all use cloud storage to let you store your data.
Collaborative services
Today, collaboration demands real-time exchange of files, ideas, messages, calls, etc. Cloud services are re-defining the way in which people collaborate over the internet, and have made it possible for startups to have teams that are spread over the globe, and sometimes don't even need an office to work out from. It's what made it posible for institutions to teach opencourseware to students across the globe, and is responsible in bringing the world closer. As usual, there are numerous options to choose from, and that's why this chapter will help you find one that's right for your needs.
Photo-editing in the cloud
We all love taking pictures. We love editing them more and believe us, not everyone fancies the complex set of tools such as Adobe photoshop for doing that. When you just want the picture to be a little more lit before you upload it as your facebook profile picture, you look for tools that can do this for you quickly. Fortunately, there are many services today that let you do this rather simply. Let's take a look at what they offer.
office productivity in the cloud
Working remotely and on collaboration basis, where people had to edit may be the same file; share their ideas and work-in progress in real-time became essential in the Enterprises of today. The tedious process of downloading a file, editing it and uploading it all over again was so time consuming that more time goes into managing these files than the actual work.
Cloud hosting
Cloud Hosting is the new, scalable and efficient way of hosting your software without having to worry about the hassles involved in server space, downtimes and other niggles. Cloud hosting is about hosting your applications using well-monitored virtual servers in the cloud without any physical space limitations. With cloud hosting, you are free to scale any tier of your technology stack without worrying about the storage or resource usage limit. Cloud hosting is thus more scalable and reliable than traditional hosting.
Cloud services for sohos
SoHo (acronym for Small Office/Home Office) refers to organisations that are not very large. Generally thought of as the smallest of the smallest businesses, they generally have an employee base of less than 10. This is one of the most common way in which startups operate nowadays, making this category of organizations quite important. SoHo/Early stage startups require software tools that are very easy to operate customisable and are not that tedious. Following is a selection of few of the best cloud-based applications for SoHos:
The personal cloud and cloud device
We've seen how popular the term 'cloud computing' has become owing to the splendid job done by the marketers of the various remote server data hosting companies. Added to the ambiguity brought about by this term, there are also several deployment models used to differentiate between the kinds of cloud computing – namely, the Private cloud, the Community cloud, the Public cloud, the Hybrid cloud, and the Personal cloud. When the cloud services are rendered over a network solely for a single organization, it is called a Private cloud. When it is used for a group of organizations or a community, it is called a Community cloud. A Public cloud offers cloud services that are open for public use, and a Hybrid cloud is a composition of two or more clouds that remain unique entities but are bound to each other. And just as we start to thank Lord Almighty because these terms seem to be slightly definitive, we come across the Personal cloud.
Nifty cloud services
Enterprise level automation tools are expensive. But for the everyday user there are freely available cloud automation tools like IFTTT and Zapier that serve both small-business and consumer needs.