For anyone who opened their Zomato app on September 10, 2018, there was a nasty surprise waiting. Zomato's announcement read out the new "terms of use" for Zomato Gold subscriptions, a service that has been very popular with diners and pub-goers in India. The new policy puts a limit on how many Zomato Gold perks can be unlocked depending on the number of diners at the table. To make things worse, the new policy went into effect immediately, which left many Zomato Gold subscribers upset.
We reached out to Zomato to get some clarity on the situation, asking three very specific questions. The questions we asked are listed below:
1) Why was the policy changed so suddenly without any intimation to subscribers? A prior notice regarding this upcoming update would have helped subscribers decide whether they wanted to renew their memberships or not. What was the reason for a lack of intimation?
2) Will Gold subscribers be allowed to cancel their subscriptions and get a refund if they're not happy about this sudden change in policy?
3) Would Zomato be open to honouring the existing terms of the membership for existing users until their next renewal, at which point, the new policy would be applicable to them as well?
The response we received from a company spokesperson reads "This policy change does not affect 98.65% of our users based on their usage patterns. Our support team is there to help members who have queries about this change." When pressed for answering the specific questions put to them, we were told that there was nothing more to add and that Zomato would stick to the response given.
This is problematic at various levels.
Bait and Switch
What Zomato has done is a classic bait-and-switch. After drawing in consumers to sign up for the service based on a specific set of offerings, the company has turned back on those terms. For now, the change is that Zomato Gold unlocked will be limited based on number of diners on a particular table. This sets a bad precedent, that Zomato can change any part of their Terms of Service as and when they wish, with no regards for the people who have paid for the subscription. For those who have already paid for a year's worth of subscription, this paints a rather bleak picture because now that you've paid, the company can change whatever they want. It's like paying advance rent on a house and then the landlord walks in a few weeks later to lock up half the house. It is simply not what we paid for.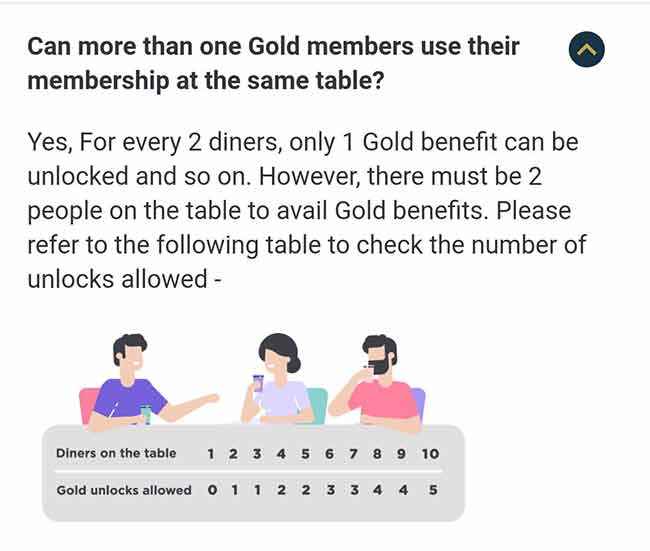 The Zomato spokesperson said that of the total number of Gold subscribers, 98.65 percent are not impacted by this change, but the company doesn't share any concrete numbers as to the number of actual Gold subscribers. You can see the entire Twitter thread of upset Zomato Gold subscribers here. These are apparently the 1.35 percent that Zomato thinks it is absolutely okay to wrong. This was the same justification used by the Supreme Court in December 2013 when it overturned the Delhi High Court verdict on Section 377, saying that since the section (377) "impacted a minuscule fraction" of Indian population it wasn't enough grounds to decriminalize homosexuality. The larger benches of the Supreme Court which finally decriminalized homosexuality particularly criticised that thinking, calling it erroneous logic. Of course, the Zomato Gold policy isn't anything as major as the rights of the LGBTQ community, but the idea that justice can be denied to a group of people just because they are in the minority is anathema to the rule of law and spirit of the Indian Constitution. Zomato, your argument is invalid.
The other side of the Coin
We reached out to multiple restaurants and bars across the country to understand how Zomato Gold has been impacting their business. No one was willing to speak to us unless we guaranteed anonymity. One particular Pan-Asian restaurant said that ever since Zomato Gold was introduced, they have witnessed a drastic rise in the number of diners they're catering to. Another popular Italian establishment said that they too had witnessed a significant boost in the number of diners, but there were also several cases of abuse. For example, "two diners would come in, order two dishes which they would eat, followed by ordering two more, of which they'd only eat a few bites. Then they would ask us to pack the remaining food and only pay for two dishes. We have had the same happen with 6 diners coming in. However, such cases are few and not as frequent as honest customers," said a manager at the said Italian restaurant. Another person associated with a popular bar in Hauz Khas Village stated that they faced a major hit in revenue due to the 2+2 policy on alcohol. He said that "maybe Zomato Gold became too popular too soon." When asked whether Zomato reimburses restaurants and bars for the freebies they hand out, he said that the establishment has to bear 100 percent of the cost and Zomato reimburses them in no way. When asked whether Zomato Gold helped boost business, he said "we definitely see a lot more people walk in, but the problem is that the existing customers also now have Gold. What that means is that when a party of 20 walks in, I have to serve them 40 drinks, but charge only for 20. So, despite a higher number of people walking in, the revenues were not reflecting profits." Several other restaurants echoed the emotion that if Zomato couldn't implement some kind of change in the Gold policy, it would become difficult for them to sustain being part of the programme.
Closing Remarks
Given that restaurants are taking a hit on their billings because of Zomato Gold, it isn't surprising that they would ask for a change in policy. This is only normal and to be expected, if not today, then maybe in a few months from now, or maybe even a year. The problem, however, is Zomato changing the rules of the game without any notice or intimation to consumers. What makes things worse is Zomato's refusal to honor the original terms for existing users till their next renewal is not only a show of bad faith, but also sets a bad precedent, showing that any day, the company can change how Gold works and expect everyone to be okay with it. Unfortunately, this is now the reality of Zomato Gold, a ticking bomb which may go off at any time, changing more conditions.