Occasional multi-million dollar lawsuits and fierce marketing battles have become an entertaining aspect of tech rivalries that consumer have come to enjoy over the years. In fact, these rivalries have created an environment where publicly calling out the faults in a rival's products is a competitive practice.
These tongue in cheek slights, social media battles and thinly veiled insults are a sheer delight to watch/read. Here are some of those that just couldn't get enough of.
Google Pixel vs iPhone 7
Apple's bold statement of 'courage' in the removal of the headphone jack on the iPhone 7 received its own fair share of attention. Even though Chinese smartphone manufacturer LeEco had gotten there first, the world just waits for the Cupertino giant's announcements every year and the parodies that follow. With their own smartphone launch this year, Google also jumped into the fray in the Pixel smartphone announcement video. At the 43 second mark after highlighting a slew of new features, it declares, '3.5mm headphone jack satisfyingly not new', directly poking at the removal of the same from the iPhone 7.
Everyone vs iPad
In September last year, Apple announced the massive 12.9 inch iPad Pro with much fanfare, proclaiming it as the new way to compute. Jokes about Apple Pencil quickly followed the announcements. But the most important response came after Apple launched its 'What is a computer' commercial. In the commercial, Apple highlighted the new iPad Pro's flip keyboard, Apple Pencil compatibility and multi-window multitasking capabilities as things that made it an equal or even better than a full fledged computer. And guess who responded?
Microsoft released a commercial within the fortnight that showed the iPad Pro and the Surface Pro 4 side by side, with the former celebrating a party for becoming a PC because it has a keyboard. Cortana, speaking from the Surface Pro 4, goes on to politely ask Siri about having an Intel Core i7 processor, an actual trackpad and external ports, along with full versions of Office rather than the apps. Needless to say, Siri quickly calls off the party.
This wasn't the first time Microsoft was taking a dig at Apple's tablet. In Late 2013, Microsoft released a commercial titled Windows 8: Less talking more doing. In the advertisement, an iPad and a Windows 8 tablet are placed side by side, with Siri listing out things it cannot do that the Windows tablet is shown to be easily capable of. Pretty soon, in July 2013, they released a follow up ad that started with Siri going 'oh no, here we go again' and listed some more features like USB support, backstand and a physical detachable keyboard, ending with Siri exclaiming that it hasn't ended well for her as the price difference between the two is shown to be $250 in the favor of Microsoft.
Lumia 1020 vs everything else
Nokia dropped a bomb when it launched the Lumia 1020 in 2013 with its 41MP camera. Most of its ad campaigns for the phone (read: all of them) focussed on how amazing the camera was and how it made zooming altogether redundant with its high level of detail. One of the highlights of this entire campaign was a commercial that almost directly took down all its competitors in one fell swoop. The commercial showed a school play being attended by parents of the children acting in the play. As soon as the play begins, overeager parents, brandishing iPhones and Samsung smartphones quite visibly, realise that they aren't close enough to the stage to get a good shot. What ensues is total chaos and pandemonium as iPhone and Samsung Galaxy wielding parents battle for a better perspective. In the end, a couple are shown calmly sitting at the back. The lady asks the husband why they aren't going forward, to which he replies while showing the highly detailed shots he's already taken, 'With the Lumia 1020, we've got the best seats on the house'. While the Lumia line didn't exactly make a big dent in the long run, this ad did take a good shot at all its competitors.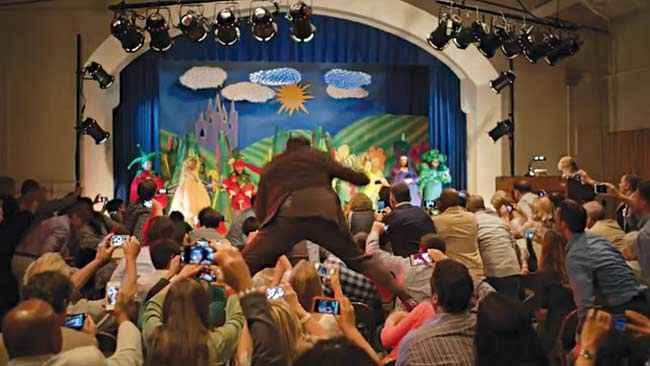 The Lumia ad was quite funny!
Elon Musk vs Jeff Bezos
Elon Musk had rocket dreams since he was a child. And one of his current rivals is Jeff Bezos who recently set his sights skywards. In the past, the two companies (SpaceX and Blue Origin) had fought over launch pad 39 at NASA's Kennedy Space Centre and patents for rocket landings in the sea. SpaceX's efforts to land an aircraft upright were yet to bear fruition when Jeff Bezos' aircraft manufacturing and spaceflight company Blue Origin struck gold. On November 23rd 2015 when their rocket ship the New Shepard made it to space and landed upright upon its return to Earth, Bezos took the opportunity to make his first tweet about the achievement. Although Elon Musk was one of the first people to congratulate him, he followed up in his own snakry way clarifying that "space" and "orbit" are quite different.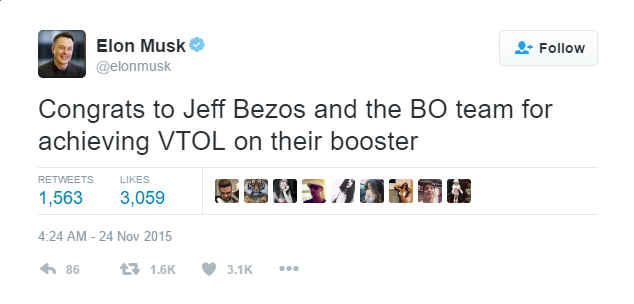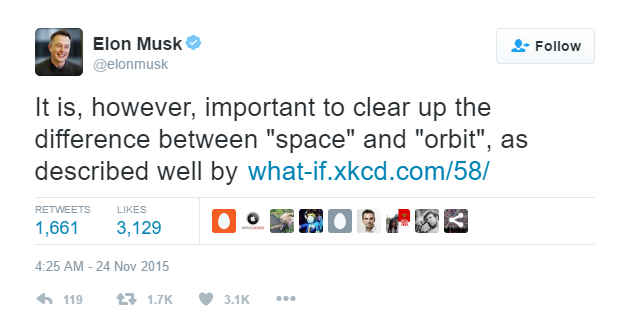 He also followed up with another tweet that highlighted how SpaceX's Grasshopper had already achieved this feat six times, as can be seen here.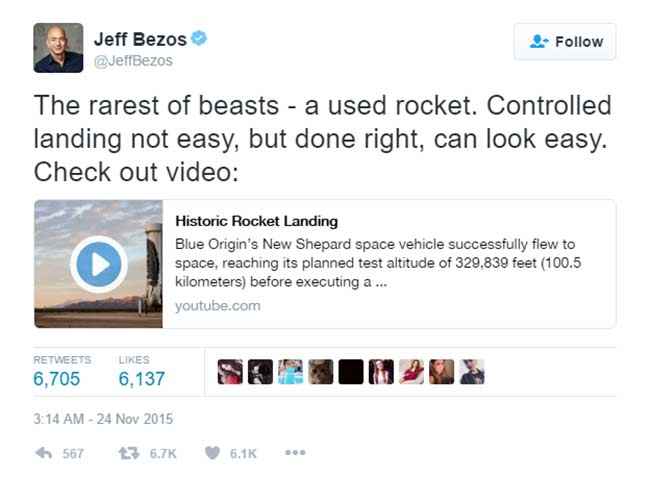 Pretty soon, in December, when SpaceX's Falcon 9's first stage was landed, Bezos fired back with his "welcome to the club" tweet, which, as you can probably understand, irked a lot of Musk fans and followers.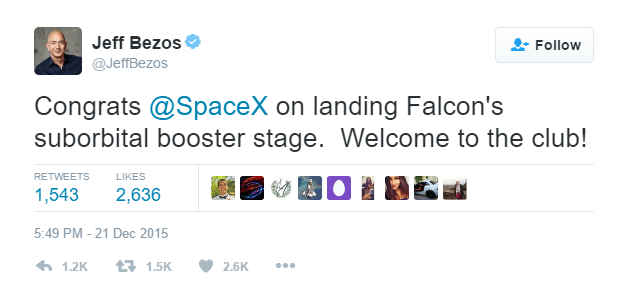 That is because the Falcon 9 went much further than New Shepard did. Bezos soon found a way to make truce over Twitter again when he unequivocally congratulated SpaceX on their landing a used rocket booster on a drone ship in the Pacific ocean in this tweet.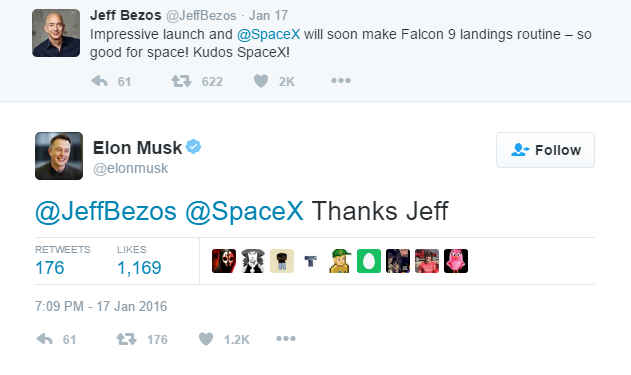 Flipkart vs Snapdeal
The Indian e-commerce space is highly competitive. It is not uncommon to see the big e-commerce players in the country host discounts and sales to outsell each other - literally and metaphorically. The same sentiment sometimes carries forwards to their marketing campaigns.
In 2015, Flipkart was heavily pushing its campaign #AcchaKiya, both online and offline, telling people that their non-purchase of products offline was a good decision. To counter this campaign, Snapdeal launched its own 'Accha kiya bata dia #YahanSeKharido' campaign. This was obviously a dig at Flipkart's own slogan, asking users to move to Snapdeal for their shopping needs.
It was not limited to the online sphere. Reportedly, on multiple locations, Snapdeal's #YahanSeKharido billboards were strategically placed under Flipkart's #AcchaKiya billboards. Needless to the say, users and the online audience loved this back and forth and actually took it forward in photoshopped images too. If only Amazon had anything to say in this!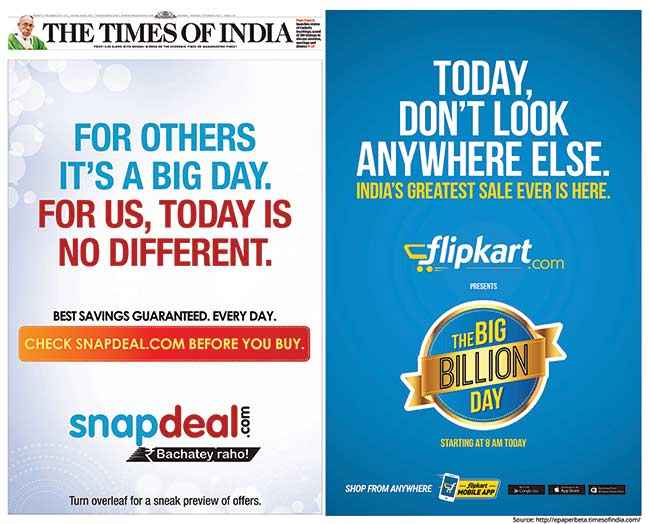 The two e-commerce giants do keep taking pot shots at each other when it comes to advertising
Samsung India vs Micromax
Back when the Samsung Galaxy Y was Samsung's budget offering, Samsung ran a TVC in India where a middle aged man is shown deriding a few young people for making noise while he was having trouble getting some work done using two separate phones. The next scene showed the youngster brandishing the new Samsung Galaxy Y highlighting the fact that the phone had dual SIM capability.
This ad series was followed up by Micromax with its own series of ads, which started with the same dialogue that the Samsung ads ended with (Aapke paas nahi hai, uncle?). This one goes a bit different though. A couple of other youngsters are shown to call the girl out on her smartphone and actually highlight that it was not so great and was overpriced compared to the Micromax Ninja 4 and 3.5, where she walks away without taking her phone back. Confusing? Just watch the damn ads!
Sega vs Nintendo
Perhaps one of the most infamous rivalries in the console world, Sega and Nintendo were waging ad wars before it was cool. This one takes us into history: back when Sega was trying to make a dent in Nintendo dominated North America, its CEO Michael Katz decided to take a two part approach. One of those parts involved competing head on with Nintendo via marketing. This led to the Nintendon't campaign.
Sega released a campaign for its Genesis console showcasing games featuring eminent celebrities associated with the titles, in a bid to popularise the console. It repeatedly stated features that the Genesis console had and specifically mentioned 'You can't do this on Nintendo', with the entire ad ending as 'Genesis does what Nintendon't '. If only the modern day Xbox vs PlayStation battles were half as interesting!
Microsoft vs Google
If someone ever went full guns blazing into an advertisement attack, it was Microsoft with its Scroogled advertisement campaign against Google between November 2012 and 2014. This campaign was created by Mark Penn and was mainly intended to highlight the shortcomings and faults in Google's products as compared to Microsoft's competing products (Bing, Outlook).
Initially, the attack was on Google Shopping for shifting to a Pay Per Click model, comparing it to Microsoft's Bing Shopping.
In February 2013, Microsoft again attacked Google in this campaign over Gmail reading email content for targeted advertising and advised users to use Outlook instead. In the same year, Microsoft also attacked Android for alleged data leaks to developers from the Play Store as well as Google's insertion of advertisements in search results regardless of the environment in which they might be opened.
In November 2013, Microsoft actually started selling Scroogled merchandise through Microsoft Store. The Scroogled campaign even took on Google Chrome in allegations of data sharing and monetization.
Amazon vs Flipkart
Flipkart and Amazon's rivalry in the Indian e-commerce market is no secret. Both the companies have been fighting hard to get a bigger share of the pie and have each tried novel techniques to do so. In fact, it was just last month that we saw them face off each other again in the festive sales. Back in 2014, it was during this very festive sale that Amazon pulled off something both interesting and dubious.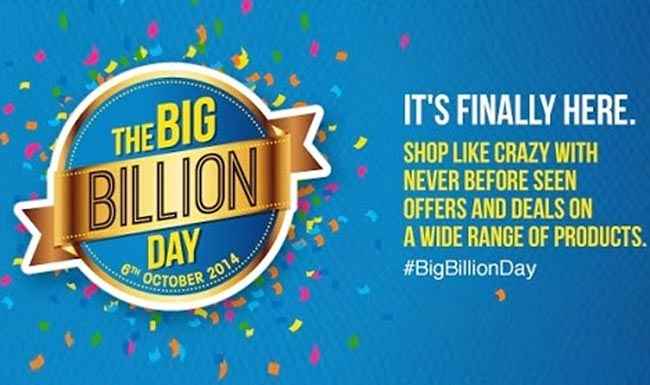 Some time towards the fag end of the Big Billion Day sale in 2014, users who typed bigbillionday.com on their browsers found themselves on amazon.in. While there have been no official announcements or declarations regarding this, the issue seems to have been fixed after that. Hence, if you type bigbillionday.com into your browser now, you will be taken to Flipkart.com.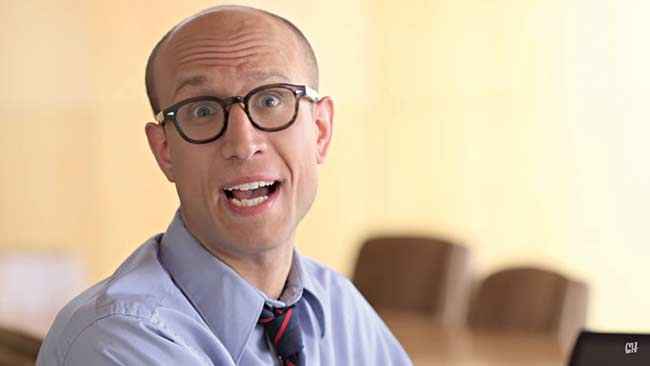 If you're actually tired of all this bickering and want to see something that makes fun of all of these in one shot, go check out CollegeHumor's spoof of every tech commercial ever!
Uber vs Lyft
If you think that the biggest enemies that ride hailing companies have are the public transport unions and the government, then you are wrong. The truth is that they see their biggest enemies in each other. When it comes to Uber, a competitor that it faces across the world is Lyft. In 2014, Uber engaged in questionable tactics that involved possible encouragement of Uber employees to request and cancel thousands of Lyft rides, in turn, prompting Lyft drivers to jump ship to Uber. In fact, the Uber CEO himself has admitted to an attempt to sideline Lyft's funding.
Lyft had also sued their former COO, who had moved to Uber, when both the companies announced their carpooling features on the same day. Of course it wasn't a coincidence! When the COO jumped ship he took sensitive info with him.
And the winners are... all of us!
If you thought that tech biggies keep it classy, you're probably re-thinking that opinion after this article. And these are just the few examples that we found interesting. There are literally many more instances where these tech companies have battled and bickered like kids.
Some would argue that these companies are spending billions on what most mature people will describe as silly endeavours. To hell with those people! Keep the insults flying. You know what they say "Conflict is good. Conflict leads to innovation." Ok fine, they don't say that; we do. But for now let's get our popcorn out and enjoy the shenanigans!
This article was first published in November 2016 issue of Digit magazine. To read Digit's articles first, subscribe here or download the Digit e-magazine app for Android and iOS. You could also buy Digit's previous issues here.