The rain gods have been showering us with their grace in most parts of our country, and by chance if you live somewhere that's still running dry, this article will hopefully be useful to you too pretty soon. After the sweltering heat we had in the summers this year, all of us are more than happy with the ample downpour that has been happening. You know who isn't happy? Your gadgets. Electronics and water aren't exactly on good terms and barely manage to coexist if you're lucky. And if you aren't, then you're in for a big hole in your pocket. Unless you've prepared your gadgets with the tips that we have compiled for you.
Smartphone
A quick and easy fix to protect your phone from the moisture is to put it in a ziploc bag filled with rice whenever you're taking it out in the rain or highly humid situations. But if this is too much jugaad for you, you should check the IP rating of the smartphone you have. It usually follows the pattern "IP mn" where m is the rating for dust protection and n is the rating for waterproofing. The n needs to be atleast 7 for you to be confident that your phone can take a brief shower with you. Some of the phones that satisfy that are the Samsung Galaxy S7 and S7 Edge, Sony Xperia M4 Aqua and quite a number of Chinese manufacturers. If you're an iPhone user, especially from the 6 or 6s range, you'll have plenty of good waterproof case options. For others, we advise you to look for materials like Gore Tex which are certified waterproof.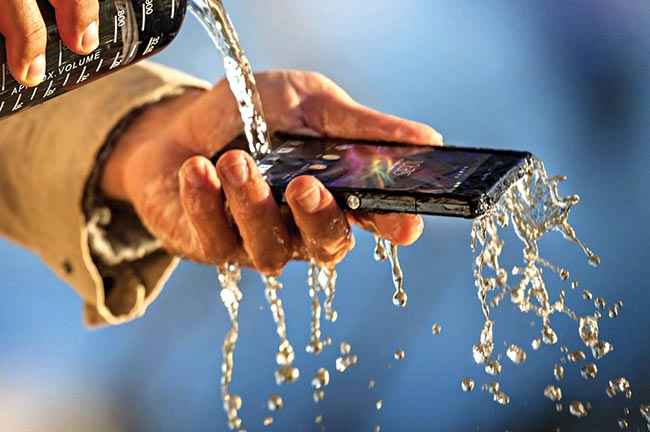 Don't gasp the next time your phone enjoys the rain!
Laptop
When it comes to laptops, there is a distinct dearth of waterproofing. Most ultrabooks and laptops that are aimed at consumers do not focus on ruggedness. Business laptops on the other hand do have rugged features including drop protection and spill protection. One of the best ranges in business laptops is the Lenovo Thinkpad range that has the features above. Fair warning, business laptops are designed to be heavier for the drop resistance. If you don't want that, then go for a waterproof laptop bag or laptop sleeve based on your laptop model and size. Do check the user reviews before purchasing.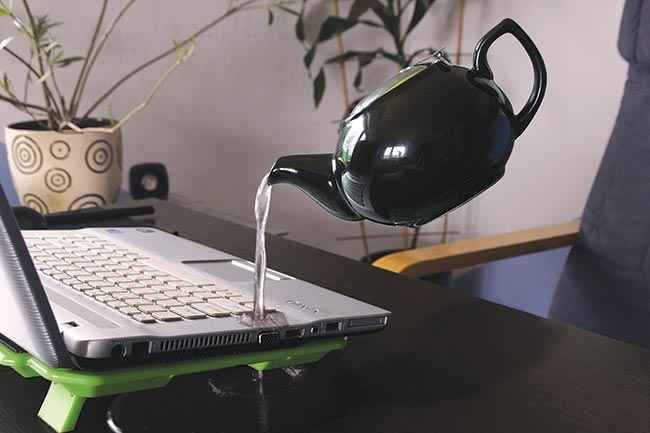 Although we have no clue why you would do this!!
Headphones
Long commute times are an unavoidable part of modern urban travel. And it's not an entirely pleasant experience, riddled with honkings of all kinds and whatnot. And more often than not the only thing you have to block the world out are your headphones. So to protect yourself from being denied this one pleasure due to rain, go for the Jaybird X2. Armed with Liquipel Sweat repellant nano technology, it should hold it's own against some rain too, unless you decide to go swimming with it. In that case, we would recommend the Sony NW-WS413 and the Finis Neptune V2, both of which are music players as well and come highly recommended from swimmers. Although if you are looking for something more affordable, go for the Pyle PSWP4BK.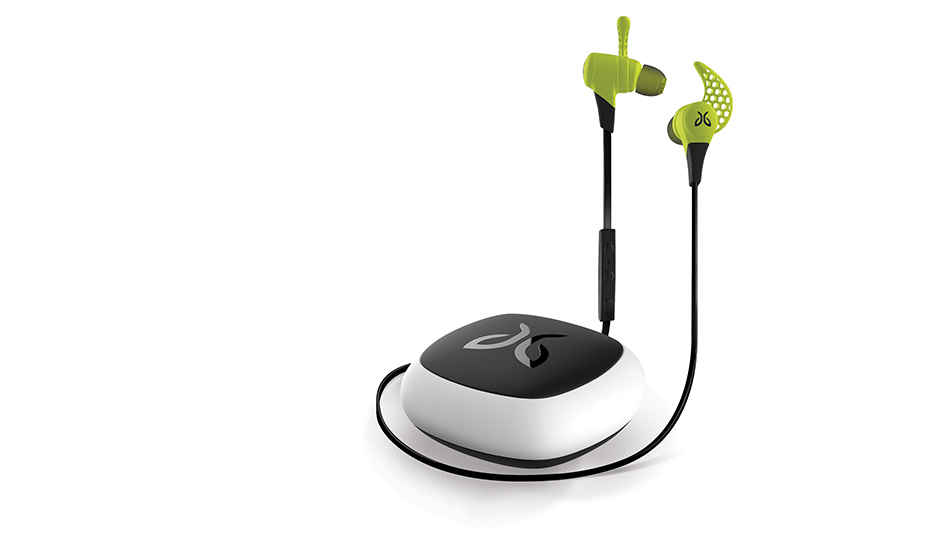 Smartwatch/Fitness band
What good is a fitness band or smartwatch in the monsoon if you have to immediately pack it up when the rains start? This category of devices has the highest need for waterproofing. While most fitness bands are waterproof, the same cannot be said for smartwatches. Fortunately, there are some manufacturers out there who do think about people using their product in the rain or while swimming or even in the shower. The Sony Smartwatch SWR 50 is a really good smartwatch at its price range and it's also waterproof. Another good option is the similarly priced Asus Zenwatch 2, which, as an added bonus, looks pretty cool too. For Pebble fans, the Pebble Time is actually splash and rain resistant too. Once again, if you are an Apple Watch user, you do have options for cases and we recommend the Spigen SGP11496 for the 42mm version.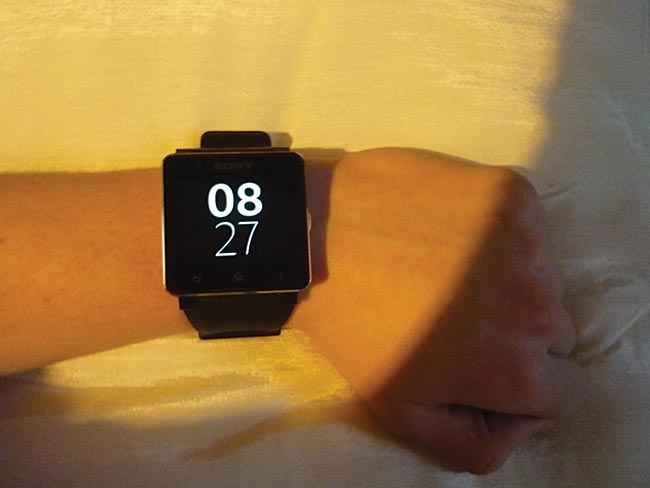 The Sony Smartwatch is a good water resistant option
E-book readers
It has been a while since e-book readers entered the Indian market, and it isn't really surprising to see somebody using one in transit. But, like all other electronics, most Ebook readers are not designed to withstand water damage. That is, most except the Kobo Aura H2O which is a dust resistant water resistant IP67 certified e-book reader. Unfortunately, it doesn't ship to India yet and is only available if you get it over ebay. Until you manage to get it shipped from the USA, you could opt for a waterproof cover for your current e-book reader. Kindle has a number of options across its models from third party sellers.
Camera/DSLR
The growth of smartphone cameras – both in terms of numbers and quality – has brought out the amateur photographer in a lot of us. What we often tend to forget are the limitations of the camera and its lens, and that includes protection against the rain. So, to take that perfect shot in the monsoon, go for an actual camera. The TG-860 from the Olympus tough range is a good choice with waterproofing upto 15m, just like the rest of the range. Also definitely worth a mention is the Nikon 1 AW1 available in stores, which is the world's first waterproof digital camera with interchangeable lenses.
Portable speakers
Planning to host a pool party or just want to listen to your favourite tunes on the balcony while it's raining? Then speakers are definitely a concern as most of them aren't waterproof. Not the UE Boom 2 though, this one comes with an IPX7 rating. That means it can survive for 30 minutes inside your swimming pool as long as it's not more than one metre in depth. And it doesn't sacrifice any of the things that make the Boom range so awesome! So make this your go-to speaker for the monsoons. After all, what good is a rain-dance without music?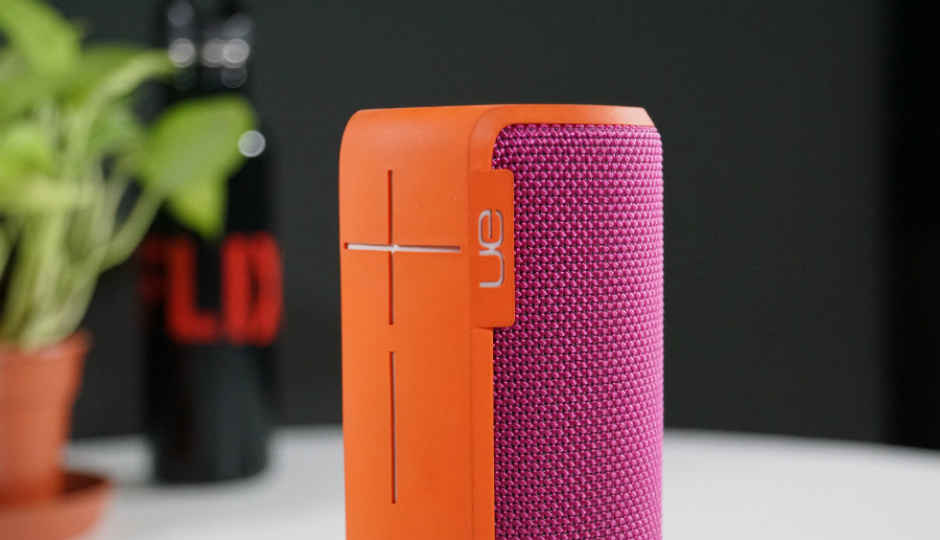 Powerbank
You have a dying phone, and you have to leave immediately! Fear not because this is exactly what powerbanks are for. And before you tell us that the rain is going to kill your powerbank, let us tell you that you should choose the EasyAcc 9000mAH Travel Charger. With a 2.1A output and the ability to detect an input and start charging immediately, this is an ideal option if you're a monsoon traveller. The included compass, carabiner and carry on clip are cherries on the top. Trust us, this one can take a dip!
Practically any fabric
Why are we bringing up fabric in an article about gadgets? Simply because all these gadgets are usually either carried in your bag or in your pocket, and unfortunately those are still made up of normal everyday fabric. Many of the options above are quite expensive and you might have to wait a couple of monsoons to get them all. So what should you do until then? Go for a water-repellent spray like the Vetro Power from Trifli Technologies. Essentially targeted to be footwear protection, this will work on most surfaces. Although, if you want a comparatively better known option, go for Rust Oleum's NeverWet range of sprays for fabric that are proven to be water as well as stain repellent. Spray these on and watch the water magically slide off!