Apple's events are not just about iPhones, we all know that. This one has just amplified Apple's future intentions of spreading its reach far beyond where Jobs left it at. While we all spoke and speculated about the one extra gigabyte of RAM on the new iPhone and four million more pixels packed into its iSight camera sensor, there were no mention of the iPhones for more than the first one hour into the keynote.
Apple Watch
"Monster announcements," that's what they said. Beginning with the Apple Watch, CEO Tim Cook (who, incidentally, had his shirt tucked in this time round) went on to claim 97% customer satisfaction among Apple Watch users, emphasising on how "life changing" it has been. With a quick glance-over of all features Apple spoke about at WWDC, earlier this year, the Apple Watch was shown off with new, third party applications support, transit features on Maps (which we are pretty sure will take a while to navigate through India's network of alleys), over 10,000 apps for the Watch along with native apps as part of WatchOS 2, Facebook Messenger, iTranslate, GoPro mirroring coordination, AirStrip medical app with live vital signs, secured personal communicator with wrist authentication, foetal heart rate monitoring (that was sheer wow!), designer wrist bands by Hermes, Gold and Rose Gold cases, and a price range of $349 to a staggering, almost-unjustifiable $17,000! While the new models are shipping today, WatchOS 2 will be up from September 16.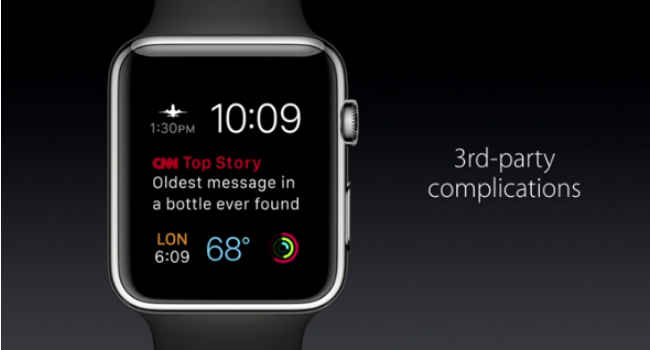 The new Apple Watch: Because 3rd party complications are necessary
iPads
Next up, was iPads. An "ultimate expression of the future of mobile computing," is what Apple introduced it to be. What is it, you ask? "The biggest news in iPad, since iPad," says Apple. The new iPad Pro has a screen size of 12.9 inches, and is the largest screen size for an iOS device till date. It packs in a full-size keyboard, with ample space left for you to see your document. The Retina display packs in 5.6 million pixels, and has variable refresh rates, optimising with the content being viewed. It runs on a 3rd generation A9X 64-bit chipset, with double the memory bandwidth of the previous A8X processor and twice as fast in terms of storage. Apple claims "console-class graphics" on the iPad Pro, demonstrating AutoCAD for iPad running at 60 frames per second. Additionally, it also provides 10 hours of battery life. The audio capabilities star four speakers, which will balance stereo output and frequencies based on how the device is held. For such a large device, Apple has kept it 6.9mm slim, and a weight of 712 grams. A new Smart Connector provides docking capabilities to the iPad for its new, physical, woven nylon Smart Keyboard case (priced at $169). It also has a new stylus - the Apple Pencil (a $99 tool which actually looks like a graphite pencil). It is loaded with sensors that aid usability in sync with hand-based touch usage, and yes, it is one gloriously smooth pencil. Microsoft has also extended its Office support to the new iPad, which is aided by its split-screen multitasking abilities and stylus support. Adobe's TypeKit support for iOS, additionally, will go down well with designers looking for a device to provide complete, portable productivity. The iPad Pro also has an 8MP iSight camera, and LTE speeds of up to 150Mbps. The iPad Pro will be available in Space Gray, Gold and Silver, and storage options of 32GB, 64GB and 128GB (this being the only one with Cellular support). Prices range from $799 to a whopping $1,079. At the highest price point, the entire iPad Pro package will cost you $1,347 (Rs. 89,740 approx.), only. The cheapest iPad, the iPad Mini 2, starts at $269, and there is also a new iPad Mini 4, with starting prices of $399.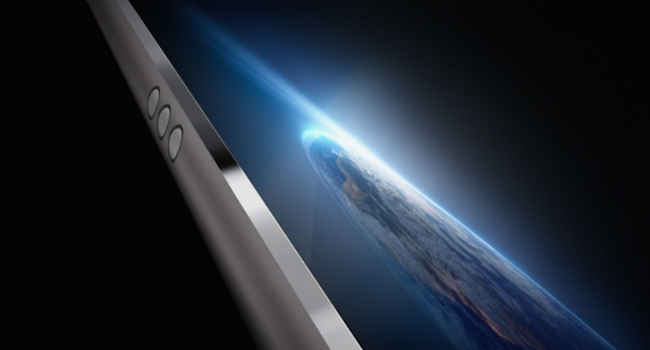 iPad Pro: All that a smartphone can, and a laptop cannot
Apple TV
"We believe, the future of television is apps," is how Cook took the focus to the next-gen Apple TV. The new Apple TV makes extensive use of Siri, and a revamped remote which has a glass touchpad (careful with that toy!) and side-stacked gaming stick controls. It also gets voice navigation, universal search across apps, and leaves out the power button, and saly enough, motion control. An interesting use of voice, that Apple showcased, was rewinding a scene by saying "What did she say?" to the remote. You can also use the iPhone or iPod Touch as a remote for the Apple TV. The entire UI has also been given a major, intuitive upheaval. The Apple TV now has its own apps, a standalone TV OS, and a host of Apple TV games, confirming our previous rumours. The focus of these games are presently around a list of most-popular games (console-class, not console). It also has a native, shopping app - Gilt. The TV OS also features cross-device universal apps, split-screen viewing and push notifications. It runs on Apple's A8 processor, and also packs in HDMI and Ethernet ports. The remote has accelerometer and gyroscope sensors, can be charged with a Lightning connector, and will apparently last three months per charge. The 32GB Apple TV is for $149 (Rs. 9,940), while the 64GB one is for $199 (Rs. 13,270).

Apple TV: The most important place to innovate television is by apps
And finally… iPhone 6s
The iPhone demonstrations started with the 3D Touch - Apple's iteration of Force Touch technology, implementing Taptic engine on the new, iPhone 6s. Apart from the normal tap, a 10ms mini tap and 15ms full tap make up the tertiary hierarchy of touch inputs. You can now access in-app features, without even opening it. Take the Emergency Selfie function, for instance. Or, previewing Instagram posts and opening the in-app camera. Moving on to the hardware on iPhone 6s, the new, 3rd generation A9, "desktop class" 64-bit processor is apparently 70% faster than the A8 processor, and the graphics processor is 90% faster. Console class, yet again. The new, embedded M9 motion coprocessor is always on, to streamline app performance while multitasking. The new, 12-megapixel iSight camera, for starters, packs "50% more pixels than before". Apple claimed faster focusing, and introduced Deep Trench Isolation, which acts to separate the charged diodes in the iSight sensor, thereby reducing sensor conductivity crosstalk and image noise. To make its case, there was a slideshow of images, showcasing "fantastic colour" and "really accurate skin tones". It also records videos at 4K resolution, and the FaceTime front camera is upgraded to a 5-megapixel image sensor. The flash also gets the 'Retina' tag, with Apple demonstrating how it differs from True Tone flash. Integrating 3D Touch with photography, Apple has brought Live Photos, where you can long-press on a captured image, and it turns into a video (which is quite the idea that indie developers Prynt integrated with its instant-print case, incidentally). Moving on to the grave business that network and connectivity is, the new iPhone 6s has support for 23 LTE bands, and is "twice as fast", and so is WiFi. A new Apple app on Google's Play Store, which is meant to aid porting from Android to iOS devices, says, "You can recycle your Android phone for free at any Apple Store." Well… Yeah. The new iPhones also have the "strongest cover glass", according to Apple, and 7000 series Aluminium used in its build. On two-year contracts, the 16GB version of the iPhone 6s is priced at $199, while the same for iPhone 6s Plus is at $299. iOS 9 will premiere on September 16, and iPhone 6s on September 25. iCloud subscription prices have also been revised.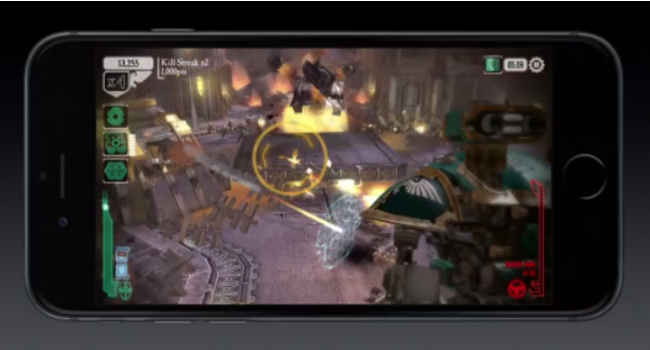 The new iPhone 6s: The epicentre of Apple's innovation
So...
...did Apple just change the way a touchscreen device should perform? Is the new Apple TV worth all that it seems for now? Is the iPad Pro really worth almost the price of India's most affordable four-wheeler? No judgements, but Apple has surely opened potential to touch a lot of people, on different levels.
Await our further views, soon.
P.S. The keynote's concluding song's lyrics said, "Take that money, watch it burn"...