It isn't a coincidence that the kind of knowledge a character is known to possess is not entirely obtained in a consensual manner. Surveillance has been around for a long time. It has been used as a method to control the law breakers and the rebels. While early surveillance involved interception of letters and couriers, eavesdropping mechanisms through architectural modifications in buildings and more, what we are going to trace here is the evolution of surveillance since the advent of electronic communication.
Wiretapping
One can trace the origins of audio-visual surveillance back to the days of the telegraph, a technology that boosted communication manifold. It was during the days of the Civil War in the United States of America that both sides would tap into the other side's telegraph lines to intercept communications. This was a fairly achievable task due to the lack of security measures as well as the slow speed of communication over the telegraph. But all of that changed with the popularity of the telephone towards the last couple of decades of the 19th century.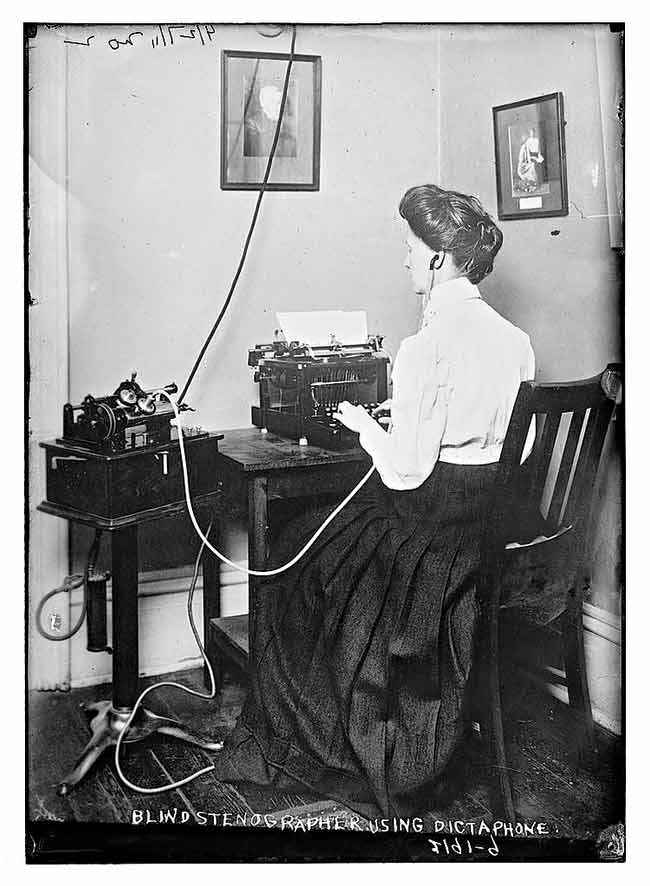 A blind stenographer using the dictaphone
All of a sudden, everyone was communicating too fast and words were being exchanged at a rate too high for manual tracking. At this point, what was needed was an efficient recording device that could let telephone calls be played back for better understanding and confirmation. Numerous attempts were made before there could be a device that found the right balance between speed and accuracy. Thomas Edison's phonograph was an invention that had the intention of recording conversations behind it, but it wasn't really easy to use or sensitive enough to get the job done. Even a few years later, when the Danish inventor Valdemar Poulsen invented the telegraphone, the first magnetic recording device, it failed to achieve sustainable popularity. While it outdid its predecessor in Edison's invention and was also displayed at the World Fair in Paris in 1900, the American Telegraphone Company, which was supposed to make the telegraphones under license in the US, failed to ever actually manufacture the device for the market and hence it got very little chance to be popularly used.
It was closer to the first World War that the Dictaphone Corporation released a new device capable of recording from telephone lines. It was quite effective, to the point that AT&T had to ban its use on public lines. Much of the reputation of detectives and spies around that time came from portable recording devices like the Dictaphone or Dictagraph. Around this time, the preventive activities of one William J. Burns, also known as 'America's Sherlock Holmes', with the dictograph were quite influential in convincing the public that, "even the walls had ears". The days of the wiretap wouldn't end anytime soon, but the world was moving towards a more invasive method of surveillance – eavesdropping.
Eavesdropping
The word conjures the image of ears laid on closed doors or under open windows. Post the first World War, the general public had never really recovered from their paranoia and suspicion that a third man was listening to their conversations. Microphones were by then sufficiently small to be concealed effectively among everyday objects. By the time an unfortunate series of events had led the world to another World War, technology was advanced enough for 'bugging' and 'wearing a wire' to be commonplace fears, and capture systems could play back recorded audio without the need for processing.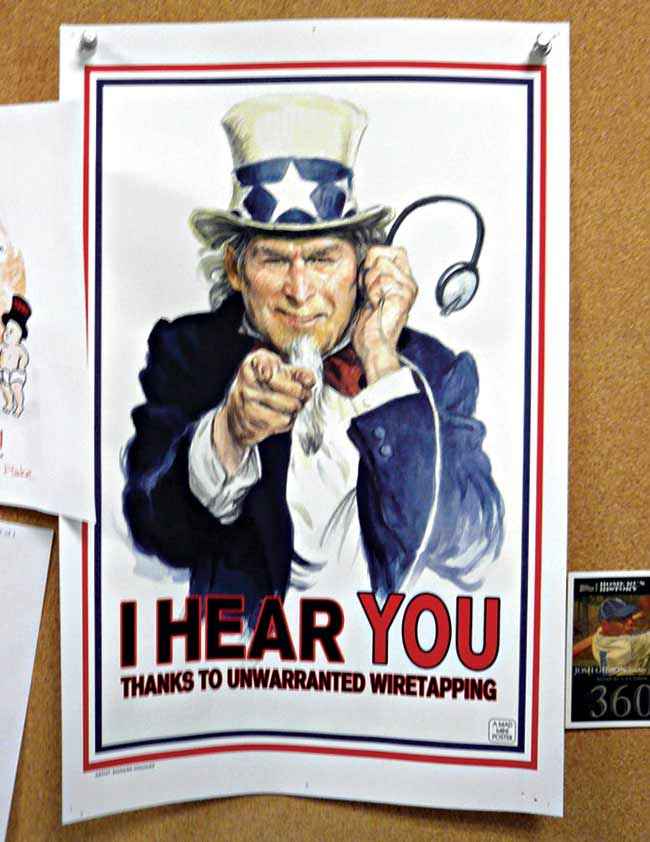 Spying of this nature is more common in government activities
By the 1950s, these recording devices would have reached such a level of miniaturisation that they could be concealed on a person, along with the power source and transmitter. Transmitters would, in turn, relay the audio to a nearby receiver where a third party would be listening in on the conversations/audio from the mic. In fact, such devices were being popularly used in television shows and detective work already. A brief idea of the popularity of these devices can be gleaned from the admission of a particular firm to have installed 4000 such devices in the Washington DC area of United States alone.
The peeping tom
While audio surveillance was the only dominant form of surveillance for nearly 50 years, as with everything in the world of technology, that was to change soon. The size and the bulk associated with cameras over the years had led the general public to believe that cameras couldn't really be concealed. Hence, miniaturisation itself paved the path for cameras to be perfect 'spying devices' for a long time. In fact, even in the first half of the 1900s, there were quite a few models like the Micro 16 and the Petal Camera that were popularly used for concealed photography. The Petal was even one of the smallest cameras ever made, at the size of the American Quarter. Another unique camera that stood the test of time in its own era was the Steineck ABC Wrist Watch Camera which, as you must have guessed by now, looked like a wristwatch and no, it didn't tell the time. And no article about early spy cameras would be complete without mentioning the Minox series of cameras that were a spy staple for over three decades till the 1960s. And mind you, getting any one of these at their launch would set you back by almost a week's pay.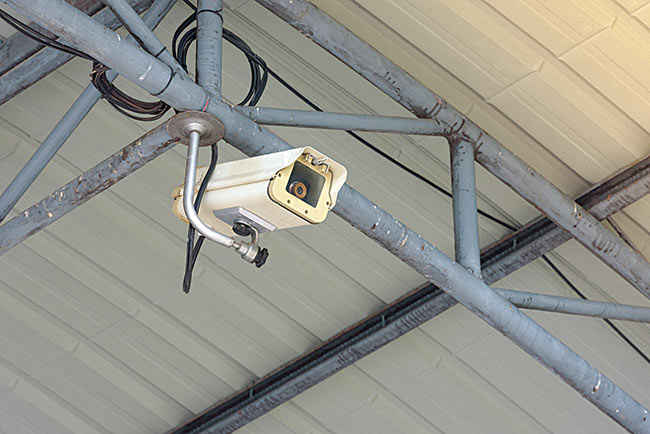 Closed Circuit TV (CCTV) cameras have grown to be ubiquitous
What the steam engine did to the manufacturing sector, video surveillance did to the surveillance industry. As early as 1965, there were supposed reports of surveillance cameras being used in the United States. Pretty soon, it was evident that the police were using surveillance cameras in places of interest to monitor public activity and look for signs of trouble. The next big push was when video cassette recorders hit the market. The seventies saw a huge rise in the implementation of around the world in law enforcement to traffic control and even legal proceedings in matters that involved adultery and parental negligence.
Digitisation improved the quality of video surveillance vastly. What earlier used to comprise of grainy, hard to interpret images was now clear, easy to identify footage. Police and investigative work especially benefited from the digital video surveillance implemented across cities, that even allowed the alteration of images for their purposes. Another advantage that digital video offered in the 1990s was after the advent of digital multiplexing that allowed the usage of multiple cameras at the same time in the same surveillance system. The one big change that happened over the years, especially in the 90s, was that people were no longer apprehensive of an unknown person watching over them in retail stores and public places. In fact, it made them feel safer. Needless to say, since the arrival of the internet, video surveillance has been mostly network based and the quality has only been limited by the camera itself.
The big brother sees all
Take any dystopian future in fiction from the recent past and you'll find watchtowers with searchlights, laser grids and electrified fences everywhere. While it's great that those dystopias were wrong, we've submitted ourselves to a totalitarianism of a different kind. Instead of being watched, we are voluntarily checking in with the powers that be. Conspicuous synchronization through swipe cards and IDs, automatic tolls and kiosks now dot our landscape with hundreds of points where we, within our senses, willingly give away our location and much more, often in exchange for goods and services.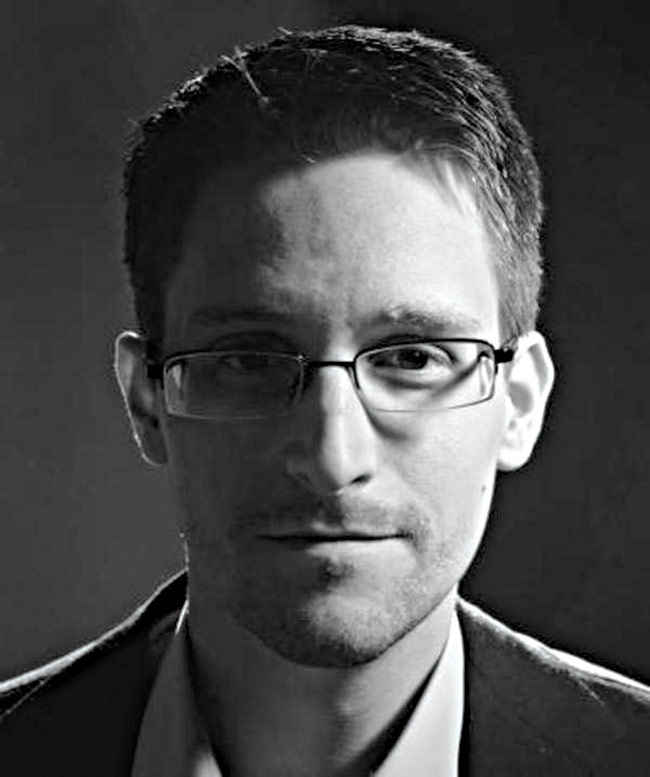 Edward Snowden has become somewhat of a symbol in the fight against mass surveillance
Don't get us wrong. When viewed separately, you have every right to believe that each of those points and other digital interactions are innocuous. But, with each new camera, barcode, database, registration and ID, a node is added in concert with a larger overall move towards total surveillance. And at the centre of it all lies the modern digital brain - a computer.
Nobody is claiming that every one of us is totally unaware of the eyes on our backs. But in 2013, Edward Snowden, a contractual worker at National Security Agency (NSA) in the US came forward with information that would change the world forever. A cache of documents that Snowden shared with certain media outlets revealed a global surveillance network that was beyond imagination. From phone calls to emails, location data to cable TV preferences, every single bit of information across several nations around the world was at the Agency's disposal thanks to several international treaties and agreements. And if you were looking at this as just a smear on the US Intelligence network, you would be wrong as even Australia and UK have accepted this as one of the worst blows to their intelligence networks in history.
If you think that there is no way the cameras and microphones in devices around you can be accessed over the internet by a diligent hacker, you couldn't be further away from the truth. Ethical issues aside, this can very well be done by government agencies with a reason behind them. Combine this with drones and minuscule electronics that are becoming harder to detect to the point of being pretty much undetectable, and voilà, you have the perfect cocktail of technology that monitors each and every move, or rather, a lack of it, in our cases anyway.
Well, at least, we're all a part of history now, eh?
Some Indian surveillance programs
If you thought that our own country wasn't really involved in surveillance – maybe because of technical backwardness in many government ventures – get ready to be surprised once again. Under the Indian Telegraph Act of 1885 (yeah, 132 years old), these are the mass surveillance programs operating in India –
Central Monitoring System Project (CMS) - Recently labelled as one of the top 3 worst online spies.
DRDO Netra - Reportedly, the system can detect selective words like "bomb", "blast", "attack" or "kill" within seconds from emails, instant messages, status updates and tweets.
Lawful Intercept And Monitoring Project (LIM) - Used by the Indian Government to intercept records of voice, SMSs, GPRS data, details of a subscriber's application and recharge history and call detail record (CDR) and monitor Internet traffic, emails, web-browsing, Skype and any other Internet activity of Indian users.
National Cyber Coordination Centre (NCCC) - A proposed cyber security and e-surveillance project in India that could operate with limitless authority and without any legal framework.
Telecom Enforcement Resource and Monitoring Project (TERM) - This is the vigilance and monitoring wing of the Department of Telecommunications.
This article was first published in February 2017 issue of Digit magazine. To read Digit's articles first, subscribe here or download the Digit e-magazine app for Android and iOS. You could also buy Digit's previous issues here.