Screen recording on Android has come a long way from Android Lollipop to the latest iteration Android 10. Recording your screen has not always been an easy thing to do on an Android phone but with recent developments, the OS has grown more favourable to the functionality. That said, Android 10 still didn't release with an active screen recorder feature but many smartphone manufacturers have been able to complement their UI update with a default screen recorder now.
The best screen recorders for Android phones are fairly easy to use and doesn't require much tweaking before starting the recording. For gamers, the screen recorder should also be able to capture the microphone audio which is something that Google has restricted apps from doing in the past.
With the latest developments in the app ecosystem, more and more third-party apps are also available that can record the screen of your Android phone. While companies like LG and Samsung have only recently started pre-loading their phones with a screen recorder tool, Xiaomi has been providing this functionality in their phones from the past few years now. Let's take a look at how to go about recording a screen on Android phones with the default tools and great third-party apps.
Using a built-in screen recorder
Chances are that if you're using an Android phone from the house of Xiaomi, OnePlus, Realme, Samsung, LG, Oppo or Vivo, there is a default screen recorder built-into your phone. The respective Android skins including MIUI, OxygenOS, RealmeUI, ColorOS, OneUI and LG UX feature a screen recorder that can be used to capture the screen on your Android phone.
While the options offered by each of them to record the screen can be different, the default screen recording tool is usually simple to use and you don't have to go through modifying the settings, if at all.
For recording via default screen recording app, go to the Settings menu and search for Screen Recorder. Alternatively, check if there's an option to add the screen recording toggle in the quick settings panel by editing it. Usually, the default screen recorders have a capture button and a settings button along with a time counter that lets you know the duration of the recording.
However, do keep in mind that many DRM protected apps don't allow screen recording functionality and while you may start recording a Netflix show, the final output file will have no visuals.
The best screen recording apps for Android
1. XRecorder screen recorder by InShot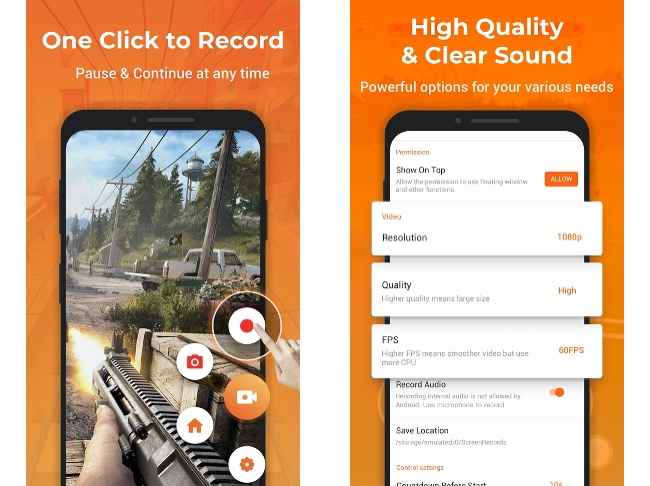 XRecorder is a great app for recording the screen of your Android phone while gaming or making a tutorial video. The app has a built-in video editor that can be used to crop the video clip or change the frame rate. It can record 1080p video at upto 60fps and is also capable of recording the microphone input.
Download XRecorder from the Google Play Store
2. Screen Recorder by Kimcy929
A lightweight and minimal screen recording app by Kimcy929, this Screen Recorder offers tons of features and control settings. It has also been translated into different languages including French, Turkish, Odia and Italian, to name a few. The app supports both front and back cameras and you can also scribble something while the video recording is going on in case you're making tutorial videos. Post-recording, you can also do basic editing like trimming and adding the logo to the video from the app.
Download Screen Recorder by Kimcy929 from the Google Play Store
3. AZ Screen Recorder
The AZ Screen Recorder is perhaps the most versatile screen recording app out of the lot as it also offers a way for users to live stream while screen recording and offers many additional features like screen capture, video editing, live stream screen recording, face camera support and more.
If you're running AZ Screen Recorder or any of the other abovementioned screen recording apps on Android 10, the apps support inline microphone recording as well. You'll find an option to enable the same by going into the Settings menu.
Download AZ Screen Recorder from Google Play Store
4. Google Play Games
Google Play Games is a default app that keeps a track of all your in-game achievements and even saves your progress. It also offers screen recording functionality but it's restricted to games that you've installed on your smartphone as it doesn't detect any other applications. The app doesn't offer a lot of modifications or editing the video after recording and is fairly limited in that way.
Play Games is available on Google Play Store