If you read today's Times of India, you would have read a piece on Mountain View based Alphabet snatching the world's most valuable company title from Cupertino's Apple. But, that happened one year ago on February 2 to be exact!
What happened today is that Google managed to dethrone tech behemoth Apple, to become the world's most valuable BRAND. As per this year's Global 500 Report from Brand Finance, Google's brand is now valued at an estimated $109.4 billion, up 24% from last year. Apple on the other hand is now valued as a brand at $107.1 billion, as estimated by Brand Finance.
Brand Value is defined by the consultancy as the amount of money required to license a brand name. "Apple has over-exploited the goodwill of its customers, it has failed to generate significant revenues from newer products such as the Apple Watch and cannot demonstrate that genuinely innovative technologies desired by consumers are in the pipeline," Brand Finance wrote. As per the report, Apple lost $38.7 billion in value last year. The consultancy added, "Its brand has lost its luster and must now compete on an increasingly level playing field not just with traditional rival Samsung, but a slew of Chinese brands such as Huawei and OnePlus in the smartphone market, Apple's key source of profitability."
What's funny is that India's national news daily, Times of India, printed an article today about Alphabet overtaking the iPhone maker to become the world's most valuable company. Even the data quoted by the article is a year old. As it mentions, "Alphabet's shares rose by 1.7% on Tuesday pushing its market cap to $531 billion." This happened last year on Tuesday, February 2, the same day as today. In fact, Alphabet's market cap on Tuesday, January 31, 2017 was $550.82 bn, way above the numbers quoted in the article. Apple, on the other hand, had a market cap of $647 bn on the same day.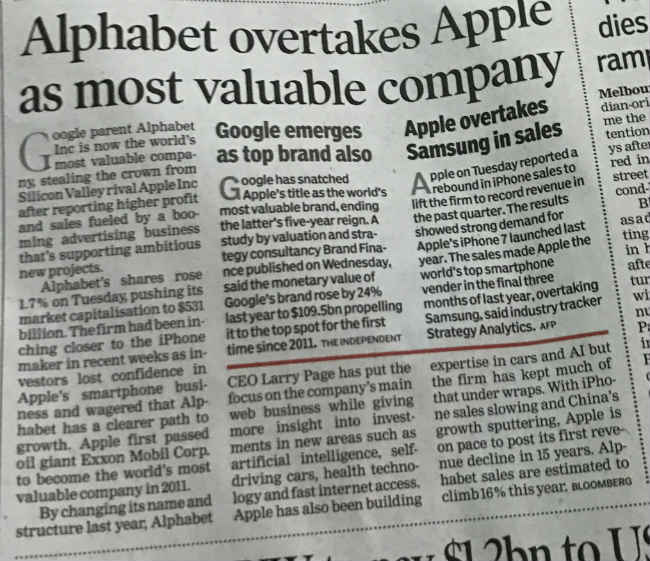 Today's Toi article
Scroll down on this Mint article from last year, to see the same story, which for some strange reason is today's news on ToI. Do not be fooled by this grossly misleading article. Apple still holds the top spot as the world's most valuable company.
See Also: Apple Q1 earnings: 78.29 million iPhones sold, record profit of $17.8 billion