After successive days of Apple and Samsung reporting financial results for the quarter ended June 30, 2016, Alphabet has released its performance report for Q2 2016. Google's parent company has reported gross revenue of $21.5 billion, up from $18.5 billion from Q2 2015 and beating analysts' expectations of $20.76 billion for the quarter. Alphabet's operating profits stand at $5.97 billion for the present quarter, reflecting an overall strong quarter for Alphabet buoyed by Google's successful online advertising business, and effective cost management with artificial intelligence and machine learning.
Ruth Porat, CFO of Alphabet, stated as a prelude to further details in the earnings report, "Our terrific second quarter results, with 21 percent revenue growth year on year, and 25 percent on a constant currency basis reflect the successful investments we've made over many years in rapidly expanding areas such as mobile and video. We continue to invest responsibly in support of our many compelling opportunities."
Quite unsurprisingly, Google has contributed for 99 percent of the money that Alphabet has made. Despite Google's cost-per-click decreasing with simultaneously increasing Traffic Acquisition Costs, Google has returned positive results in terms of overall profitability of business, hence allowing Alphabet to continue its investments in 'Other Bets', that section of initiatives that are directed entirely towards the future, at a pretty hefty expense.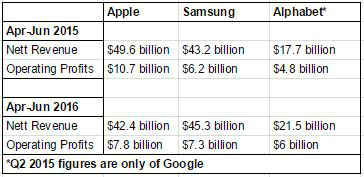 The other bets of Alphabet, Inc. include Nest, Fiber, X, Verily and its driverless cars initiative. Despite the experimental, over-the-top nature of these projects, the net contribution to Alphabet's revenues from these ventures have risen to $184 million, while costing the company $709 million. However, Google's overall profitability has allowed it to maintain its experimental projects, which not only give it the cutting edge over prospective competitors in the developmental fields, but allows Google to make the most of its own technology and reduce recurrent expenses.
Sundar Pichai, CEO of Google, stated the importance of artificial intelligence and machine learning behind Google's reduced expenses. While mobile remains the heart of Google's diverse businesses, Pichai elucidated on machine learning's potential to fuel technological innovation behind Google's core businesses for the next 10 years. Google's Deep Mind already contributes to optimising energy consumption at Google's data centres, while the Tensor Flow mechanism allows for better performance from Cloud services by implementing machine learning. Google has also gained a head start in technologies like Voice Recognition services, which the company hopes to reap benefits from as early as later this year.
To sum up Alphabet's performance between April and June 2016, Google's core strength and performance has amplified its ability to think forward as a technology giant, and its expectation-exceeding financial reports will fuel interest among investors to continue investing in experimental ventures that Google undertakes.