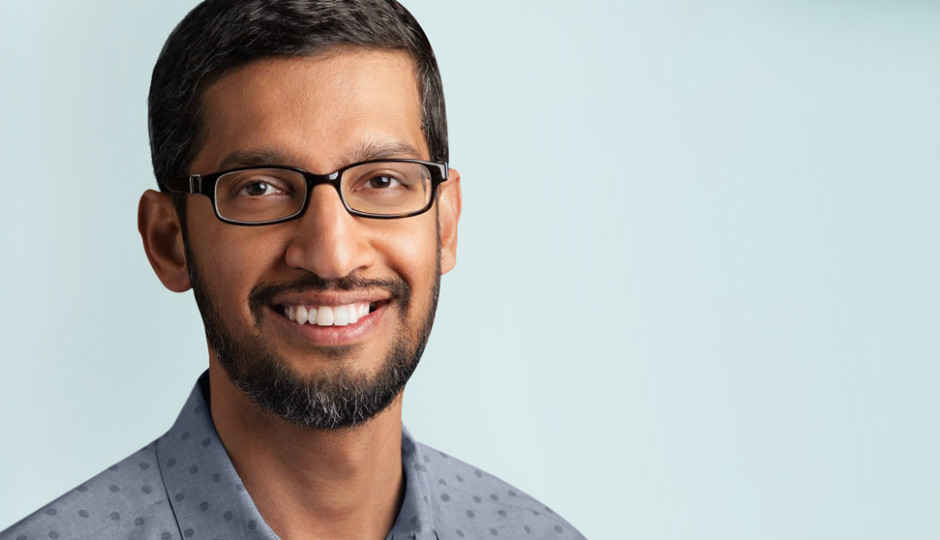 Alphabet's latest filings, posted yesterday, gave us an insight into the pay package held by Google CEO, India-born Sundar Pichai. At a staggering gross annual salary of $100.5 million (Rs. 6,67,01,85,000), Pichai now joins a list of top executives in the United States of America with pay packages way beyond what many would even dream of earning. Pichai's cash earnings stood at $652,500 (Rs. 4,33,06,425), in addition to 273,328 Class C shares amounting to $99.8 million. The shares will compound to quarterly increments through 2019, and will translate to direct revenue for Pichai from next year. Pichai also received $22,935 as "other" compensations.
Pichai, once deputy lieutenant to Google cofounder Larry Page as Senior Vice-President of Products, was deployed to be in charge of all operations under the Google banner, after a reorganisation saw the formation of the Alphabet umbrella, of which Google forms a massive part. Pichai's present pay package sees him overtake fellow India-born and Microsoft CEO Satya Nadella, who reportedly has a pay package of $84.3 million (Rs. 5,59,49,91,000). Among other India-born CEOs at the helm of international giants, Chairman and CEO of PepsiCo Indra Nooyi earns a gross annual salary of $19.1 million (Rs. 1,26,76,67,000). In comparison to them, Chairman-MD of Reliance Industries, Mukesh Ambani, has a gross annual salary of about $2.2 million (Rs. 15,00,00,000), while the last reported salary of Nokia CEO Rajeev Suri stood at $1.4 million (Rs. 9,29,18,000).
Pichai, right now, seems right up the pecking order in terms of Indian CEOs making it big internationally. At this amount of earning, Sundar Pichai definitely gets access to a number of privilege possessions, in surprisingly large numbers. For instance, if he were to save the entirety of his annual salary and then wish to spend it at one go, he can buy 242 Rolls Royce Phantom Extended Wheelbase editions. The latest Nexus smartphone, Nexus 6P, is priced at $650 for the 128GB version. If Pichai took fancy to his company's latest creation and decided to spend an entire year's salary behind it, he'd be in possession of about 1,54,615 Nexus 6P 128GB smartphones, beating flash sale figures of a number of cellphones of today. He could also choose to be more sensible, and purchase the Gulfstream G650 (incidentally the world's best private jet) for $65 million, the newly-unveiled Bugatti Chiron for $2.6 million, and maybe choose between purchasing islands or a trip to space, for the remaining money. He can also, if wish be, attempt to purchase Cristiano Ronaldo in the next transfer window, with a bit of bargain.
With all such riches, we heartily congratulate Mr. Pichai for his massive earnings, and for being a calm-headed CEO at Google. Here's to success, and doing the right thing!
Other Popular Deals
Samsung Galaxy J7 Nxt 32 GB...

Rs. 10990 *

Buy Now

Moto G5s Plus Gold 64gb

Rs. 12049 *

Buy Now

OnePlus 6 (Mirror Black, 6GB...

Rs. 34999

Buy Now
*Includes Cashback
​