For the past few months Samsung has courted an insane amount of controversy and ridicule over its Galaxy Note 7 devices – both from the point of view of them burning up in the first place, and later the botched recall it tried to initiate.
From what started off as a few isolated incidents of the device spontaneously catching fire in September, it has now led to one of the biggest product recalls in history. Samsung has reportedly recalled 2.5 million Note 7 devices and halfway through last month there was news of not just production for Note 7 being halted but Samsung killing the entire "Note" brand.
The interwebs of course had a great time poking fun at Samsung. There were memes, jokes and even a GTA 5 mod which replaced sticky grenades with the Note 7. The whole thing reached fever pitch when even the replacement devices started catching fire! But the final nail in Samsung's coffin of despair came when the American FAA (Federal Aviation Administration) made it a federal crime to fly with one of these ticking time bombs.

Jokes and fun aside, the most troubling bit about this whole fiasco is that Samsung still doesn't know why its devices are burning up in the first place.
Only an investigation can reveal what the exact cause is. But what if the explosions are just a symptom of the underlying affliction? And the affliction is the boundaries of technology being pushed beyond the envelope of safety. Why would the industry be doing that? Breakneck competition and the need to put out a product into the market as quickly as possible for one thing. Also, the lack of innovation and rut plaguing the industry is probably making brands flout testing norms that are in place for good reason. Even as I write this reports about Samsung's washing machines being recalled are streaming in. Thankfully the recall isn't for fire hazard but rather the machines literally blowing their tops.
While it is essential to innovate, I think any tech giant – perhaps with the exception of SpaceX – must remember that it is one explosion away from collapse.
The reasons aside, what most people are unanimously in agreement with is the fact that Samsung should have handled the recall and public relations better. We all mess up. Glob knows I have... many times, in fact. In such situations, it's best to admit one's mistake, take steps to rectify it and most importantly not repeat it. In many of these aspects Samsung failed miserably. Its apology came a little too late and about not repeating the mistake, well, we know what happened to the replacement devices. Samsung's also been accused of pulling some underhanded stunts like getting a DMCA takedown notice against a YouTube video showing footage of the above GTA 5 mod I mentioned. As you might expect, it didn't help. The video still got shared on other platforms like Facebook and WhatsApp, and currently there are dozens of other videos of the same Mod on YouTube.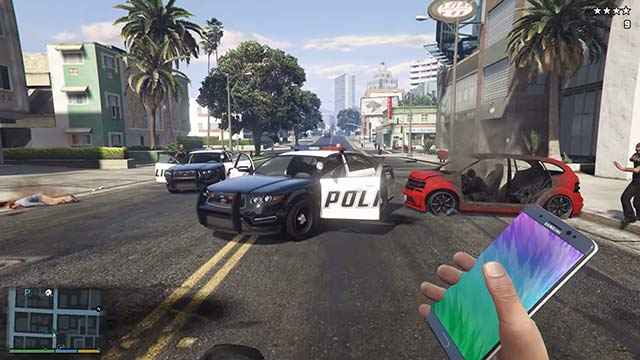 A mod in GTA V replaced the sticky bomb with the model of a Galaxy Note 7
The more important outcome of this debacle is that it will certainly dissuade early adopters. In the tech space we all know how important those early adopters are. These are the guys who pre-order before reviews are out, they are the ones who pitch tents, waiting in serpentine lines outside stores on the day of the launch, and most importantly, they are the brand's biggest unofficial promoters. With the Note 7 blunder, I expect consumers to be more careful now. I certainly will be. What's ironic is that my current personal phone is the Galaxy S6 Edge and the basic outline for this opinion piece was written on the device!
There have been many fiascos (and recalls) before – from lead tainted jewelry to food and even entire cars. Even in the smartphones space the last one that comes to mind was Apple and #bendgate. Funnily enough, with the launch of the iPhone 7, I doubt any of the fanboys really waited to see if the new phones bend or not. They just assumed Apple would've fixed the problem and placed their orders anyway. Of course, it's one thing for a phone to bend and quite another for it to catch fire… and then one did in Australia. Last I heard Apple was investigating that particular claim. Trouble is if a few more iPhones go down that fiery path, Apple is going to have a Samsung-like crisis, and they don't have other models to fall back on. At least we can expect batteries to undergo a ridiculous amount of testing from here on, and much wariness in the entire phone segment.

What do you think? Will Samsung recover especially now since it has fresh washing machine recall on its hands? What should it do to build back consumer trust? Waiting to hear your thoughts.