Timex Metropolitan Plus detailed review
The Timex Metropolitan+ resembles a standard analogue wristwatch as closely as possible, and until you look closely, you'd be forgiven for thinking that it wasn't. For a lot of us who prefer the analogue outlook on our wrists than tiny smartphone replicas, this is a great aspect to consider. On the flipside, though, these watches often get a few essentials of a smartwatch all wrong. In our Titan Juxt review, we spoke of how the small OLED screen somewhat misses the point of a smartwatch. The Timex Metropolitan+, however, is not a smartwatch, but an activity tracker slapped on to a standard analogue wristwatch. It does not attempt at being a smartwatch and an activity tracker, something that Titan attempted with the Juxt. We'll talk about all of this and more, in our detailed review of the Timex Metropolitan+.
Build and Design
From the offset, the Timex Metropolitan+ fails to feel like a wristwatch that costs Rs. 9,999. It is a bit too light for my wristwatch preference, something that the Titan Juxt got right with premium construction materials and uniform density distribution across its chassis. In terms of looks, the Timex Metropolitan+ looks very ordinary and even slightly dull, and the wristband options are nowhere close to being as classy as the Juxt's.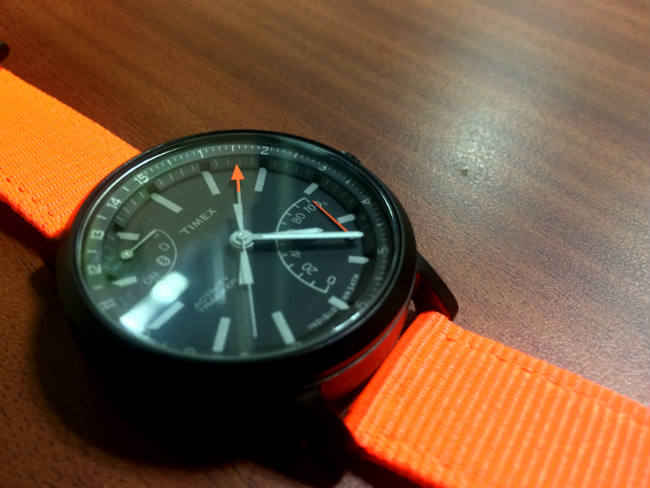 The watch has a funky overall bearing with which Timex is possibly aiming to target the younger audience's choice of quirky accessories. Personally, it does not really appeal to me in terms of regular formal wear. However, there are a few positives to this. The lightweight wristwatch does not make you conscious of its presence, and its muted design statement means that it will not scream for attention, something that most watches that come for this price, do. It fits in well with, let's say, jersey, shorts and running shoes.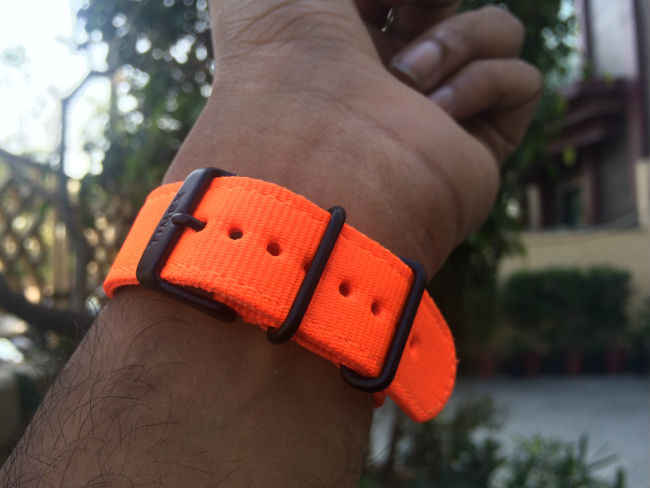 In terms of quality, however, I am not entirely convinced. The Timex Metropolitan+ fails to justify its price tag in terms of its build quality, which feels like a wristwatch priced at under Rs. 4,000. It has six hands on the dial, and two buttons to control all the aspects. The wristbands can be changed easily, and there are interlocks to hold them in place. There are no loose joints or ends in its construction, it just fails to feel premium enough. In overall terms, there is too much plastic in the build, and that may not sit well with the audience buying wrist accessories.
Performance
To talk about the Metropolitan's performance is to only gauge step and calorie counts, and distance covered. The Timex Metropolitan+ has a reasonably accurate pedometer that gives you a thorough count of the number of steps that you take. It keeps data across seven days on the watch, and you only require the app on your phone to sync data once in a while and compare your statistics. This is one very convenient aspect of the Metropolitan+ as against the Titan Juxt, that refused to remain connected without the app running constantly.
The Metropolitan+, being only an activity tracker, does not relay any notification from your phone, making it a normal wristwatch with a pedometer. As a result, the device makes sense only if you really wish to keep an approximate track of how much you walk, for an added price. Although there is no display on the watch, one dial on the top-left corner of the watch shows you the connected status. Long-pressing the button beside the crown dial sets the watch on Bluetooth mode, that you will require to pair the watch with your phone or sync it when you wish to see your activity data at the end of the day. The second dial is marked in percentage, and relays how much you have worked towards your goal. Setting the watch to 'S' will give you the steps data, and the 'D' mode gives you the distance covered data. There is also a fourth hand that gives you an estimate of how much you have worked towards your overall goal.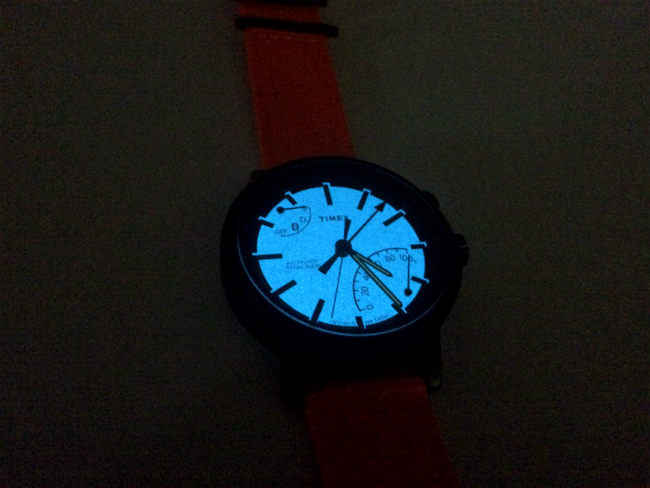 This is a neat, functional approach, and although the lack of a digital display will not display the number of steps taken upon touch or wrist flick, you can still get an idea of how much you have worked out on a day, and for exact figures, there is always the app. While it took me a few days to get used to reading my activity stats via analogue hands, it became fairly convenient after a point. The unfortunate bit, though, is that for a dedicated activity tracker, there is no heart rate sensor, which makes it a semi-impaired activity tracker.
There is also a night glow backlight on the watch face - a glow that illuminates if you long press the crown. Called INDIGLO Night Light, it is an excellent addition, and helps to view the time in dark environments. The button and the crown are a bit stiff for my preference, and is not the easiest to long press. The app itself feels a tad more cluttered than Titan's Juxt app. It has a dashboard that shows you the three activity parameters, with watch and app setting controls near the bottom of the screen, a hide-away panel housing separate tabs for the same actions (in case you would wish to access them from another screen) and a watch icon that you will need to tap on to begin sync. The app is small in size, and is light on resources, even though it is not the most responsive experience. The good part here is that you would not require to use it too often anyway, and hence, does not act as a major deterrent.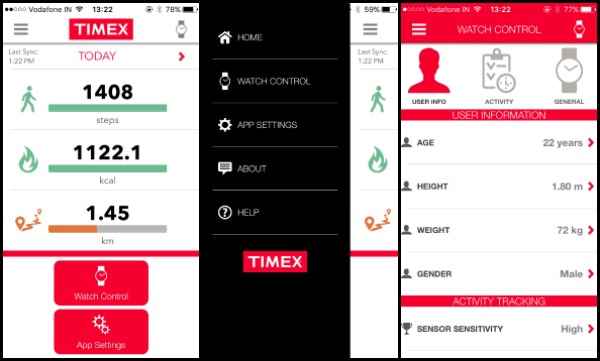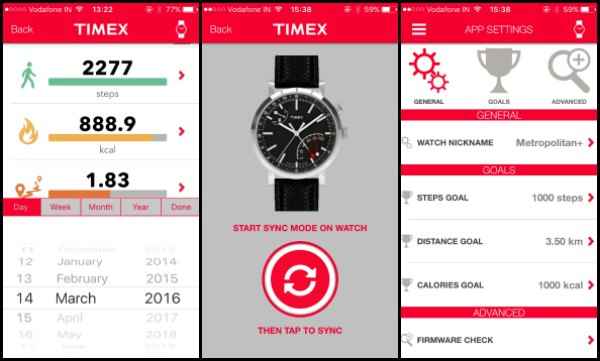 Overall, in terms of performance, the Timex Metropolitan+ activity tracker is a barebone representation of the steps you cover, and calories burnt based on your daily activity. The data it shows is not exactly accurate, but is closer to the estimate of real figures. Apart from this, there is nothing much to talk about here.
Battery
Timex states that the Bluetooth-connected activity operations work on the cell battery that powers the analogue aspects of the watch. It has been marked to run for nearly 18 months, which makes it a bit difficult for us to actually test how long it lasts. However, the biggest convenience that works for the Metropolitan+ is that it does not need to be charged - a major factor that fitness enthusiasts may like. Timex is also bringing sleep metrics to the Metropolitan+, enhancing its activity features, and not having the tension of charging your wrist wear every single day gives the Timex Metropolitan+ a major advantage over others.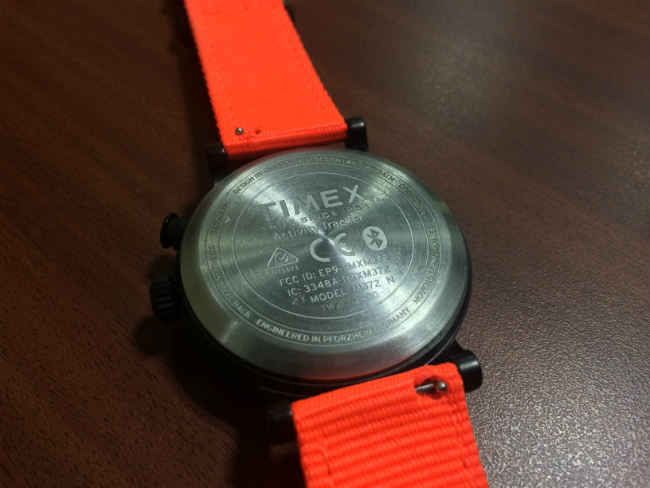 Watch Timex Metropolitan+ Review Video

Bottomline
The Timex Metropolitan+ failed to impress with its looks, although it makes a decent case for itself as an activity tracker. The presence of analogue indicators on the dial makes a separate battery unnecessary, and the app easily relays the data on your phone screen. Its dependence on the app is much lesser than many other watches out there, and hence, makes for a decent activity tracker to own. Its price of Rs. 9,999 is not justified by its looks, and the heart rate counter goes amiss here. It is not bad, by any means, but you should wait until Timex refines it further. Right now, it is not the best activity tracker to buy. You should either wait, or go for the likes of Jawbone UP3 and Fitbit Charge HR.