Samsung Gear Fit2 Pro detailed review
It's a brave new world for fitness trackers out there. While on one hand, affordable fitness trackers like the Xiaomi Mi Band 2 are flourishing, on the other hand, notable makers of fitness trackers like Fitbit and Garmin are joining the smartwatch bandwagon. The Samsung Gear Fit2 Pro (first impressions) comes in at this confusing juncture. Samsung must have realised this and hence, the Gear Fit2 Pro caters to both the fitness fanatics and those who just want to tell time and check notifications on their wrists. I belong to the latter category and it left me quite impressed.
The Gear Fit2 Pro is not only an effective fitness tracker, but also doubles up as a second screen to your smartphone. It's versatile too and compatible with both Android and iOS devices and can become the most diligent trainer for your fitness goals.
For the most part, if you have seen or used the Gear Fit 2, you know what the Gear Fit2 Pro is. The wearable is more of an evolution than an upgrade with few new features added here and there which are quite nifty. And that could be its undoing. This review ultimately arrives to the conclusion that a new offering from Samsung does not negate its predecessor in any way whatsoever. The older Gear Fit2 is just as good as the new one. But does the Gear Fit2 Pro have enough redeeming qualities to justify the upgrade?
Design: Don't fix what isn't broken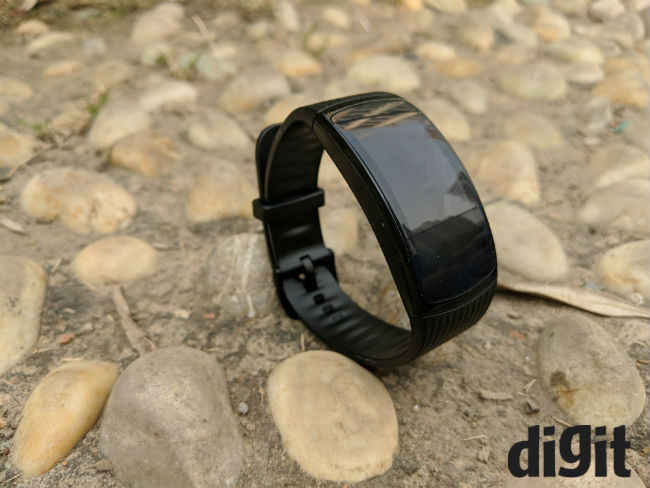 With the Fit2 Pro, Samsung has gone for the philosophy of "if it ain't broke, don't fix it" and kept the design of the wearable pretty much unchanged. It has retained the subtle, understated design of its predecessor — The 1.5-inch curved Super AMOLED display enclosed in a hard shell that blends into the rest of the hard plastic body. Samsung has cut down on the colour offerings though and the Gear Fit2 Pro is only available in black or black and red. Then again, Samsung gives you the option to change the band, although I quite liked the striated band that comes in the box. The watch is durable too. I accidentally dropped it on hard concrete and there wasn't a single scratch on it.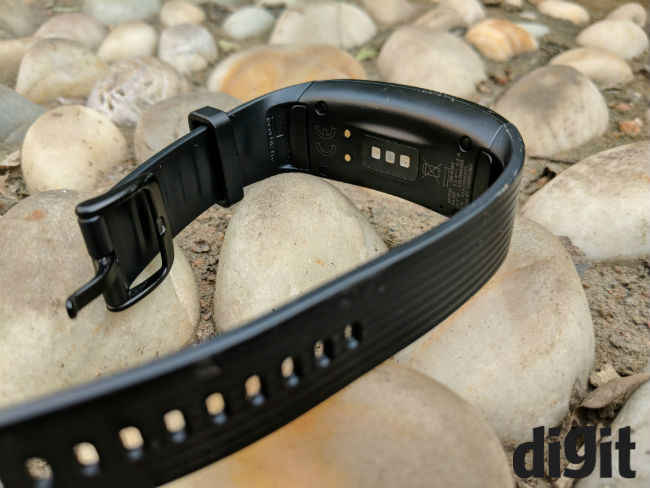 Owing to its curved nature, the Gear Fit2 Pro rested snugly in my wrist. It didn't cling to my wrists and after a while, I didn't even realise I was wearing the watch and that's saying a lot considering how fitness trackers with heart rate sensors tend to hug the wrists tightly to get an accurate measure of your pulse rate. I even slept wearing it and wasn't uncomfortable at all, even though I never wear a watch to sleep.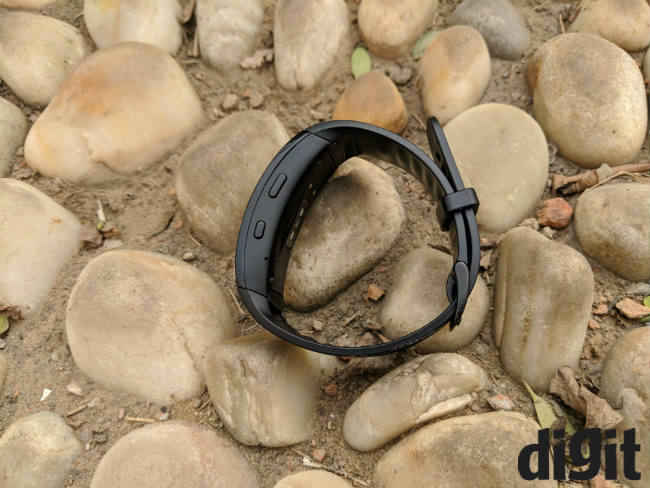 On the back of the watch is the heart rate sensor along with latches to remove the band. On the right are two buttons. The one on top is to go back to the previous screen while the one below that takes you home (the watch face) and while at home, tapping the button will show you a vertically scrolling list of installed apps.
At the heart of the Gear Fit2 Pro's experience is the bright and colourful AMOLED display. It is indeed the center of attraction. With a resolution of 216x432, the display packs enough pixels to make objects in the panel appear sharp and crisp, with lots of colours. Normally, the brightness of the display is just enough to read what's on the screen perfectly, but outdoors, it tends to get a bit washed out. To solve this, Samsung has provided an "Outdoor Mode" which cranks the brightness to 11 (which is the max) to boost readability under the sun but only for five minutes at a stretch to save battery.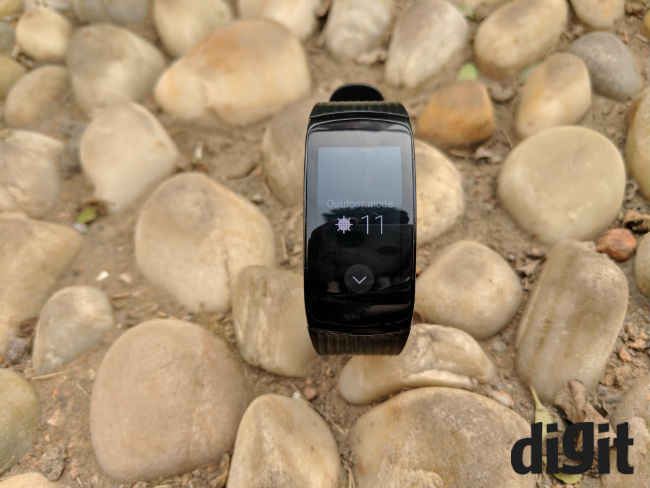 The watch is navigated by swiping left or right on the screen. Going left brings up the notifications (more on that, later) while going right will show you your widgets. You can choose up to eight widgets although the default is five. The default center screen is the watch face which can be customised quite easily by long pressing on it. Samsung provides a variety of watch faces out of the box and you can also download new ones from the Galaxy Store. I quite liked the default watch face though. It's neon green and displays all the important metrics like steps, calories burnt, heart rate and more.
Yes, Samsung did open up the Galaxy Store for the Fit2 Pro giving you the option of downloading a number of fitness-centric apps. You get the entire Under Armour suite of activity-tracking apps including MapMyRun and Endomondo as well as an exclusive Speedo On app for track swimming. The watch runs on Samsung's proprietary Tizen OS which means you can download and install all of Samsung's Tizen apps, but it's not necessary that all apps will support the Gear Fit2 Pro.
That's another addition Samsung has made to Gear Fit2 Pro. It is 5ATM waterproof meaning you can take it out for a swim in the pool and keep a check on your laps, distance covered, calories burnt and heart rate. The watch has a nifty Water Lock mode that disables the touch screen to prevent water droplets from making accidental touches.
Fitness Tracking: An encouraging, diligent gym instructor
Once you put the 'Fit' into the name, you do expect the watch to get that part of the package right. And for the most part, it gets it right. Even though I'm not one who exercises, I was quite pleased with the watch jumping to conclusions that I'm trying to get fit. You see, the Gear Fit2 Pro can automatically realise if you are doing an activity and starts tracking it. So the walk from the metro station to my workplace, which is about 650 meters, the watch knows I do a certain number steps. If I am walking in a brisk pace (which I do, because I'm always late), the watch sends me a "Good Job" and if I manage to walk even more and complete my step goal, the watch goes out of its way to congratulate me.
The watch also gets quite concerned when I've been sitting plump on my chair for too long, so it nudges to stretch a bit, which I do, and again, it doesn't forget to say good job. This way of encouragement through positive reinforcement is a welcome change among fitness trackers which mostly just warn that I should go take a walk or do some exercise. No one wants a stern gym instructor on their wrist now, do they?
Apart from this, the Gear Fit2 Pro can track almost all sorts of exercise including running, walking, cycling, hiking, swimming, crunches, squats, yoga and much more. I did go out of my comfort zone to try out some exercises to see how accurately this tracks. For the most part, the auto detection works perfectly. The watch knows when you're running, walking, cycling, swimming, so much so, that it's almost creepy.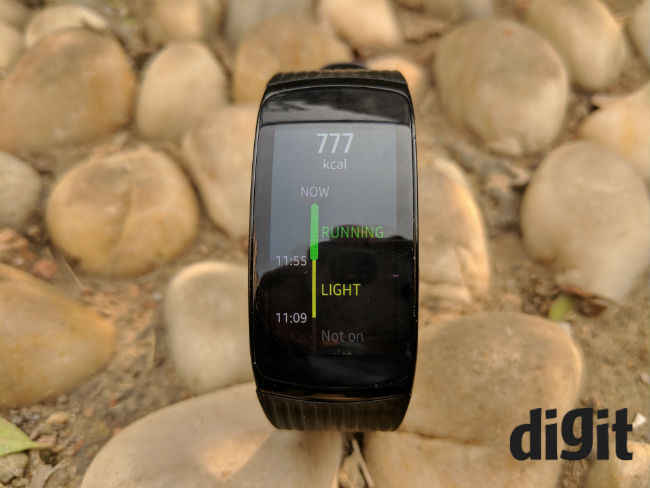 From what I experienced, the Fit 2 Pro is for both seasoned fitness fanatics and for passive health enthusiasts like me. Hardcore fitness folk can set goals, check the intensity, set guide intervals and more.
There's special emphasis on swimming. The Speedo On tracks your lap times, distance, strokes and a nifty feature called SWOLF to measure swimming efficiency.
More importantly, the Gear Fit2 Pro can track your heart rate in real-time while exercising so you can check when you are hitting your peak or when the fatigue starts creeping in. The heart rate sensor, based on our testing, was quite accurate. You can either keep it turned on all the time or set it to record your BPM frequently. Keeping it on all the time eats up more battery. Over some time, the watch learns how your heart responds to different activities and you can also tag different BPM measures according to whether you are resting, exercising or even when in love.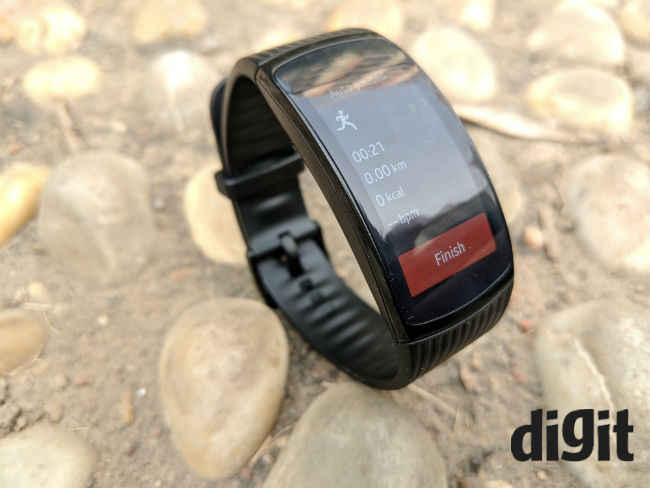 In addition, the Fit2 Pro allows you to keep tabs on your caffeine and water intake through manual counters on the watch. You can also keep a tab on the weather and set a timer or a stopwatch.
I also tracked my sleep patterns with the Gear Fit2 Pro and to be honest, it left a lot to be desired. The sleep-tracking interface is nowhere as in-depth as that of a Fitbit or a Garmin band. It just about does the job. From what I figured, the Gear Fit2 Pro depends on your body movements to determine the quality of sleep you had. It will give you the number of minutes you slept motionless, how long were you restless and an overall efficiency number which didn't seem quite convincing. Quite frustratingly, I could only access the sleep metrics in the morning after I woke up and there was no way to check it again on the watch or on the app.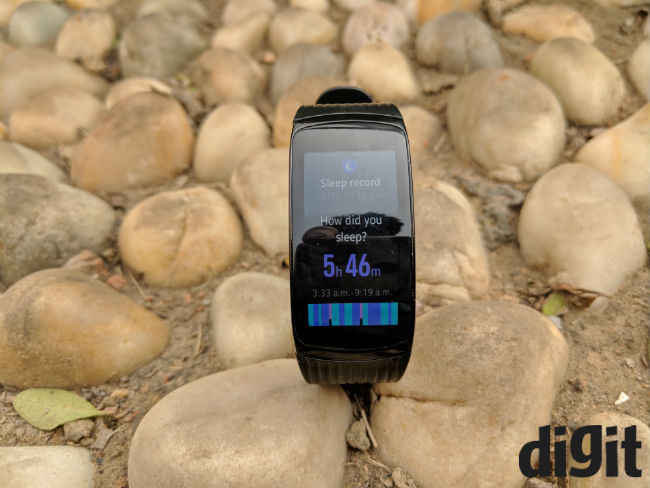 I found the pedometer and the accelerometer accurate as well. I took the watch out for a walk and kept Google Maps open simultaneously to track the distance covered and used the Honor 8 Pro's inbuilt pedometer to track step counts. There were minimal misreadings sometimes but overall, the metrics are quite accurate. A useful feature in the watch is the in-built GPS which can map your runs so you can view it later on a bigger screen or even share it with friends.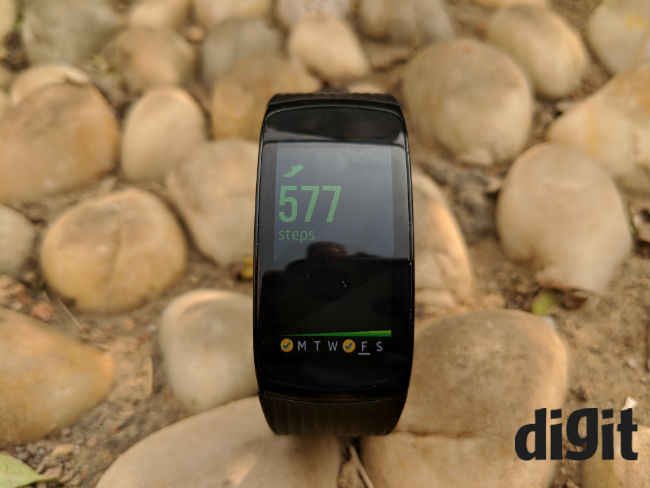 The Gear Fit2 Pro also allows you to see where you stand in the leaderboards. The "Together" app on the wearable pegs your metrics against the average metrics which Samsung gathers from users of its Gear devices and Samsung Health.
Perhaps the best use-case for the Gear Fit2 Pro is if you are training for a marathon, or any other heavyweight sporting event. The vast suite of fitness tracking abilities are a bit of an overkill to keep you in shape.
Connectivity: A second screen to your smartphone
Apart from being a fitness tracker, the Gear Fit2 Pro also doubles up as a second screen to your phone. The wearable can mirror your notifications, show incoming calls and messages and even allow you to reply using preconfigured templates.
You are made aware of an incoming notification through various patterns of vibrations. Tap on an incoming notification and you can see the full text on the screen. I found reading mails and messages quite handy despite the small screen because of the fluid scroll. Notifications quickly became my favourite thing about the watch considering the depth of information and how easily it's accessible.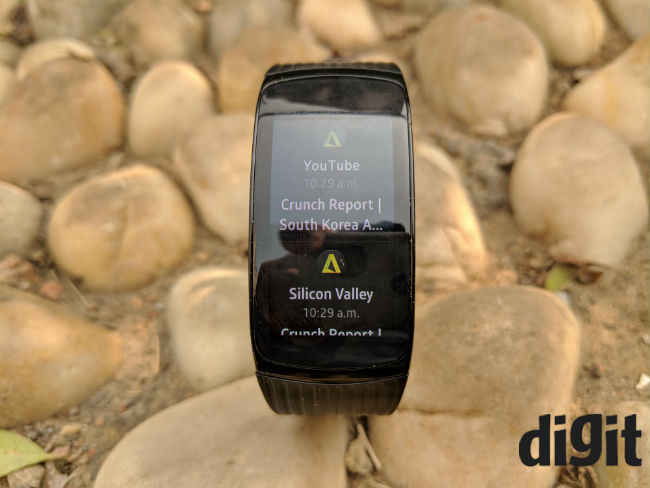 One major overhaul that Samsung did with the Gear Fit2 Pro is that you can use all the features of the watch irrespective of whether its connected to your phone or not. As long as there is an active internet connection on the watch, you will get your notifications even if you are halfway across the world from your phone. It's compatible with any Android running Android 4.4 and above and iOS devices.
Thanks to its untethered nature, the Gear Fit2 Pro is closer to being a standalone device than any other Gear device before. It may not have the LTE connectivity of the Apple Watch Series 3, but it more than makes up for it by allowing you to sync it via the internet without having to keep your phone near you.
However, to enjoy the entire suite of features of this smart wearable, it's essential to install the Samsung Gear app on Android and iOS devices. Samsung Health and the Gear Fit applet are also essential if you wish to keep a track of your health metrics on your phone. It does get a little cumbersome while setting it up, but it's just for one time after which, the watch syncs without a hitch.
The watch has 4GB of storage allowing you to store music offline. There's no loudspeaker, so you have to connect your Bluetooth headphones to listen music while working out. There's also support for Google Play Music in India and even Spotify Offline but the streaming service is not officially available in the country right now.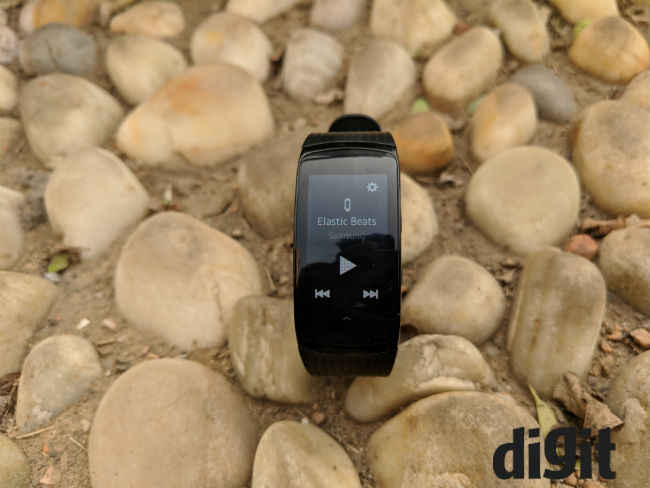 If you are on iOS, transferring music to the watch though is quite a pain. You need to be on the same Wifi network as your computer and then type in an IP address on your browser once you initiate the process on your watch. The process is quite complicated and took some time to get used. However, for Android devices, the Samsung Gear app has an option to transfer and even auto-sync music from your phone to the GearFit2 Pro which is quite convenient.
Another useful feature on the watch is the ability to locate your phone remotely. There's a "Find My Phone" feature on the watch that can either give a physical address of where your phone is, or even make it ring loudly to help you locate it.
Battery: Leaves more to be desired
The Gear Fit2 Pro comes with a 200mAh battery. Samsung claims a three to four day of battery life but that's only under ideal scenarios. In real-life usage, I got only two and a half days of battery on an average. With heart rate turned to "always", the results are even lower and with GPS on, the battery lasts less than 9 hours.
Call me old-fashioned but I still prefer to wear a timepiece that I don't have to charge every other day. It's counterproductive and makes me feel like I'm using a Chronograph where I had to wind the watch every morning.
Having said that, the proprietary wireless charger that Samsung offers to charge the Gear Fit2 Pro is one of the best we have seen. The watch rests snug in the holder and is held in place with magnets. Any way you put it, the watch starts charging. However, Samsung doesn't bundle an AC adapter with the Gear Fit2 Pro, so you can either plug the USB cable into a USB 3.0 port or plug it into a mobile charger. Plugging it into a USB port charges the watch in about 90 minutes while an AC adapter will do it quicker in about an hour.
Bottomline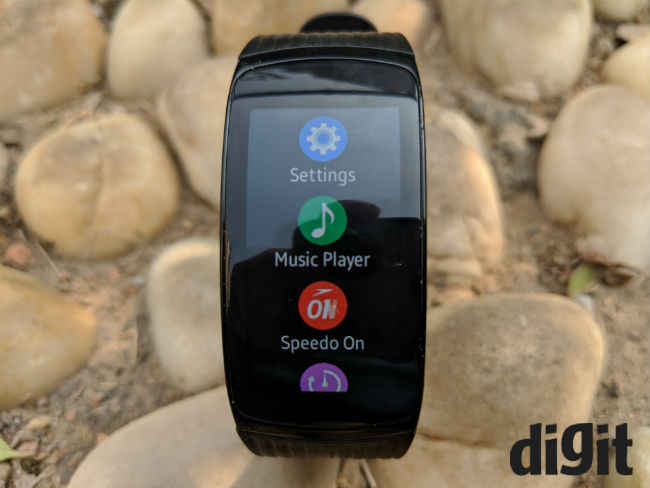 The Gear Fit2 Pro is one of the smartest fitness trackers out there. Samsung has kept up with changing trends and gave the wearable some smartwatch superpowers to justify the relatively high asking price. For Rs 13,590, it's quite expensive but gives good value for money. While this won't give very detailed insights like the Fitbit Alta HR, it is still a good offering for anyone interested in keeping themselves fit. I really liked the way the Gear Fit2 Pro is designed to seamlessly recognise the kind of activity I am doing and the positive reinforcements it used to encourage me to get up and get going. Then again, if you own the older Gear Fit2 and isn't into swimming as much, I suggest you stick to it.
Having said that, a fitness tracker only makes sense for someone who is highly inclined towards keeping themselves fit. The fact that the Gear Fit2 Pro can handle notifications so well comes secondary to its fitness-centric features. Hence, it doesn't make much sense to buy it if you are only going to use it as a second screen to your smartphone.