Moto 360 detailed review
Motorola has seen a rise in popularity and it just seems to be getting better for the company as almost every new product seems to be grabbing attention. The most anticipated and coolest looking one is the Moto 360 smartwatch which runs on Google's latest Android Wear platform and attracts consumers with its round dial design.
We take a look at the smartwatch and also check out Google's platform for wearable devices…
SPECIFICATIONS
-Display: 1.56-inch display, 320x290 resolution (205ppi) with Gorilla Glass 3
-Battery: 320mAh
-Storage: 4GB
-SoC: TI OMAP3630
-Operating system: Android Wear
-Connectivity: Bluetooth, Wireless charging, Voice recognition
-IP67 Certified
BUILD AND DESIGN
Apart from the LG G Watch R, the Moto 360 is the only round smartwatch that has been announced so far and it's definitely more attractive than a square/rectangular dial. The dial is however quite thick and seems large in diameter, but it fits well on your wrist. The main dial is made out of stainless steel and the 1.5-inch round touchscreen display is protected with scratch-proof Gorilla Glass 3. The quality of the display is top notch and although the pixel density (205 ppi) is not very high, it still seems perfect. The display also boasts of very minimal bezels. Motorola has cleverly put the drivers and the ambient light sensor in a small section at the bottom, cutting off a slice from the perfect circular dial. It does seem odd in the initial few days of usage, but you get used to it.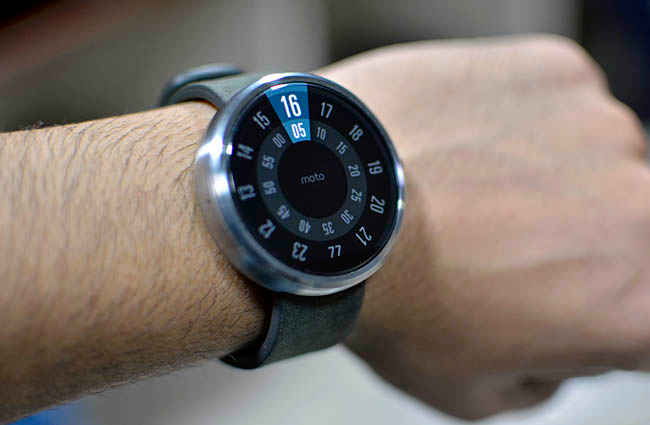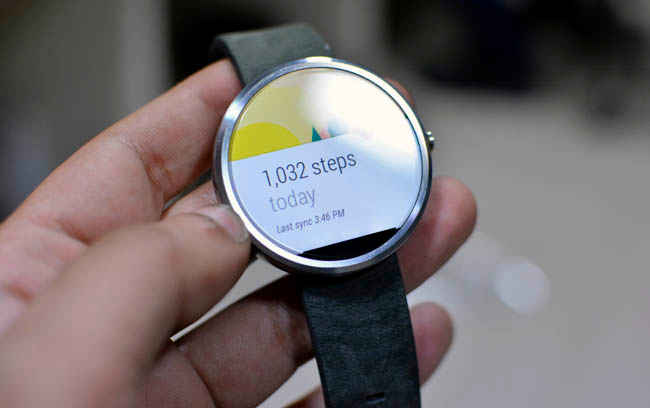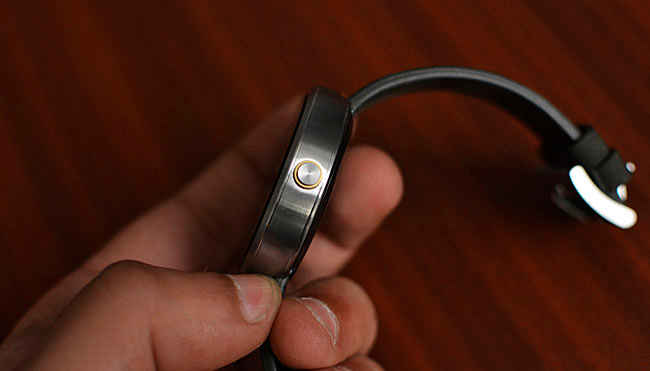 There is a single round button on the right to activate and de-activate the display and a tiny hole for the mic on the left. The bottom of the dial houses the heart-rate monitor and some printed features of the watch. The unit that we got was the silver version with a strap that had a sandstone grey leather finish. There are no ports on the smartwatch as it can be charged wirelessly by just placing it on the bundled dock charger.
The Moto 360 looks and feels just like a normal watch. You can wear it for long periods and you won't feel any difference. It is also IP67 certified which means it is water and dust-proof as well.
FEATURES
The Moto 360 runs on Google's recently announced Android Wear platform which basically makes the watch act like an extension of your smartphone. You get all your notifications, Google Now cards, and of course the time. Android Wear doesn't offer any customized skins, but you do get some predefined watch faces. Third party apps have also started pouring in that offer various other watch faces.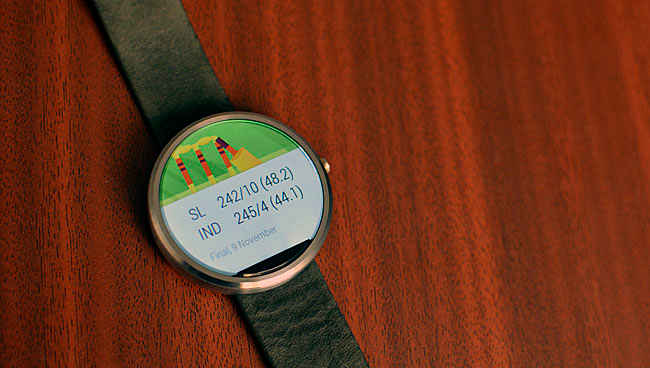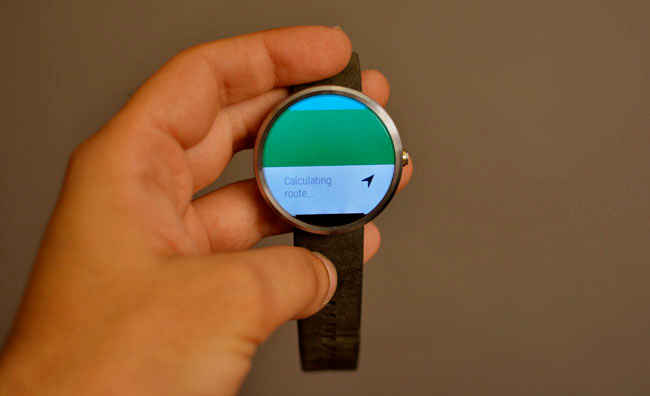 Apart from using the touchscreen, you can also give voice input to the watch, just like Google Now. You can quick reply text messages, emails, chat apps or just perform a search, or set an alarm, probably almost anything that one can do on a smartphone. There is also a built in pedometer and a heart rate monitor on board. You can sync your data with Google Fit or just use the pre-installed Motorola health monitoring app.
The most attractive feature is probably the wireless charging feature. Just pop it on the dock and the dial shows you a clock with battery indicator running around the time. This also serves as cool looking night stand.
PERFORMANCE AND BATTERY LIFE
The watch is actually very responsive and is always accurate at recognizing words. There are minor lags here and there but frankly speaking, we were impressed by the fluidity. It takes a day or two to get used to navigating around the watch but once you get the hang of it, you'll be swiping on the display all day.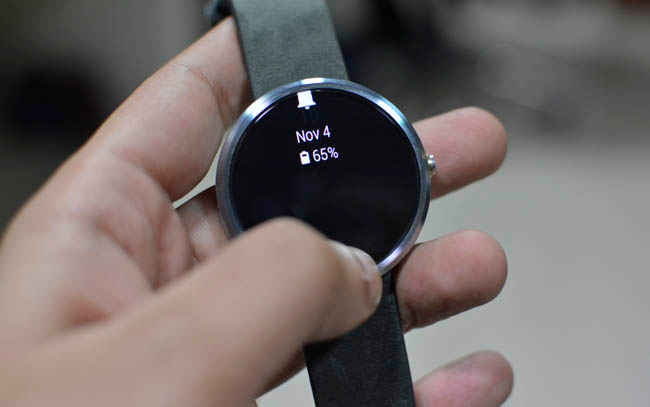 Speaking of all day, lets talk about the battery life. While the initial build of Android Wear was not that battery efficient, the latest 4.4W.2 update is said to improve on the issue. The battery is said to be rated at 320mAH but a teardown of the watch confirmed that it is actually at 300mAH battery whose power ranges from 300-320mAH as confirmed by Motorola itself.
We charged the watch to a full 100% and went on using it all day. After using for 3-4 days we found that it lasts for just about 12 hours of regular usage. This was achievable by keeping the brightness on auto and keeping the ambient mode off. If you keep turning on the display you might get even less of a backup. Now it's not that smartphones last more than a day these days, and with such a short life on the watch, you will end up with two devices to charge everyday.
CONCLUSION
We think that the Moto 360 is the best smartwatch simply because it looks absolutely great. The performance is definitely smooth and the simple yet elegant design just makes it the coolest thing to have on your wrist.
But would we recommend you to buy one? Not at all. Android Wear is in its early stages and to be honest there are very limited features on the watch. Perhaps if it offered more functionality and at least 5 day battery life., we would change our opinion. Hopefully, Google will be bring in some more enhancements to Android Wear, but for now spending Rs. 18,000 on the Moto 360 is just not sensible.