Huawei Watch detailed review
When the Huawei Watch was launched in India, P. Sanjeev, Director-Sales at Huawei, proclaimed Huawei's aim at premium watch buyers with this smartwatch. It may not have looked massively promising then, but there's always more to a device than what meets the eye, initially.
That, exactly, is how the Huawei Watch fared. It did not look massively appealing upon launch, but after more than a (rather eventful) week of using it, I'm reasonably impressed by what Huawei has done here. The Huawei Watch does not attempt fancy bearings, neither does it overawe with a plethora of features, most of which you may not use. What it does is stick to the essentials, and do that very well. Allow me to explain how.
Build, Design and Display
I've been using the chrome, 42mm variant of the Huawei Watch. To begin with, the Huawei Watch carries with itself a weight that exudes confidence once you wear it. The larger chassis of the watch gives Huawei plenty of room to arrange the engineering inside, and that, along with the very well-built body, also adds to the body density of the smartwatch, something that is essential for premium watch buyers. Most premium wrist gear has a slightly higher body density with uniform weight distribution, which makes watches feel comfortably heavy on the wrist. The Huawei Watch achieves exactly that, taking one step towards fulfilling its promise of being a 'premium' smartwatch.
Huawei has refrained from throwing in fancy innovations to the Huawei Watch, giving its design a classic, timeless characteristic that adds to its class. The 42mm chrome chassis indents inwards to house the beautifully layered Sapphire glass. While most smartwatches opt for Corning Gorilla Glass, the inclusion of Sapphire glass instead is a decision of design and durability, fused in one. Sapphire glass is highly resistant of scratches and incidental bumps on rough surfaces, alongside being high on clarity and presenting a very smooth surface.
There is a singular button to navigate across menus and options, placed in alignment to the two o'clock marking. The response is fluent, and there is a satisfying, two-step click on the button that affirms the quality. The quality of the wristbands are decent, and have a standardised interlock than will easily allow you to change bands, if and when you would need. Moving on to the display, the 1.4-inch, AMOLED display packs in 400x400 pixels of colour and light data, giving it 286ppi screen density. While this may not be the highest in terms of numbers, the AMOLED panel is crisp, sharp, has ample brightness, deep black levels, and offers fluid touch response. You would hardly ever miss a touch or swipe, and the contrast levels make the watch display appear smooth and comfortable to gaze upon, when needed.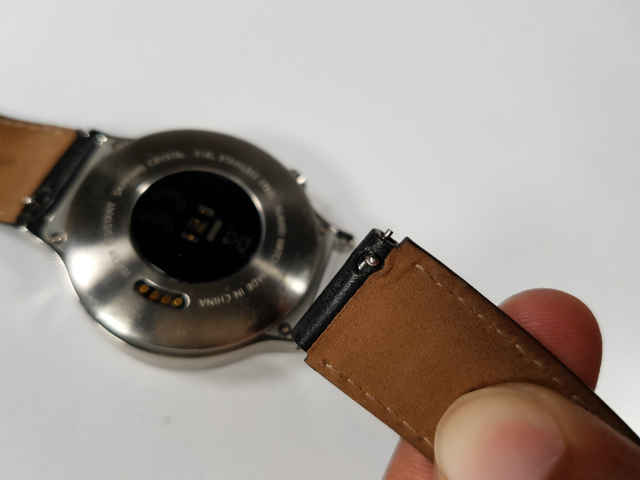 To sum up, the Huawei Watch is a well-built, smoothly crafted piece of wrist gear with smart internals. It gets almost every basic element right, and does so with elegance. It has a smooth, heavy body, durable exteriors, a pleasant display and easily swappable wristbands, all of which combine to make the Huawei Watch a very competent package.
Performance and Battery Life
It is safe to state that smartwatches have not reached a point of functionality where its performance would be measured to inch-perfect accuracy, but if you are spending over Rs. 20,000 on one, you would expect it to be flawless. The Huawei Watch, on this note, is a smooth, fluid smartwatch. Powered by Qualcomm's Snapdragon 400 chipset clocked at 1.2GHz and 512MB of RAM, the Huawei Watch carries out most operations without much lag or aberrations.
As already discussed above, the touches and swipes remain fluid, thanks to the very commendable display panel. Navigating through Android Wear's menus are smooth and easy, as the Huawei Watch does not show much signs of stutter, even when you are hastily swiping through options. Most options are responsive, giving you an easy, fluid end-user experience. The Watch is capable of receiving calls, and while the in-call audio is not massively loud, it is functional. It is particularly useful if you are driving, and get a call that has to be received. In closed environments, the inbuilt speaker of the Huawei Watch is functional enough to let you finish a brief conversation.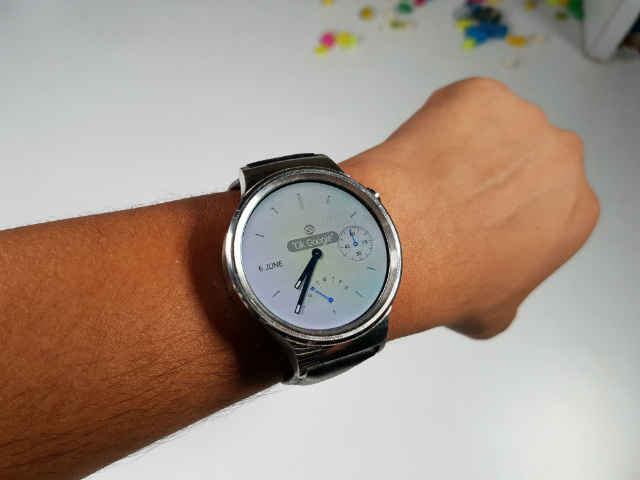 The Huawei Watch is fairly reliable, when it comes to tracking steps, heart rate, calorie burn count and other activity statistics. The pedometer is close to being accurate, reflecting over 80 percent step count accuracy in our tests. The heart rate sensor takes a little under 12 seconds to read your heart rate, which seems a tad on the slower side. It is, however, reasonably accurate. The Watch tends to lag slightly when you put a complicated watch face (read: with intricate functionings), but not too much to disrupt your usage.
Huawei also packs in nearly 40 different watch faces by default, an excellent element if you get bored of same watch faces, soon. I ended choosing my favourite, 'Soft Edge', one of the more simple ones. The Watch also supports multiple wrist gestures, some of which do not always work responsively. For instance, you are required to flick your wrist upwards to exit a menu. More than often, I ended up repeating the gesture at least three times to make it work.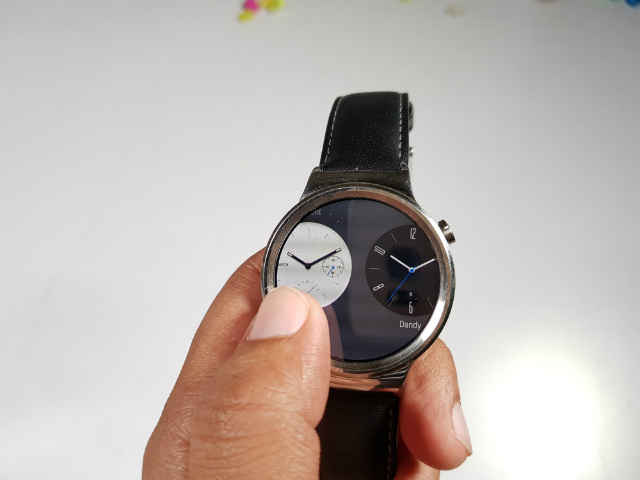 Having said that, glance gestures work seamlessly. The glance modes are not too responsive and your display does not turn on at every minor flick, but are responsive enough to recognise a solid flick. It is easy to scroll through emails or prolonged messages, although if you have used a Samsung Gear S2, or even an Apple Watch, you would find the Huawei Watch to be non-engaging. It is good, and I do not have anything to really complain thanks to the responsive display, but there is nothing much to boast of here, either.
The 300mAh battery that powers the pack allows you to run the Watch for at least 30 hours, with ample messaging notifications, about five calls, and plenty of emails. Putting it on Theatre Mode when you do not require to see the Watch will massively save battery, in which case the Watch stretches up to nearly 42 hours. At about a day and half, you would possibly need to put the Huawei Watch on charge at the end of the day, if you left home with 100 percent battery charge yesterday and put it on Theatre Mode over the night. Connectivity remains stable, and my Bluetooth connection with the Watch retained itself till about 15 feet down an open corridor.
Bottomline
The Huawei Watch is a smooth, bold attempt at providing smart wrist gear to the fashion conscious. It works well, has reasonably accurate tracking, and is built really well to exude a premium feel. Sure, at Rs. 22,999, it is expensive, but you would be really wanting a smart wrist gear if you are considering a smartwatch, anyway. The Samsung Gear S2 feels more innovative and the click wheel makes it more convenient to use, but it loses out on looks and the overall feel. The Apple Watch also boasts of being oriented at the premium user, but is considerably more expensive. In light of such competition, the Huawei Watch feels like a competent overall package, one that offers much more than what I had initially thought it would.
Job well done, Huawei.