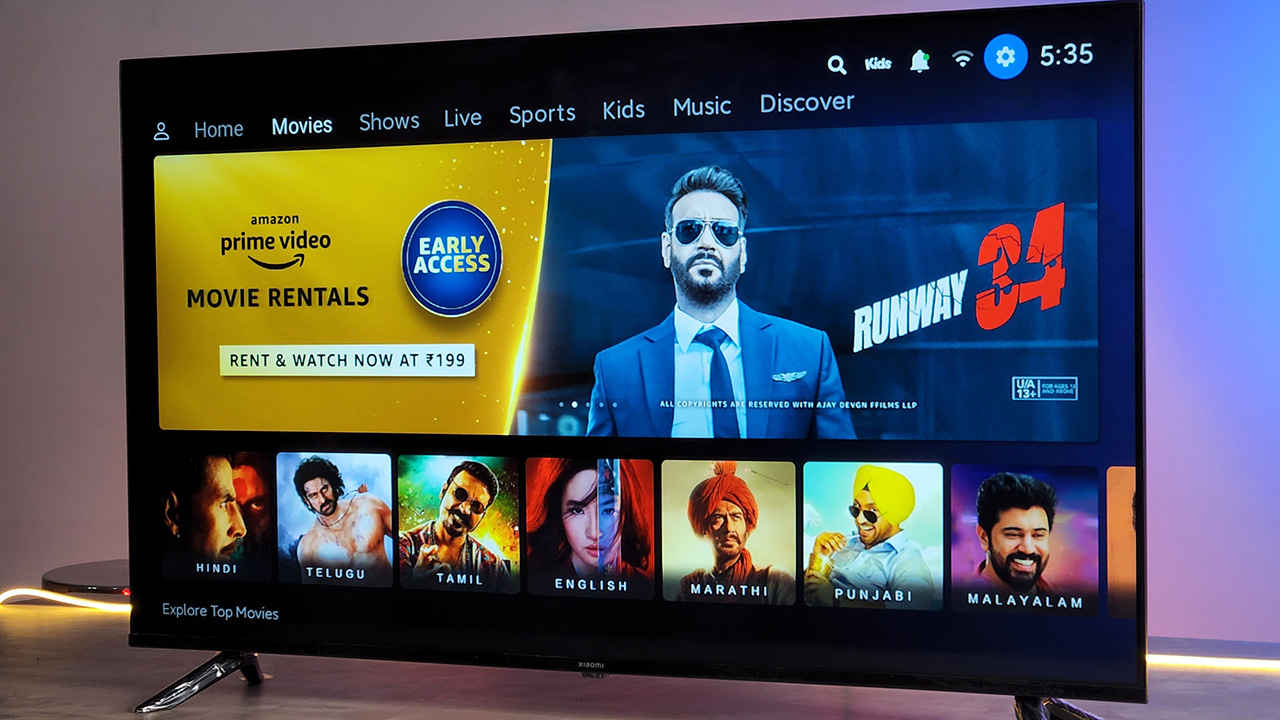 PROS:
Good SDR performance, Premium design, Value for money
VERDICT:
The Xiaomi Smart TV 5A is a good product in isolation. Even though it lacks HDR support, it does do the basics well and offers decent performance for the price. For everyday use, its output will be good enough for most non-picky, non-discerning users looking to watch movies and the latest shows on it. The presence of an ample amount of RAM and an above-par speaker set-up for the segment also works in its favour.
Over the last few months, we've seen some good 43-inch Full HD TVs making their way to the market. These TVs from the likes of OnePlus and Redmi have ensured there are enough options for buyers looking to buy a decent-sized TV for their homes. Recently, Xiaomi added to the mix, by launching a new TV in the segment — the Xiaomi Smart TV 5A. This particular TV is available in three different sizes, with the entry-level 32-inch variant sporting slightly different base specifications. We have with us for review the 43-inch variant of the TV which comes with a Full HD panel, Xiaomi's PatchWall UI, and an interesting feature set. Let's find out if it's a good upgrade over its predecessor and also a worthy competitor for the other 43-inch Full HD TVs available in the market.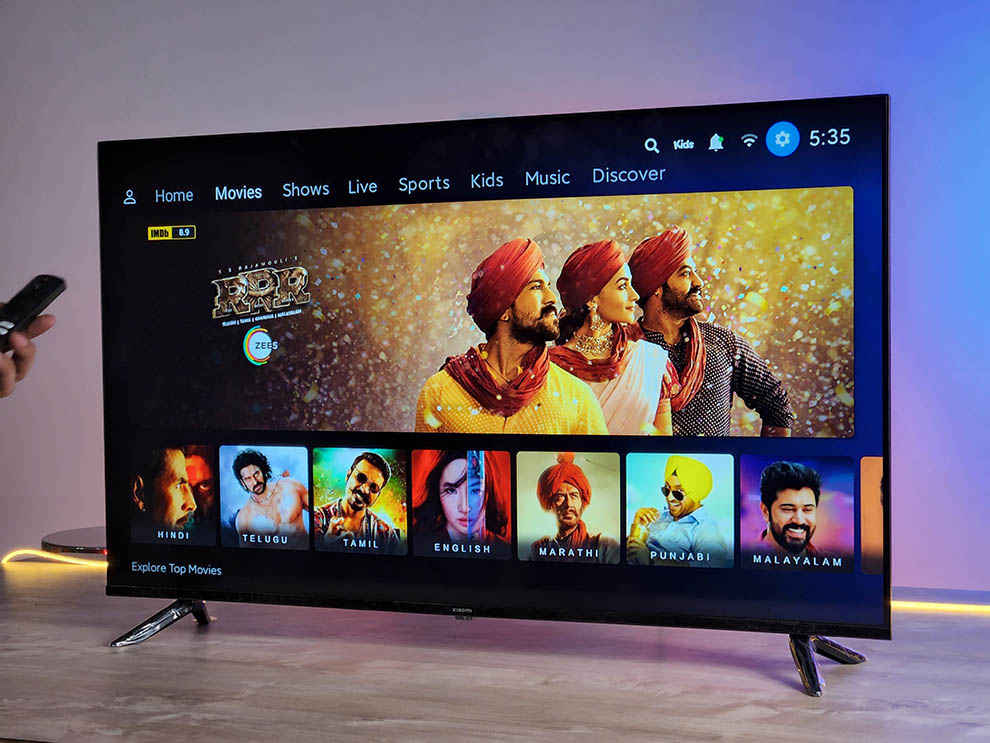 Xiaomi Smart TV 5A: Specifications
But before we start with the review, let's quickly take a look at the specifications of the Xiaomi Smart TV 5A.
Panel Size: 43-inch
Panel Resolution: 1920 x 1080p – FHD
Panel Refresh Rate: 60Hz
HDR 10 support: No
HDR 10+ support: No
Dolby Vision Support: No
HDMI 2.0 Ports: 2
USB Ports: 2
Bluetooth: Yes, 5.0
Wi-Fi: Yes, dual-band
Ethernet: Yes
Speakers: 24W (DTS:X | DTS Virtual: X)
Built-in storage: 8GB
RAM: 1.5GB
Price: MRP: 25,999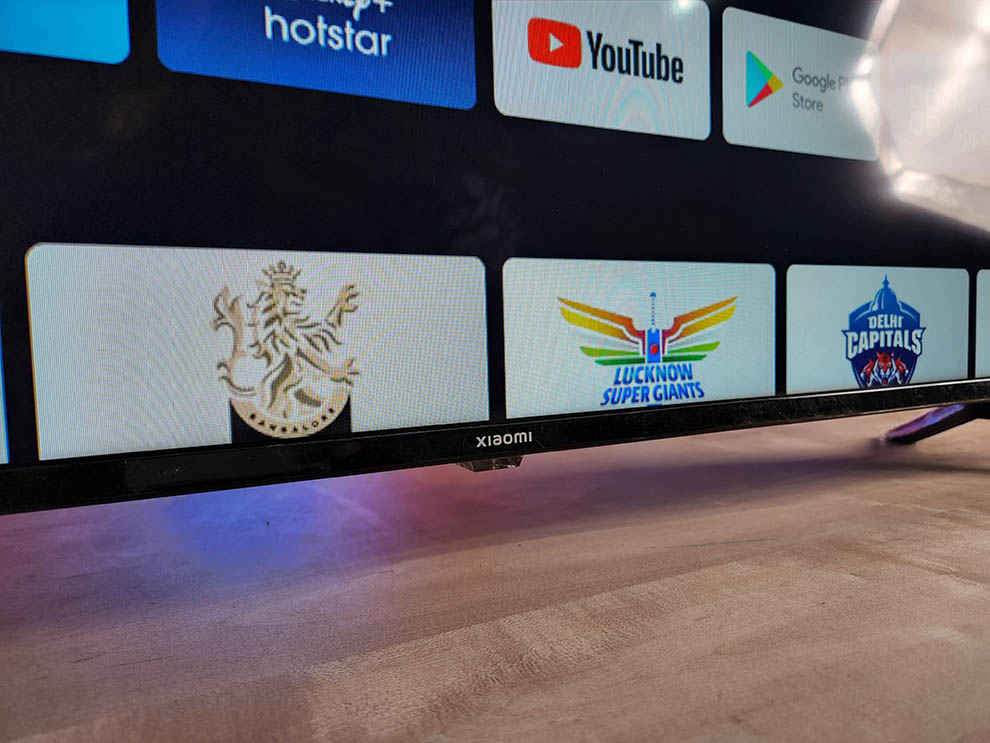 Xiaomi Smart TV 5A: Display and picture quality
With the Smart TV 5A, Xiaomi's attempting to create immersive visual experiences at an affordable price point, and bringing to life these attempts is a 43-inch Full HD panel that features very tiny bezels. At 100 backlight and set to the Movies colour preset, this Xiaomi Smart TV 5A delivered average results in our display tests conducted using Portrait Displays Calman Ultimate paired with Spectracal C6 Colourimeter and VideoForge Pro pattern generator.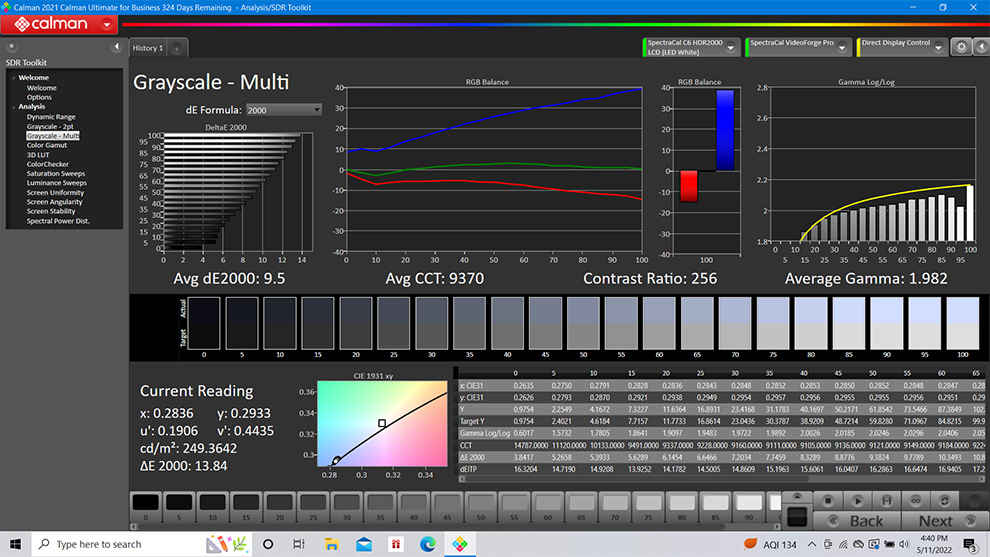 The TV faltered a little on the colour accuracy front, with the avg deltaE climbing up to 5.9 and max deltaE shooting to 14 at point White. Since the lower the deltaE value, the better it is for the TV to accurately reproduce colours on the panel, this score is not good news for the Xioami Smart TV 5A. Additionally, with the point White base being a little off, we also saw some deviation from the expected levels at some other colour points. Now, these slightly high deltaE numbers were a surprise to us, as we have previously recorded better numbers testing the Redmi Smart TV 43, which recorded an average delta error of only 2.2. While the average deltaE of 5.9 on the Xiaomi Smart TV 5A isn't, particularly the worst we have seen on a TV, it is definitely not amongst the best, and considering this is Xiaomi's primary entry-level TV for the market, it's more surprising that the results are not close to what the Redmi Smart TV 43 achieved in our tests.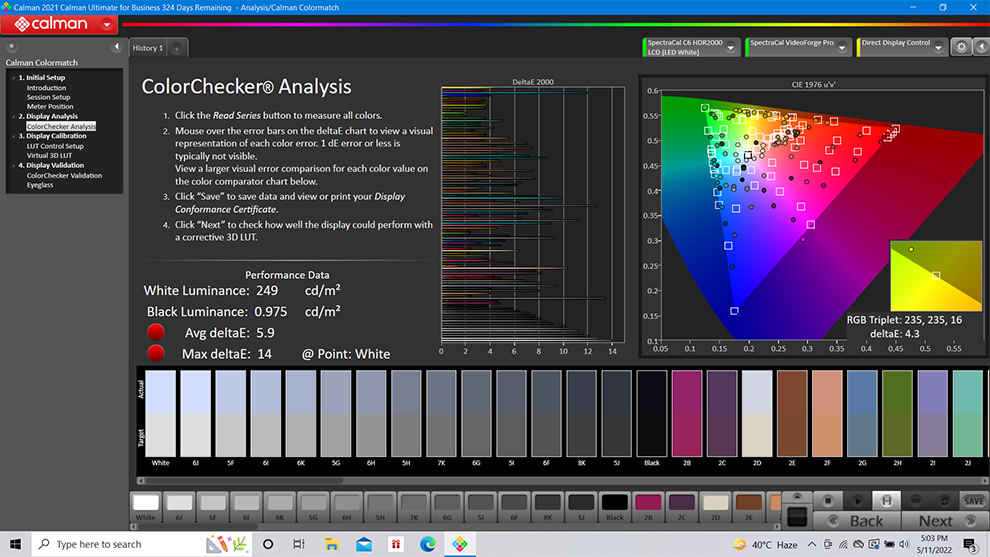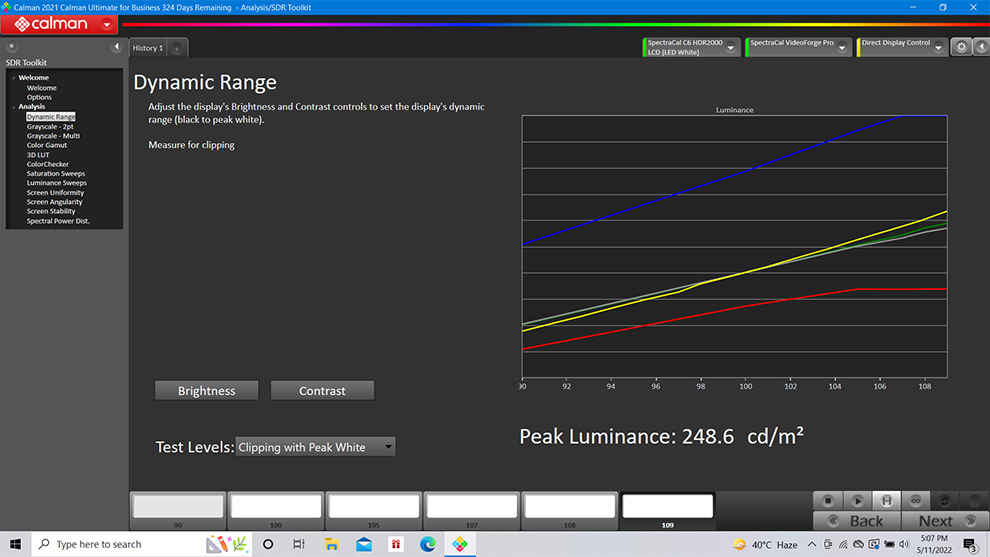 The grayscale tracking results were also just okay, with the average delta error again on the higher end and a slight red bias. Calman testing also showed that the panel peaked at 248 nits brightness when set to a 10 per cent window. Now, considering this is an SDR TV, it's more than enough for watching movies or shows in SDR quality that are tuned for not hitting high brightness levels.
But do the numbers translate to real-life performance?
Well, in real life, we found the TV to perform as expected – not great, not too bad, just about adequate-ish. We tested it by playing some movies and shows on it and realised that shows and movies such as American Gods and Jumanji, tuned to best perform in HDR, performed well on the TV in SDR too. It handled most content fine, but in certain scenes, the content did look a little over-saturated. Skin tones were a little off, and darker scenes too were not handled particularly well. However, the TV offers a good contrast ratio for its price which should be encouraging for buyers looking to spend their hard-earned money on this TV.
At this point, we'd like to remind you that all of this testing was done with the TV set to the Movies mode, which by default switches the TV to producing warm colour tones. We tried switching the TV to a balanced colour tone to improve visuals, but both to our eye, and the Calman testing equipment, this attempt only messed with the colour reproduction even more. However, if you're a fan of vibrant colours, and don't care about colour accuracy as much, we'd recommend switching to the Standard colour profile. But overall, despite its misses, the Xiaomi Smart TV 5A does what it is tasked to do – provide a good overall viewing experience to the end-user.
Xiaomi TV 5A: Build, design
Considering this is a budget TV, the Xiaomi TV does offer better-than-average build quality. The bezels are not too pronounced, and the TV generally looks upmarket for the price. The back of the TV, is quite regular, with the back cover made out of plastic and houses primarily two HDMI 2.0 ports, two USB 2.0 ports, a 3.5 mm jack and a port for optical audio output. There's also a 2 speaker set-up at the base which is tucked nicely within the body of the device.
Xiaomi's latest offering can also connect to the internet using WiFi over 2.4GHz and 5GHz wavelengths and also features Bluetooth v5.0 for connecting audio equipment to the device. All the ports are generally easy to reach, regardless of the fact that it's mounted on a wall or kept on a table using the detachable plastic stands.
As we have explained above, the design of the TV is quite upmarket because of the materials used to build it and also its premium design language used. We can safely say, this is something that is also true about the remote of the device. It's the same remote that we have seen on other more expensive TVs from Xiaomi in the past. It's pretty ergonomic and feels nice in the hand because of its matte textured finish. Apart from housing directional buttons, it also brings power, Google Assistant, OTT hotkeys for Netflix and Prime Video and a volume rocker. There is no mute button, instead, it uses the volume down button as a hotkey which can be pressed twice quickly to mute the device.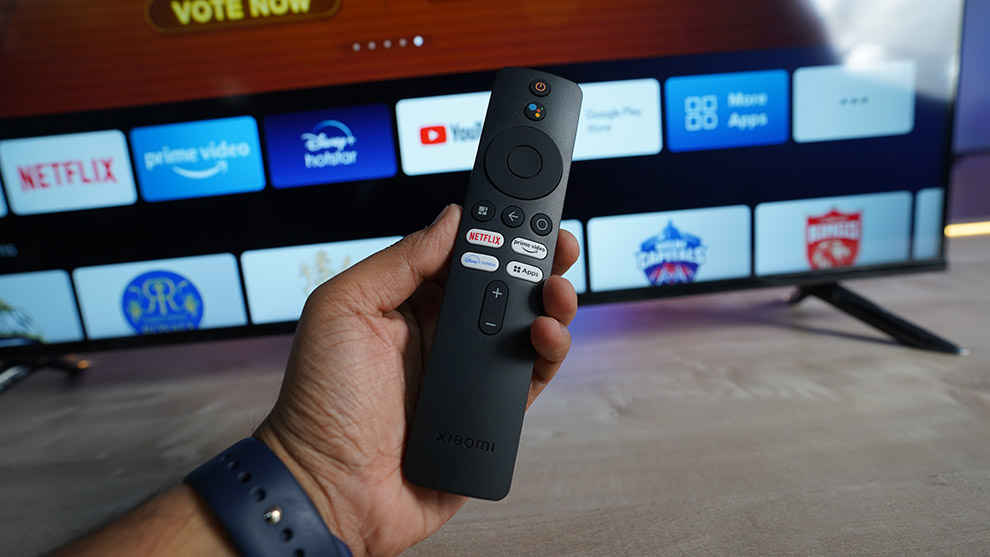 Xiaomi Smart TV 5A: Audio and PatchWall UI
Now, let's get back to the intangible — audio and the user interface. To begin with, despite Xiaomi's attempts, the audio performance of the device isn't mind-blowing. It is good for the price, but there's still more one could ask for from the Xioami Smart TV 5A in the audio department.
The engineering team at Xiaomi has done their best in designing the audio chamber for the TV. However, the results still fall short of our expectations. But then again, for a budget TV to have great audio is as good as expecting the unexpected.
Audio isn't very crisp, and dialogue clarity suffers as a result at times. The bass is also not too punchy, and the sound loses clarity at higher volume levels. But, the performance is still better than what's available on competing TVs in the price range and the segment. This is because the TV not only brings big 24W dual speakers but also supports technologies such as DTS Virtual: X.
Moving on to UI experience, this is also quite good on the Xiaomi Smart TV 5A. The primary reason behind this is the fact that Xiaomi has equipped this TV with 1.5GB of RAM – amongst the highest in the segment – which appears to be just about enough to handle this custom UI from the company. This is great because PatchWall has evolved to become a great Android TV alternative, and to have it run smoothly on the device, without any lags and hitches is the minimum any end-user deserves.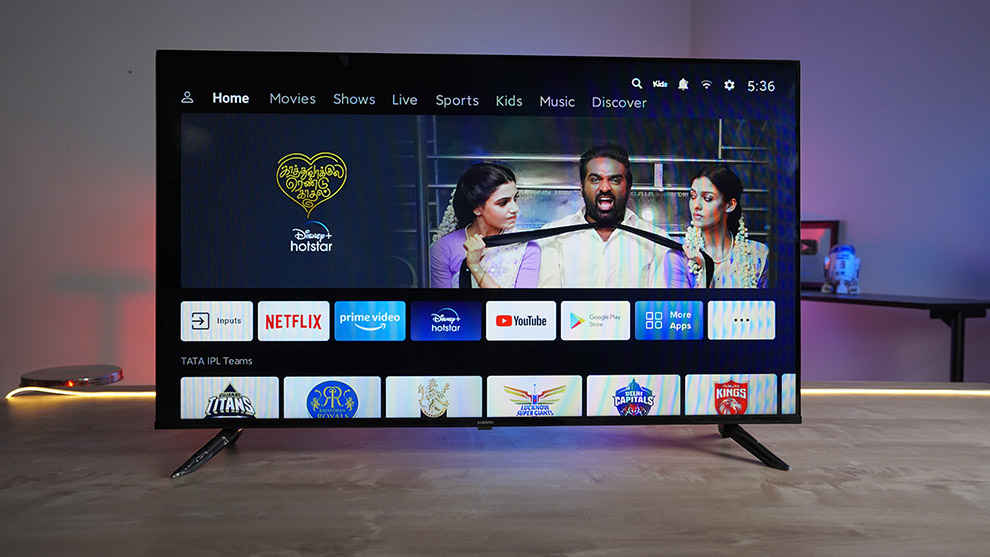 Xiaomi Smart TV 5A: Verdict
Now, to the all-important question, should you buy the Xiaomi Smart TV 5A? Well, the truth is, this TV from Xiaomi is a good product in isolation. Even though it lacks HDR support, it does do the basics well and offers decent performance for the price. For everyday use, its output will be good enough for most non-picky, non-discerning users looking to play movies and shows on it. The presence of ample amounts of RAM and an above-par speaker set-up for the segment also works in its favour.
It looks appealing in the living room, in terms of design and accessibility of ports, and things like its UI experience (thanks to onboard RAM) and encouraging audio performance (despite some obvious bottlenecks due to its budget billing) are some of the key takeaways from our time spent on this TV.
However, before you go buy the Xiaomi Smart TV 5A, we'd still recommend taking a look at another very good TV. For this, we turn your attention towards the Redmi 43-inch FHD Smart TV (review). Despite its failings in the audio department, this TV from Redmi may just be a better deal as it offers slightly better visuals because of its improved colour accuracy. However, this recommendation only stands if the accuracy of colours is what you desire. Otherwise, the Xiaomi Smart TV 5A is a safe choice and as good a bet as any for your hard-earned money.
| | |
| --- | --- |
| Release Date: | |
| Market Status: | Launched |
Key Specifications
Screen Resolution

Full HD

Screen size (in inches)

43