Samsung QLED Q8C detailed review
Samsung's grasp on the television has been quite strong over the years. Globally, Samsung is one of the market leaders, which means it can create trends instead of following them. In 2017, that's being done through the QLED branding, dropping the earlier SUHD branding. It's an interesting move by Samsung, given that both Sony and LG have been shifting base, utilising OLED panels for their flagship TVs.
With the QLED line, Samsung claims better picture quality than OLED televisions, which is a tall claim indeed. Can Samsung live up to it? Quite possibly. We will be comparing the QLED Q8C to LG and Sony's OLED televisions soon, but even as a standalone TV, Samsung makes a impressive case for a sizeable portion of your savings.
Design
The new Q line is suffixed with 'C' or 'F', signifying the type of display - curved of flat. Hence, the Q8C is part of the curved line, and despite its pricing, it isn't the most expensive television Samsung sells today. The curved design has become a staple for Samsung over the years, and the Q8C doesn't look all that different from the KS9000 we reviewed last year. But the differences are just enough for the Q8C to have a persona of its own. It looks sleek and minimalistic and will look good on any media center setup.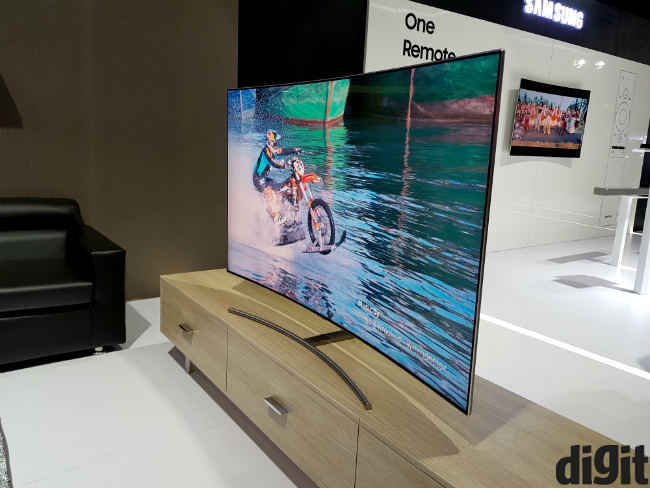 While the Q8C is meant to be propped up on a table, Samsung offers a new "No-Gap" wall mount for wall installations. This allows the television to almost be flush with the wall. That makes the setup more seamless and attractive to look at. It will matter to those who really put time and effort into designing their media centers.
Next, to keep things seamless still, the Samsung Q8C has a "invisible cable" that prevents wire clutter. This is a transparent cable that connects the OneConnect box to the television. One end of this transparent cable connects to the television, while the other end goes into the OneConnect. The cable is wound in a circular disk-like object to further reduce clutter. The idea here is to give the user access to the OneConnect box, that holds all the ports, while hiding unnecessary cables.
Ports and Remote
HDMI: 4
USB: 3
Ethernet: 1
Audio Out: 1
Composite: 1
Component: 1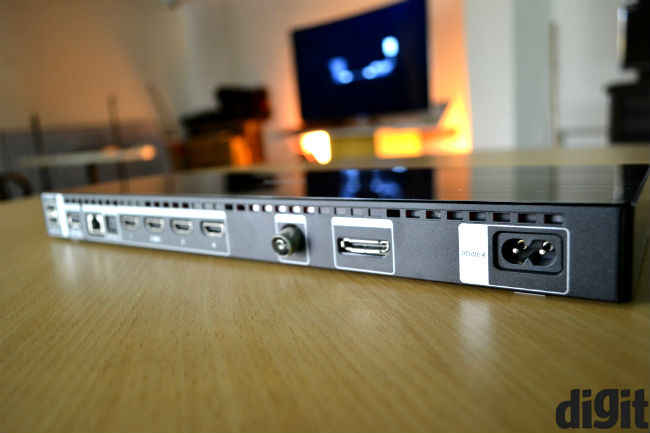 The OneConnect Box houses all of the ports for this TV, negating the need to reach behind the TV whenever you're connecting something new. Samsung's solution here is quite efficient and excels compared to any other television on the market.
The company has also redone its Tizen remote, giving it a chrome finish this time. The overall design is still simplistic, with a round dial housing forward, back, up and down buttons. There's another button for voice-based navigation, while the back button does what it's meant to. The power button is on the top of the remote, while you get the volume and channel controllers near the middle. The bottom half of the remote is left empty.
As with the KS9000, we still missed a touchpad or wand-like mechanism, as on AndroidTV and WebOS remotes. Typing on the Samsung TV is a pain, since you have to navigate all the way to each letter to type words.
The good part though is that Samsung's remote uses RF technology to pair with the television. That means you don't actually have to point it at the TV and that it will even work across rooms. Furthermore, the remote now syncs with other devices you attach to the television, including Chromecasts, consoles and more. So, you can control them using the Samsung remote, although it seems most of this control comes through voice functions.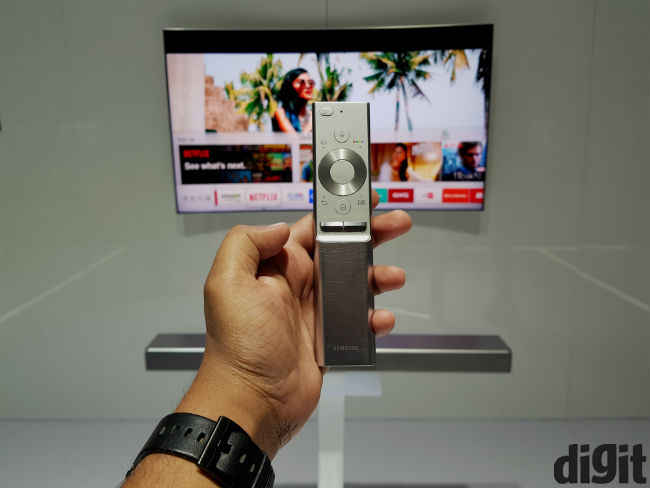 Picture Quality
QLED or Quantum Dot technology is all about improving colour volumes. The quantum dot crystals absorb light from the line of LEDs behind them. The QLED TVs are the first to achieve 100% of the DCI-P3 colour space. That's an important distinction that even OLED technology hasn't been able to achieve yet. DCI-P3 is an RGB color space that is used for movie projection etc.
In addition, QLED technology also boasts higher brightness, which is quite evident looking at the QLED Q8C. While this doesn't play a very big role in regular viewing, it's important for better HDR playback. High brightness is one of the core requirements for HDR playback. The Samsung QLED Q8C is UHD certified and offers support for HDR10 playback.
For the user, all this combined to make for excellent viewing experience. We've never quite agreed with the alleged viewing angle benefits of curved panels, but the Q8C doesn't lack in terms of viewing angles either. The TV's strength lies in the uber vibrant and bright colours it produces. If you're watching high quality content, as on Netflix or Amazon Prime, you will likely be amazed at how good the colours can be. They are oversaturated to an extent, but most viewers should like it nevertheless.

On the other hand, as we noted with the KS9000 last year, the TV still lacks sharpness to some extent. The impactful colours have you ignoring this quite easily, but nitpickers or trained eyes will certainly notice this.
Contrast on the Samsung Q8C is excellent again, and it's well tuned to brightness changes. So, if you're going for 25% to 50% brightness settings, contrast won't suddenly go off. That's quite useful since many users tweak brightness when the state of lights in a room are changed. The TV is somewhat autonomous in controlling contrasts with increasing and decreasing brightness. The TV keeps the picture quality pleasant to the best of its capabilities.
Samsung tops all this off with pleasant upscaling experience. That is, as long as you're watching content in 720p or higher resolutions. Even on 720p, compressed content can sometimes look unnatural. Speaking of which, we'd recommend turning off the TV's motion smoothening effect, since this creates a rather unnatural experience too.
Lastly, Samsung uses 12 auto-dimming zones on this television, and you can choose between low, medium and high settings for this. Choosing low will use the least number of dimming zones and the TV looked the best under that setting to us. While local dimming is an very useful feature in general, we would have preferred a setting to turn it off completely, as many others would as well.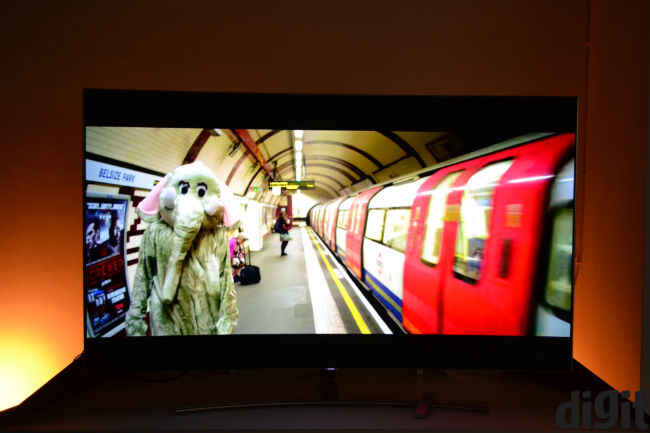 Overall, the Samsung Q8C exceeded our expectations in every way, headlined by its impressive representation of colour. It's without a doubt amongst the best TVs on the market right now.
Audio
Where picture quality is excellent, audio quality could ideally have been better. To be clear, the Samsung QLED Q8C is loud enough for small to medium-sized rooms, but audio quality is somewhat lacklustre. Samsung has elevated the highs to suit dialogue delivery in movies etc, but bass remains somewhat low. So, scenes with explosions and such will sound somewhat underwhelming, and we'd recommend using speakers for this. That said, if you're not a nitpicker, audio quality will be easily up to acceptable standards.
Tizen
Samsung's smart OS hasn't seen many changes in the past year. Its app support seems decent, with all the essential streaming apps available on the television. Additionally, Tizen now seems a tad faster, but that's perhaps because the QLED itself is a faster television than last year's variants.
Bottomline
If you're looking to drop four-something lakh on a television, the Samsung QLED Q8C should certainly be on your list of options. It's an excellent television for the premium buyer, and would win most over with the vibrant and bright representation of colours. It's meant for the premium buyer who spends not only on the television, but also on acquiring good quality content.