LG 55EA9800 curved OLED TV detailed review
OLED TVs were supposed to go mainstream a couple of years back. However, production limitations meant that the road forward wasn't smooth enough. In that time, LED saw improvements, Plasma made a comeback and the number of choices for the customer increased as the prices came down. However, OLED looks like its back even though not as a mainstream product. It has made a comeback as this new and rare species - a curved TV. Does the TV viewing experience better improve with a curve?
Build & Design
We usually don't talk about packaging of TVs but the 55EA9800 does justify some airtime. The curved OLED TV comes out of the box as a single unit - base is integrated and you do not need to fiddle around with a table-top stand or accompanying screws to set it up. The box design is extremely well thought out — three pieces of styrofoam placed as different layers protect the TV against impacts but the way the box opens up on its side means two people can immediately pick up the TV and place it in the living room. The packing for the accessories - the two remotes, the 3D glasses, the webcam etc., is fairly elaborate. And would probably put most laptop packings to shame!
The fact that this TV doesn't require assembly means you can install it within minutes and proceed to admire its more beautiful traits; one of which is the extremely thin panel, which at its thinnest point, would make a smartphone look away with a massive inferiority complex. Despite the thinness, it does make you wonder - why is this TV still tipping the scales at more than 17kg? The answer lies in the integrated acrylic base, which also holds the two speakers. The fact that this base cannot be removed means the TV itself cannot be wall-mounted. However, that shouldn't hold you back from buying it if your bank account has enough money to support this purchase.
Looking at the 55EA9800 front on, the curve isn't very apparent. If someone doesn't know about the curve, they might not even realize it's there. However, the wraparound nature is a bit more apparent from a slightly angled seating position. While the back panel isn't usually on the top of the list for design goodness, LG has not neglected that either. The curved panel gets a layer of carbon fiber, which you may not notice once the TV is placed for viewing.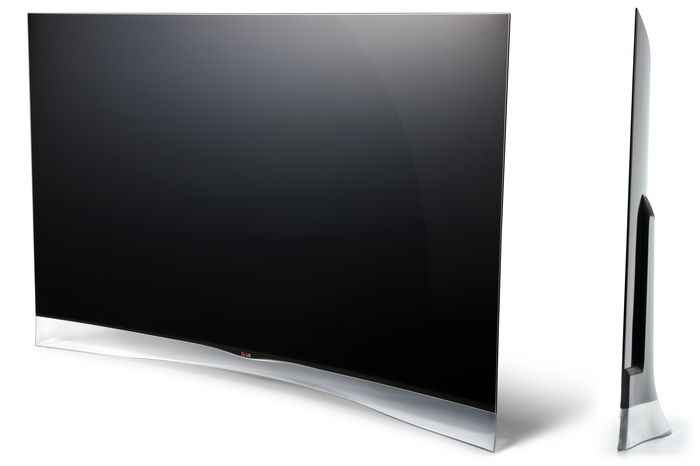 What is a curved OLED?
Before we get down to the usual explanation of performance aspects, it is important to understand how OLED as a technology is different from the LCD and LED panels that we have been seeing in flat panel TVs all this while. For starters, an OLED is made by placing thin electroluminescent films of carbon-based materials and emits its own light when current is supplied. This is why OLED TVs do not require a backlight, unlike LCDs. Each pixel is a small light-emitting diode and the thin film transistor (TFT) backplane switches each individual pixel on or off. This helps with achieving deeper black levels, which in turn boosts the contrast ratio.
The advantages of an OLED panel compared to a traditional LCD panel are very clear; OLED panels are thinner, considerably lighter, offer deeper black levels and better contrast. The fact that it is flexible is the primary reason we are seeing the evolution of the "curved" TV.
Performance
In terms of the specifications and features, LG has pretty much stuffed everything in its library - Dual-core processor, SmartTV interface, preloaded and downloadable apps, built-in W-Fi, integrated LAN port, passive 3D with 2D-to-3D conversion, voice control, four HDMI inputs and three USB inputs for media playback. The panel is 1920 x 1080 pixels, which is a bit of a surprise. Not that Full HD is bad but for a TV that costs almost Rs 10,00,000 we expected a 4K panel, just for the sake of being future proof.
We have established that the 55EA9800 looks fantastic and is pretty much the best looking TV out there. However, for all the money that you spend, it will not be just to buy a beautiful showpiece. The critical bit is the performance. So we threw a variety of content at this beautiful panel to see how it is in aspects that really matter.
LG is using a so-called "four pixel" system also called "white OLED". Other manufacturers such as Samsung, use an RGB-pixel system while LG adds a white pixel to each. The company claims that this improves the life of these panels but the more immediate impact is in terms of positive colour reproduction. Black levels are extremely good, and the backlight is not visibly uneven, as tested with fairly dark content. From what we experienced, the panel's source of lighting is extremely even, with no visible spots of flare or areas that may be extra bright, leading to lesser black levels. This is a massive difference compared to most LCD and LED-LCD panels.
First up was the 1080p content. And you immediately realize that the panel isn't as crisp as some of the LED panels that Samsung and Sony have recently launched. You will need to bump up the sharpness level above 30 points (maximum of 50 is what this TV menu can be bumped up to), depending on content quality. Original 1080p content looks fantastic on this panel, and even 720p content looks fairly watchable. However, for a 55-inch OLED screen, if you end up feeding it with standard definition content, then you really don't deserve to own one of these.
One thing that you immediately notice is that the 55EA9800 is extremely comfortable to watch in a dark room. But the moment ambient lighting comes into the mix, reflections create a rather annoying distraction. And that can be a bit of a problem, particularly because while the panel itself handles black levels very well, all that effort will get affected in a bad way by factors outside its control.
The 55EA9800 is THX Certified but for some reason LG has not licensed that in India. That means this TV will not have the THX Cinema picture setting here. As with most LG Smart TVs, the picture settings are fairly detailed.
Motion resolution setting is best kept at 'Clear'. When we turned it off, the hopes of a judder free picture without any advanced processing were shattered instantly. When turned on and set to smooth mode, it introduced the much dreaded and experience ruining soap opera effect. Hopefully, the next generation of OLED TVs will improve on this aspect.
Most flat panel televisions suffer from terrible audio quality, from the built-in speakers which makes an investment in a home theater or a soundbar, more than necessary. Happy to report, that the LG 55EA9800 is a massive improvement over most rivals. Not to say that you will get a home theater quality sound and adequate bass, but also vocals that are a lot clearer and the 40W speakers don't give a jarring impact when the volume is pushed up a bit.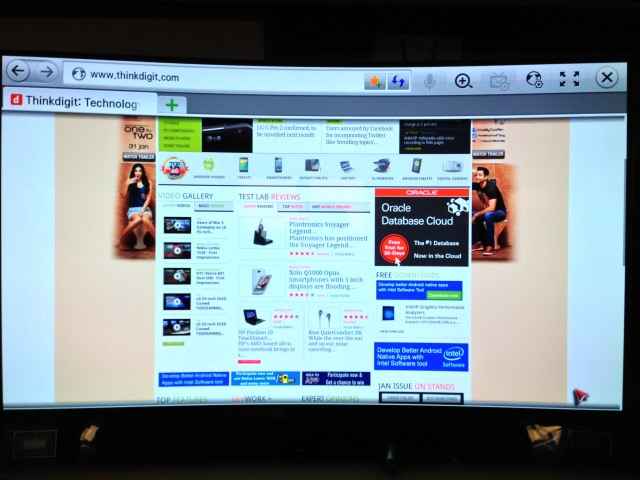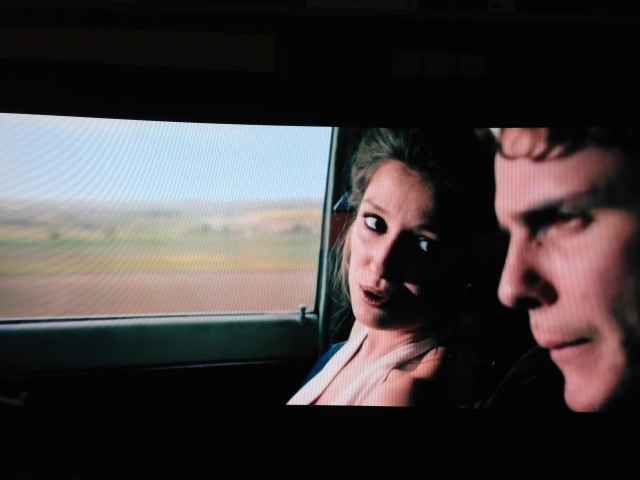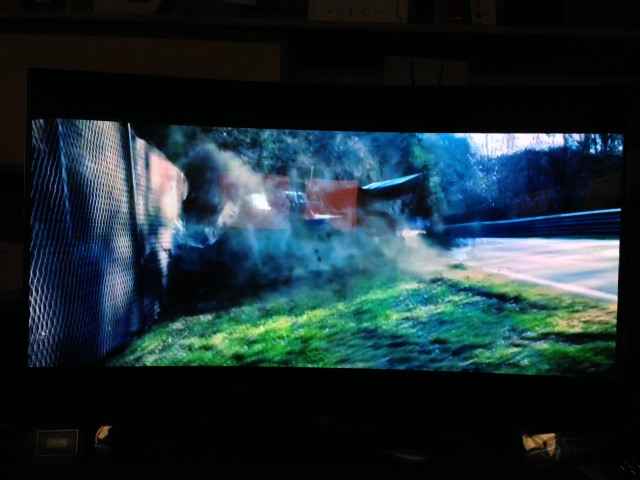 Is the curved TV worth it?
While the LG 55EA9800 curved OLED TV is very impressive in terms of how well it has been put together and does well on the performance front, there is still a lingering sense that the entire package is somewhat incomplete. The panel itself is Full HD and we hope to see a 4K OLED panel sometime soon considering how much you are paying for a curved one. Speaking of which, yes, it is something that looks good and has an immense show-off value. But on a panel that is 55-inches in size, you don't really get the impact from the wrap-around as you would on an infinitely bigger projection at a theater. You don't lose anything but you don't gain anything either. Maybe, a 65-inch version will make the benefits of the curve a tad more profound, but not this one. This is a TV that could be showing us the future and the best development to emerge from this is that OLED is probably going to be a serious technology as far as flat panel televisions are concerned. Buy this right now for its novelty factor. Rest of the experience is pretty much like any other flat panel television.