Slax 6.1.2 detailed review
Slax is a popular Slackware-based Linux distro which excels as as Live OS to carry around on a pendrive or bootable disc. It rightly calls itself a "Pocket Operating System".
Slax has an extremely modular design which makes it incredibly easy to install applications, even before the OS is installed! The Slax website offers an online interface for customizing your distro before downloading it and burning it to a disc / putting it on a pendrive. Through the online interface you can customize your distro adding and removing software packages to get exactly the combination you want. Once you are done customizing, your custom build can be downloaded as a tar file or an iso file.
[RELATED_ARTICLE]Thanks to this feature Slax does not suffer from the problem many live distros face, where you end up downloading a 700MB distribution which might not have the applications you are lookign for while including many that you don't use.
The modularity of Slax is thanks to the way it install applications. Applications, and libraries are available as lzm files which include all the files needed by the application inside a compressed image. When you "install" an application, Slax simply mounts the applications image over that of the OS. You can compare this to the concept of layers in an image-editing application such as Adobe Photoshop. Your background layer is your core Slax OS, and on top of that you have other application layers, one for your X server, one for KDE, one for Firefox etc. This way layer by layer your system of Slax is built.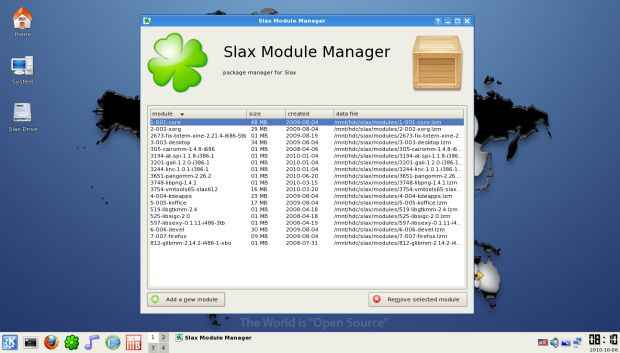 What this also means is that Slax has no traditional package manager. Instead you can download Slax packages and simply double click them to active the application. Slax can even automatically manage the downloading and installation of modules using its custom "slik://" protocol which tells Slax to install the linked module. As such you can directly install modules from the Slax website by clicking on the activate link for the module. If you want any modules to be automatically loaded on startup, you can place them in the modules directory of your Slax installation.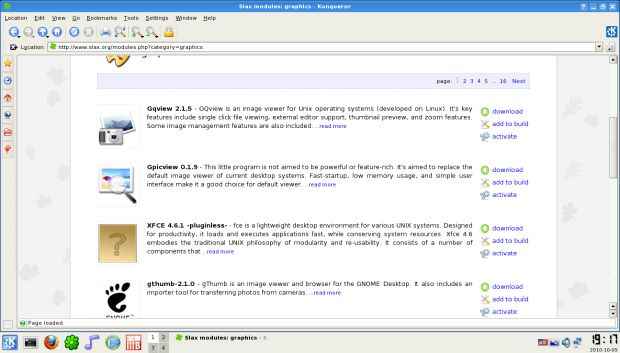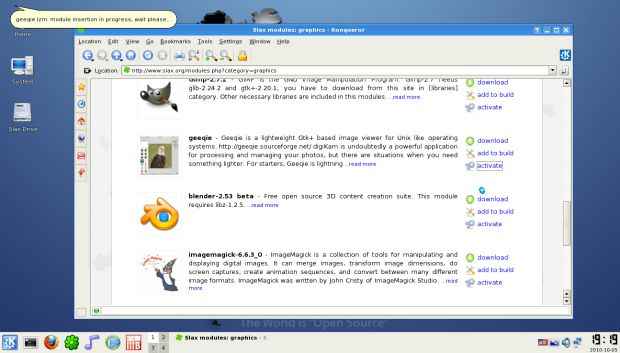 Slax is also a stateless system. Due to its layered nature, any changes that you make while running Slax, even those which modify core files do not affect the actual core system. Instead all your changes are captured in a separate file. Because of this, you can choose to start a fresh Slax instance at any point of time without affecting your saved changes. While booting from the pendrive or CD, you can choose between multiple modes; the default option will use a persistant image so that your changes to the system are retained at every boot, the "Slax Alays Fresh" option on the other hand will load Slax without reading any changes you have made to it, ensuring that your Slax is always bootable no matter what.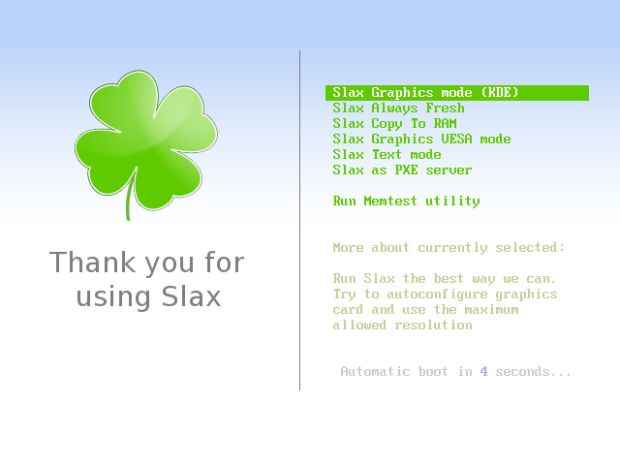 This review continues on the next page.
Recent versions of Slax include a new feature called Slax Drive. This is a cloud storage service by the creator of Slax. The service offers 1GB of online storage space for free — with more available for a price — and integrates with Slax. This is quite a useful feature for a distro like Slax were while booting from a CD / DVD your changes aren't going to be saved by default. This makes it possible for one to do actual work on a live Slax disc and simply store it online to access it from elsewhere. The developer of Slax has even made a version available for Windows which will mount your Slax drive to a Windows drive letter.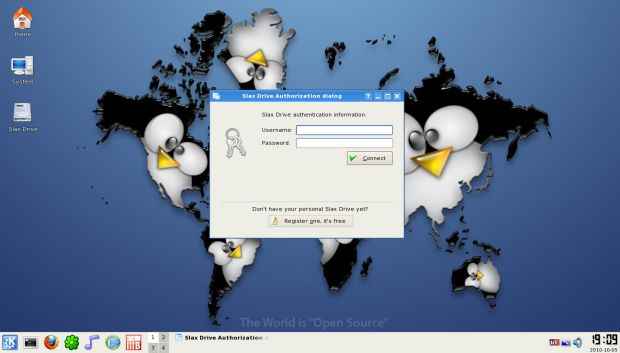 [RELATED_ARTICLE]To ensure that your changes are persistent on Slax, you need to run it from a writable media such as a flash drive or hard disc drive. If Slax detects it is running from a writable drive, it will store any changes you make on it. With Slax it is possible to have persistent storage of your settings even if you are booting from the CD! However this facility does not come out of the box, and needs some configuration on your part — after which you will be able to store persistent changes on your hard drive or a flash drive while booting from a CD / DVD.
If you are booting Slax off a CD / DVD disc, you can really improve the usability and speed of the distro by using the "Slax Copy to RAM" option which will load the contents of the disc onto the RAM thus removing the performance bottleneck of loading files off a disc.
By default Slax comes with KDE 3.5.10, not the latest KDE 4 and there is no official KDE4 module available. However there this doesn't prevent you from doing much. While the interface is a couple of years old, and not as graphically rich as some of the newer distros, the OS is, as a result, fast and light on resources. Slax will run appreciably even on system over 5 years old with as little as 256MB RAM. With even 512B RAM you should be able to run Slax directly from RAM.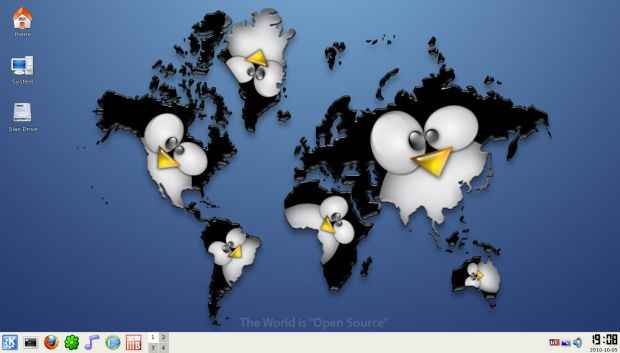 The package selection of the default Slax is minimal, but has enough applications to let you do basic work. Slax includes Firefox or Konqueror for web browsing, Kopete for IM, KPlayer for multimedia playback, Juk for audio playback, K3b for burning discs, and KOffice for working with document, spreadsheets and presentations. Slax includes Samba, so it should work well with Windows networks.
Slax comes with full support for popular proprietary multimedia formats, and includes Flash Player (albeit an older version) by default. So websites such as YouTube, and Vimeo will work as expected, and you will be able to download / stream music and listen to it. If you prefer you can install VLC or some other media player on it though. By installing codec packs available as modules you can further expand it's multimedia capabilities.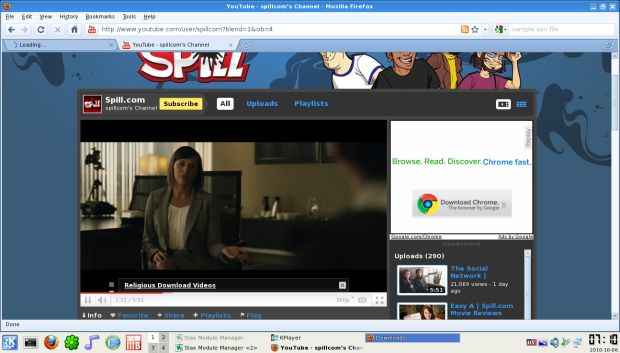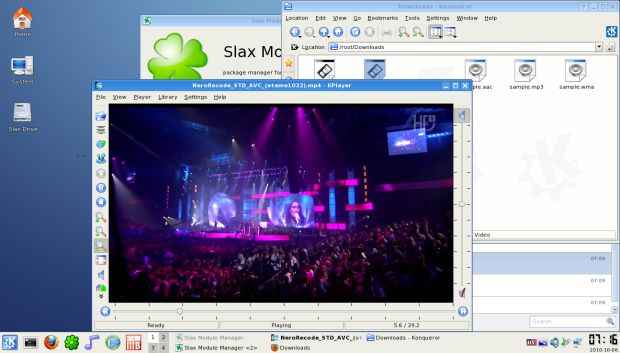 Thanks to its minimal package selection, the whole distribution is a mere 200MB, which leaves you with nearly half a GB of additional storage capacity on a CD to add packages of your choice, and much more if you plan to use it off a pendrive.
Slax is meant to be used as a live OS, and it is for this reason that it supports no mechanism of installation to your hard drive. While it is certainly possible to do so using tools such as UNetbootin, there is no official support for such a scenario.
If you are looking specifically for a distro to use as a live OS, look no further. Slax is the perfect OS to carry around in your pocket. Despite its small size, it packs quite a punch and even the default installation should be sufficient for surfing the internet, playing back media, and working on documents. It's modularity and design make it secure from damage by the user, despite running on the root account, and make it possible for you to download a customized version of the distro straight from the website. It has one of the simplest mechanisms for installing removing applications. We would hightly recommend Slax as a live disto for all users. If you can get over the dated interface, this distros will impress you with its stability and power.
| | | |
| --- | --- | --- |
| | | |
| Slax Booting | KDE starting on Slax | The KDE 3.5 control center in Slax |
| | |
| --- | --- |
| | |
| Browsing the system | Changing desktop settings |