Redmi 4 3GB detailed review
Over the past weekend, Xiaomi announced that it had sold 4 million units of the Redmi 3s smartphone, making it the most sold smartphone online. So, obviously it is time to one up the device. The Xiaomi Redmi 4 is the successor to that device, bringing slightly higher specifications and almost the same overall composition. One wonders when Xiaomi's practice of making minor tweaks to old products will become stale, but smart money must be on innovation soon.
To its credit, Xiaomi has at least showcased products like the Mi Mix (review), but its mass market devices have unfortunately failed to really break industry barriers in recent history. The Xiaomi Redmi 4 review basically had us take an old phone with new internals out for a spin. Is the iterative approach disappointing? This reviewer thinks so, but questioning company strategies isn't really what we do in a review. So, here's how the Xiaomi Redmi 4 fares.
Build and Design
As with its predecessor, the Redmi 3s is indeed one of the most compact phones in the market today. It bring the same metallic chassis as on the Redmi Note 4, meaning it feels harder and sturdier. The primary change here is in the fact that the Redmi 4 has a flatter design language than the 3s, which had a sort of rounded body. The edges are sharper here, with the front and back forming a ridge on the front edges. The rear edges are still rounded though and ergonomics are beyond question whatsoever.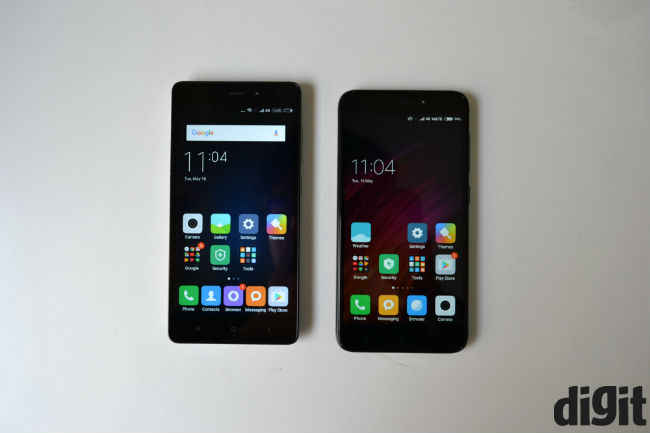 Xiaomi Redmi 4 (Left) and Xiaomi Redmi 3s (Right)
As before, there's a fingerprint scanner on the back, a symmetric camera module above it, and a flash next to the camera sensor. You'll find a headphone jack on top and the micro-USB charger at the bottom. The hybrid SIM slot lies on the side.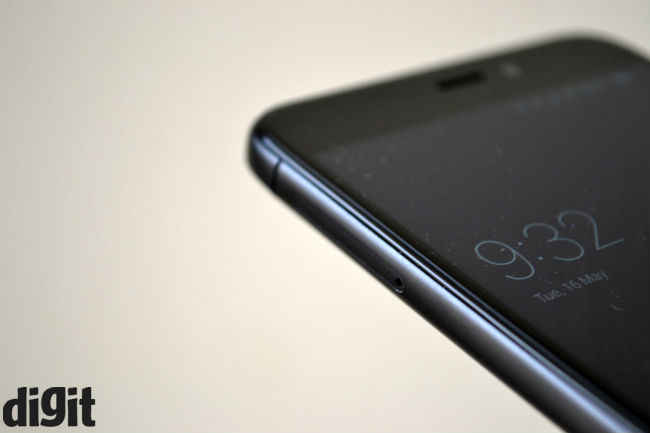 From a build and design point of view, this is almost literally the same chassis as last time, with nothing that I haven't spoken of in the Redmi 3s review. It's compact, it's light and it's meant for those who want phones meant for single handed usage. I really wish Xiaomi would make one of these in its Mi range, with more power and storage.
Display
Moving on to the next iterative element - the display. You get the pleasantly oversaturated colour tones we've come to associate with Xiaomi displays here, with deep blacks and very high contrast ratio for a budget device. It's a 720p panel, which makes for about 294 ppi pixel density, an accepted norm in the sub-10k range. Would an FHD panel be possible? Well, perhaps. But it wouldn't have made much of a difference here.
At the time of writing this, I didn't have the pricing for the Xiaomi Redmi 4, but this display could give even phones price at 15k a run for their money, so I'm not complaining.
UI
When it first started, Xiaomi's MiUI used to be a big part of its value play. However, that seems to have fizzled out with time. The Redmi 4, much like most other Xiaomi phones, runs on Android Marshmallow, which is a two-year-old OS now. It may be the accepted norm in the industry, but not one that we should let pass just like that. You get MiUI 8, but personally speaking, I would be wary of a phone running Marshmallow in 2017. I know it makes for most phones in the market, but consumer awareness really is the only way to change that.
Moreover, this is the second time I've scene a Xiaomi phone ask for contacts access on the Gallery app (the first being the Redmi Note 4). Xiaomi told me it was a bug the last time, but it seems like a bug that still needs fixing.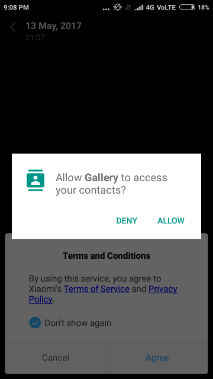 Performance
The Snapdragon 430 and 435 are almost literally the same chipsets, with the only major change being the employment of Qualcomm's Snapdragon X9 LTE modem on the new one. That gives you theoretically gives you faster data speeds, theoretically. But in terms of pure performance speeds, there's little that you'll see.
I would love to tell you that the Redmi 4 connects faster with data connections, but I tried this on Airtel, Vodafone and Reliance Jio's LTE networks and it seems to offer nothing wondrous over its predecessors. To be clear, that doesn't meant data speeds are bad, just that you're not looking at a big real world difference. What I mean is, moving from Cat 4 (on Snapdragon 430) to Cat 13 (on Snapdragon 435) speeds is still a good move, if not a viable reason to upgrade right now.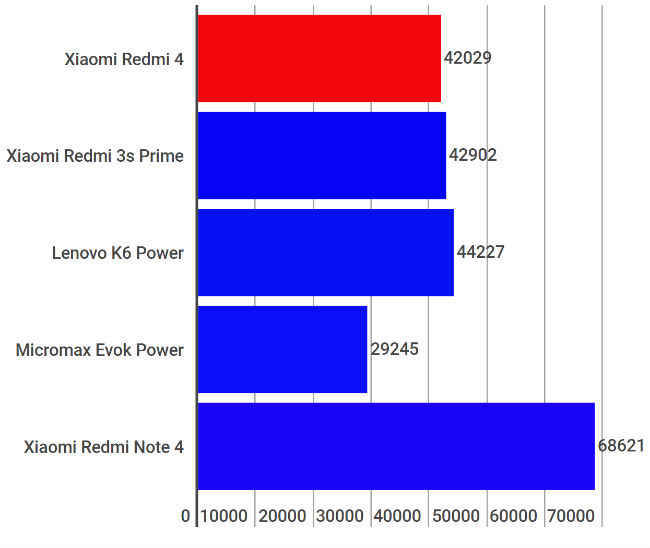 AnTuTu Benchmark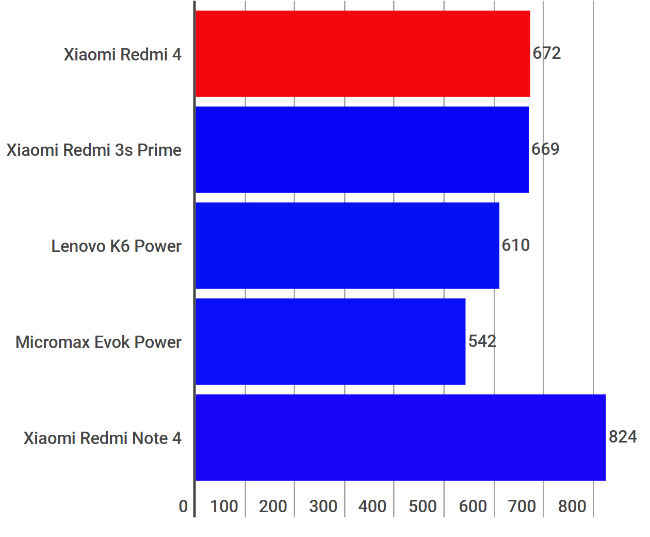 Geekbench 4 Single Core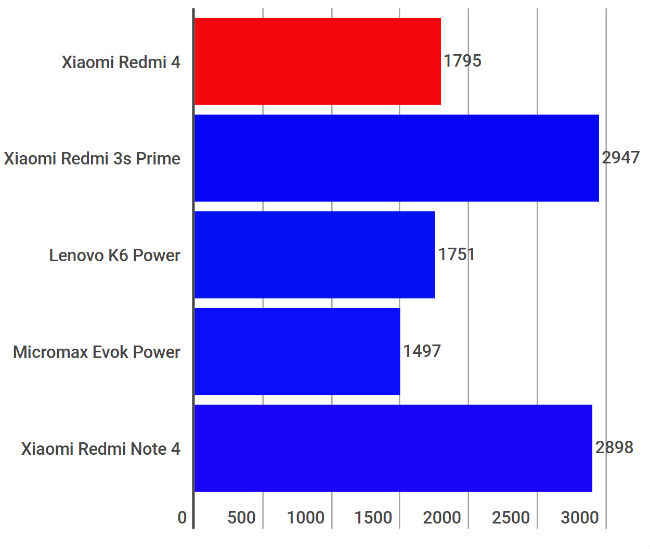 Geekbench 4 Multi Core
In terms of raw power, graphics capabilities and regular usage, you're looking at the same smooth flowing device we've come to expect from Xiaomi. Apps like Facebook can make you wait a second, while games like Injustice: Gods Among Us and Asphalt 8 will play with hard to notice frame skips. However, that's expected in the budget range still. Perhaps we can expect this small difference to fade away next year. After all, we've come this far.
I doubt you're looking to upgrade to this from a Redmi 3s/3S Prime, but it's still my duty to tell you this is no upgrade. On the other hand, the Redmi 4 would be the ideal choice for budget phone buyers considering new devices. Xiaomi will be selling this in 16/32GB variants, so I recommend buying 32GB as usual. 16GB smartphones just do not last, and shouldn't be purchased in this day and age, unless they cost you less than Rs. 6000.
Camera
If there's one good news about the Redmi 4, it's that Xiaomi is back to its impressive camera algorithms. The Redmi 4 is a marked improvement over what we've been seeing from the company, especially in the budget range. The camera is fast and quite dependable, when shooting those sudden shots.
Overall, in well lit conditions, the Redmi 4 will give you some strikingly good shots for a budget camera. I don't expect much low light prowess from a budget camera, and the Redmi 4 doesn't surprise there. It's achilles heel is in low dynamic range, which reduces details in shadows and limits the range of colours it can produce. I would still put this atop budget camera phones today, though.
The Redmi 4 produces good saturation levels in well lit conditions, allowing you to play around with filters without the risk of ruining them. Overall, it's a good camera for the budget range and a step up from what Xiaomi has been producing lately.
Note: We have seen big differences in Xiaomi cameras (on many of its phones) between review models and retail models before. So, it is still possible that the camera quality you get may differ. Images in the gallery above are the ones clicked from our review unit. If you see major differences, it would be a good idea to speak to the company's customer service.
Battery
It's possible that the new SoC is a tad more power hungry than the Snapdragon 430. I found a slight drop in battery life in the Redmi 4, compared to the Redmi 3s Prime. The PC Mark test takes 15 hours and 4 minutes to bring the battery down from 80% to 20%. It's not a big enough drop to complain about, but it's a drop nevertheless. The Redmi 3s Prime would last about an hour more than this.
Overall, the phone will still last you a full day, from morning to night. It's not meant for very heavy usage, but if you are playing games on this, you'll still get by a full day on a single charge. I was able to stream two hours of continuous HD video with the battery on 40%, and 9% battery lasts you a whole night if kept idle. It drops about 1% battery per 15 minutes of GPS navigation.
Bottomline
The highlight of the Redmi 4 is its camera, which is a welcome return to the Xiaomi of yore. After sub-par cameras on the Redmi Note 4 (review), Redmi 3s Prime and more, this is finally a camera we expect from the company. As far as budget smartphones are concerned, the Redmi 4 is not much of an upgrade for existing Redmi 3s/3s Prime users. However, if you are somehow on a Redmi 1s (review) still, this is the phone to upgrade to (not the Redmi 4A). For now, it is the best budget smartphone to buy, even if it is an iterative device with nothing all that new about it. If Xiaomi prices this the same as the Redmi 3s/3s Prime, it's a winning device like the last one.