Xiaomi Mi Mix detailed review
When Iron Man recruits Spidey in the movie Captain America: Civil War, he shows him clips of himself on what seems like a phone that's all screen. That's science fiction in 2016. Whereas, the Communicator shown in Star Trek, shown before many of us were born, however, resembles the modern smartphone closely. We don't have either of these devices in real life, but we're getting there, and the Xiaomi Mi Mix is amongst the smartphones that lead the charge.
Sure, the Mi Mix isn't the first phone of its kind. Sharp did this, with the Aquos Crystal. But to its credit, Xiaomi has taken things a step further. Sharp used a thick chin to fit the proximity sensor, eliminating only the earpiece. On the Mi Mix, the chin is as small as possible, housing only the front camera. This makes the phone feel like it's all screen, and that's exactly the idea. But does all this work?
Call Quality
Sharp used a technology called the Direct Wave Condenser for calls on the Aquos Crystal. In this, the entire display vibrated sound directly into your ears. On the plus side, this meant you could place your ear anywhere on the screen, but later reviews said that the actual call quality wasn't great.
Xiaomi has used (what it calls) the Peizoelectric Ceramic Actuator, which in theory is meant to convert electrical energy into mechanical energy. So, the basic principle seems to be similar, if not the same. In practice, I faced no issues with voice quality and received no complaints from people on the other end of my calls, either.
It feels like the sound is coming from somewhere below the display, but that didn't affect quality per se, even in the noisiest of conditions. Slightly higher volume in calls may have been better, but for the most part the Mi Mix is loud enough and there's no sound leakage.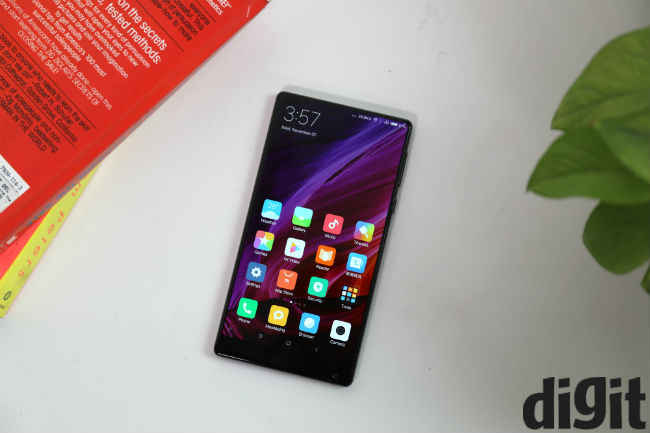 The earpiece is inside the phone, and works from within
Proximity Sensor
I cannot say the same about the proximity sensor, though. Instead of an actual sensor, Xiaomi uses ultrasound software to determine proximity. So, the phone tries to determine algorithmically, when the display needs to switch off while you're on call.
In practice, this didn't really work well. I have, on multiple occasions, opened unwanted apps while on call, or turned on the loudspeaker without wanting to.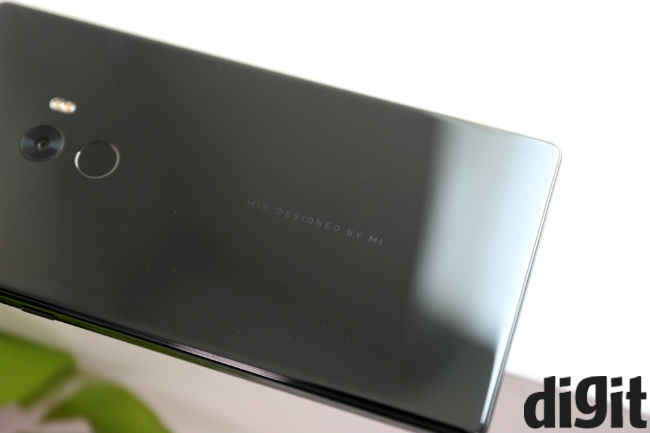 The light reflects off the ceramic to make it feel even more premium
Build and Design
The design language on the Mi Mix is a double-edged sword. I can poke holes at almost every aspect, yet I like it. Starting with the negatives, the ceramic and glass construction means the first time you drop this phone is most likely the last time you'll use it.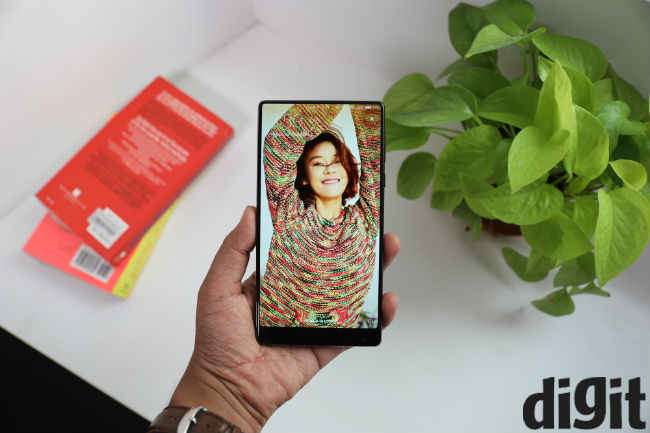 The phone feels like it's all screen
To be fair, the glass-like feel of the ceramic body makes it feel more fragile than it is. In theory, ceramic is quite strong, but the real trade-off is in the bezel-less display, which leaves it really prone to impact. In addition, ceramic materials can break pretty easily when dropped on their corners, and while I haven't dropped the Mi Mix, it's edges and corners may well be its weakest links.
Moreover, the ceramic body is incredibly slippery and prone to fingerprints. I struggle to pick it up off a desk even after using it as my primary phone for a week now. It's also big and heavy. In fact, at 209 grams, the Mi Mix is one of the heaviest smartphones today, and its large form factor makes it even more unwieldy.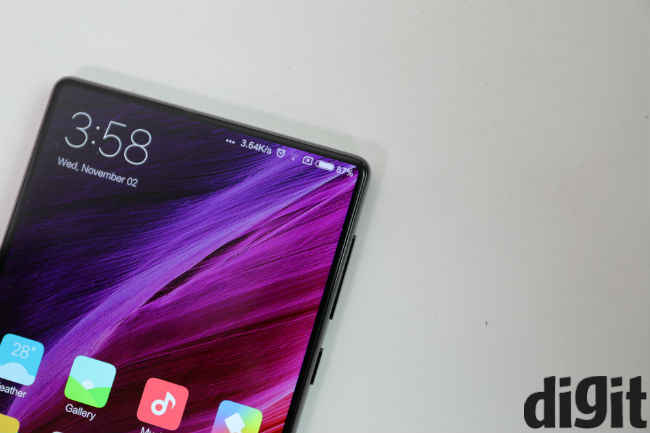 The display curves ever so slightly around the corners
The front camera is on the thin chin, below the display
All of the above is probably why Xiaomi calls this a concept device. There's still work to be done to make a device like this available to the mass market.
That said, you can't deny that the Mi Mix looks good. Virtually absent bezels make the display feel like it's floating. The light shines off the ceramic in a way that can give any phone a run for its money. It doesn't just photograph well, it turns heads when you're using it in public.
Eliminating the bezels has allowed Xiaomi to make a phone that is as large as the iPhone 7 Plus, but with a display that is a full-inch larger. That's the whole point with its 91.3% screen-to-body ratio. The Xiaomi Mi Mix gives me hope that phones can be compact yet, and I truly hope Xiaomi can make one of these in the 4.7-5-inch range.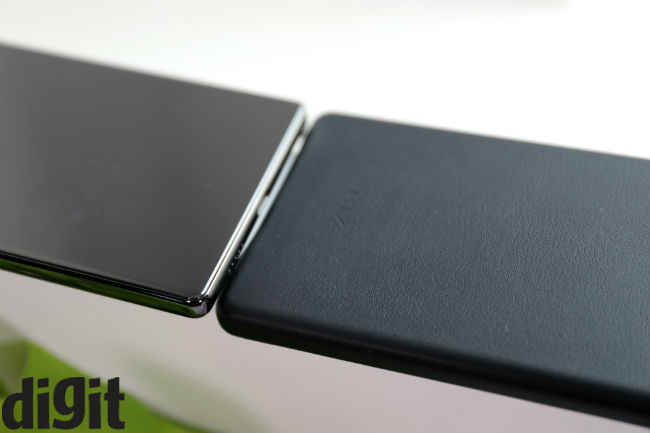 You will need a the in-box soft leather case to avoid this phone from slipping out of your hands
Display
The display is almost never the hero of a device, except in the case of the Mi Mix. You may question the company for not opting for a QHD display for this one, but having used it, I vouch for the choice. The 1080p panel saves battery, puts less load on the GPU when running games and heavy apps, reduces costs and hence the price, and still manages to offer a good viewing experience with a 362ppi screen.
The Mi Mix achieves a maximum luminance of 783 Lux, which is only 2% less than the Pixel XL. It's dangerously close to our ideal luminance ratings of 810 Lux. Colours on the display are punchy and pleasantly oversaturated. The Mi Mix is pleasant to look at, and given that it's basically all screen, bright colours draw attention to the device.
Theoretically, 362ppi pixel density is not flagship-class in the current market, but it looks and feels just as good as the best. Where the Mi Mix fails miserably, as do all other Android phones, is in automatically adjusting brightness to the ambient light. I've often found the phone too dim in well lit conditions, or too bright in darkness.
Overall, the Mi Mix's display is droolworthy. It's sharp, feels as premium as a Corning Gorilla Glass 4 covered display, and doesn't miss a single touch. It's a natural evolution from what Sharp provided on the Aquos Crystal. Incidentally, Sharp is the company that supplies the display used on this smartphone.
The aspect ratio on the Mi Mix's display is 16:9, like most other smartphones, but if you choose to use MiUI's Quick Ball feature, you get a 17:9 screen. I wouldn't recommend this, though. This is because most of your content is anyway in the 16:9 format, and a black bar appears in place of the on-screen buttons when watching movies and videos.
Performance
Concept phones generally don't perform very well, but with a fully clocked Snapdragon 821 SoC, Xiaomi's goal is to cater to its geeky fan base in every way possible. The SoC is only about 10% more powerful than the Snapdragon 820, but Xiaomi's MiUI seems pretty well optimised here.
In regular usage, the Mi Mix achieved Google Pixel-like smoothness, which is the best I can say for an Android phone today. It doesn't skip a beat when launching apps, and takes a second or so only when opening heavy games, like Injustice: Gods Among Us or Asphalt 8. I haven't used a Xiaomi device this smooth since the Xiaomi Mi 3, which was the phone that put Xiaomi on our radar. Interestingly, all this is achieved even though the Mi Mix's processor never really reaches its 2.35GHz clock speed.
Xiaomi's decision to fit a FHD display on this phone pays off, driving up frame rates during games as well. It can render 720p graphics at 60fps, but drops the frames to between 20-30 fps on 1080p. It is possible to get the Mi Mix to lag, but it takes some doing.
The Snapdragon 821 can reach high temperatures when really tested, as it did on the Pixel XL. Over 15 minutes of heavy gaming, the phone reached 42.3 degrees celsius, while 4K video drove the temperature higher, to 45.5 degrees. Alternatively, a game like Score: Hero doesn't rattle Mi Mix, at least in the current conditions in Delhi (outside temperature: 20 degrees). The Mi Mix starts throttling near the 39-40 degree mark, and can cap the processor to 1-1.2GHz, as shown in the graphs below.

Before throttling (Blue lines represent clock speed)
After throttling, with temperature at around 43 degrees
Camera
The weakest link of this smartphone, like most Xiaomi phones this year, is its camera. The 16MP Omnivision OV-16880 sensor has 1 micron pixel size, and combined with Xiaomi's camera algorithms, it doesn't do very well. It's not a flagship class camera at all, and is pretty much meant for the casual shooters.
Xiaomi Mi MIX Camera Samples
While low light photography suffers from a lot of noise and lack of details, the same also appears on most other conditions. You don't buy this phone for its camera. Period.
Battery
For all its uniqueness, I love the Xiaomi Mi Mix for the traditional favourites: performance and battery. I explained how fast and zippy it is, and that comes with really good battery life. Over a full 24 hours, with about half an hour of gaming, about ten odd calls, lots of social networking, IMs and even 40 minutes of video streaming, I was left with 13% battery at the end of the day. That, in my book, is really good battery life in today's market. It actually makes the Xiaomi Mi Mix one of the longest lasting smartphones today. Its 4400 mAh battery lasted me longer than a Google Pixel XL, iPhone 7 Plus or Samsung Galaxy S7 Edge.
Bottomline
It's a concept phone, sold in limited quantities, and only in China. So, I can't quite tell you to buy the Xiaomi Mi Mix. However, if the company had brought it to market, I would definitely recommend it. The Mi Mix isn't perfect, but it makes two big statements: that smartphones in future will indeed be all screen, and secondly, even the most innovative phones don't need to be expensive.
The Mi Mix costs a mere 3499 Yuan, which translates to about Rs. 35,000. So, it's essentially a phone that feels more premium than a Google Pixel XL, is just as fast, but is priced nearer to the OnePlus 3. While it isn't comparable to the best flagships in all aspects, it's a glimpse at where the competition is going to be in future.