Vivo V7 Plus detailed review
In the beginning of the year, dual cameras were a craze and after the Samsung Galaxy S8 and LG G6 came into the picture, the edge-to-edge display became a feature to have. While we have already seen phones like the LG Q6 and the Micromax Canvas Infinity bringing that technology to the mass market categories, Vivo is putting its own twist into the mix. Meet the new Vivo V7+, which is Vivo's first phone to feature the new 18:9 aspect ratio display in addition to the 24MP front facing camera. Being a Vivo phone, the selfie feature was a given, but the phone also has a DAC inside for audio lovers. So, to find out whether the Vivo V7+ can live up to Vivo's motto of "camera and music", we took the phone through its paces in our review.
Selfie camera
We don't know about you, but we are a little weary of all the selfie phones Vivo has to offer. That being said, it seems consumers are unhappy with the quality of their selfies and that they are more than likely to be the primary buying factor. Hence, the 24MP front facing camera on the Vivo V7+ seemed to be fit for the job. We took multiple selfies in various light conditions and observed that while the front facing camera lives up to its megapixel count, it is just decent. Images in natural lighting conditions or come out to be good with decent details and almost true to source colour. However, as soon as you move indoors or in dim lighting, images tend to be noisy. Now, we can do some nitpicking here about the overall quality, but the fact of the matter is that the selfies you will achieve with this camera will be usable on social media, which is often all you need from selfies.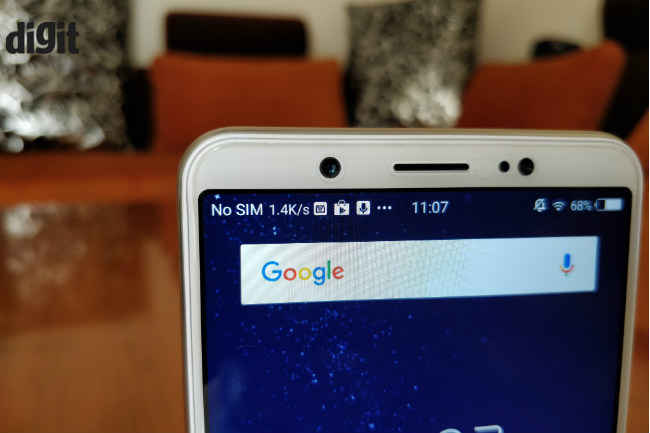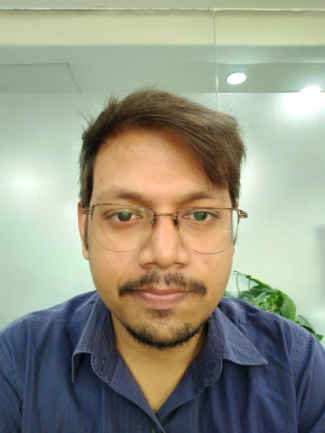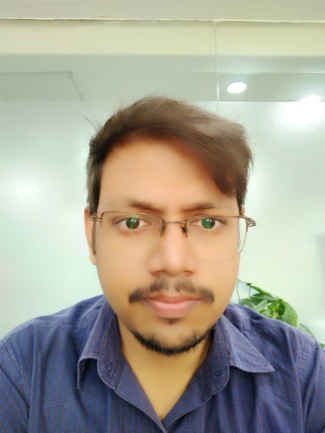 (L-R) - Normal mode, Beauty mode
The phone features a front facing flash as well, which Vivo says allows you to take "moonlight selfies". However, besides blinding you and taking an overexposed image most of the times, there is nothing new here, we would recommend against using it as long as possible.
You still get softer focus as default to undermine those skin blemishes, but it does not make you look as artificial as some others. Although, if you want, you can do that too by tweaking the toggles on the beauty mode. You can also click a wide selfie with the phone and the phone uses the panorama method to take this image. These images only look good when your subjects maintain their expression through the process, otherwise you end up with a rather funny image.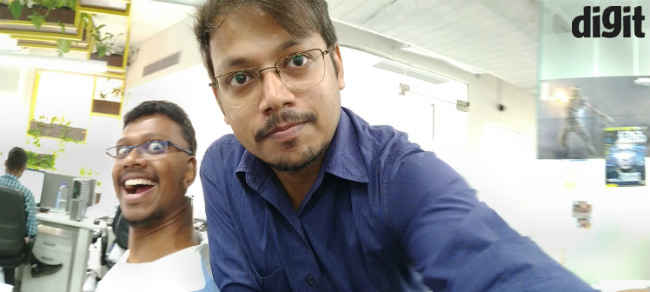 Group Selfie
Rear camera
The 16MP rear camera on the other hand is better than the front camera. It is not a huge leap in terms of what we usually get in this segment, but it serves its purpose well. Images taken in ideal daylight conditions come out to be good with rich colours and you won't find the minor lack of details unless you're pixel peeping.Images however start getting grainy as soon as you move indoors or anywhere with improper lighting. Image details, however, remain intact and images themselves are fairly usable. It does take the camera an extra moment to capture photos at night, which is not really an issue at its price and considering the quality, in our opinion.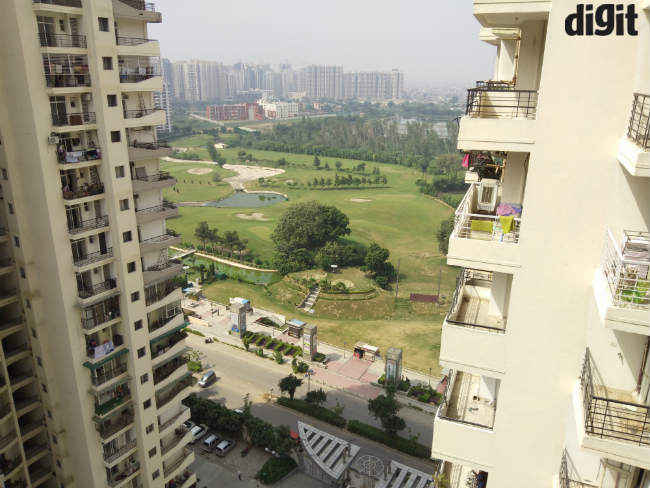 The other good thing about the rear camera is that the separation of the foreground and background seems slightly superior compared to its peers.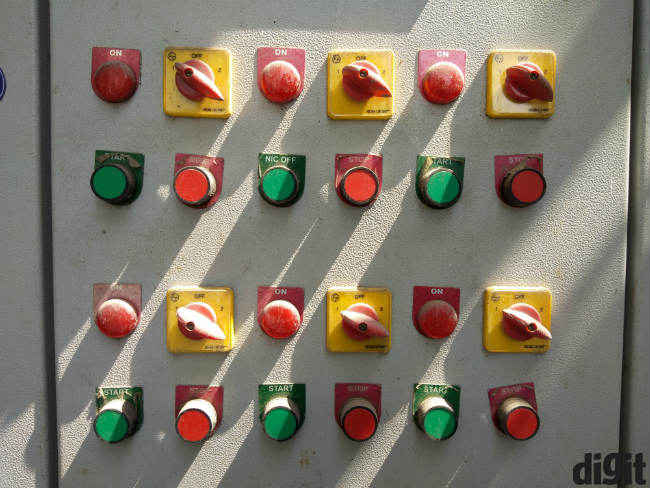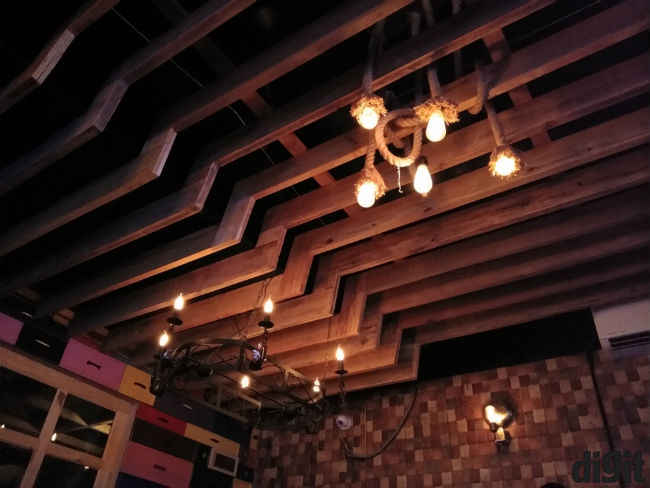 You also get tons of filters, face beauty mode for the rear camera, an ULTRA HD mode that stitches multiple image captures to produce a 64MP image, but doesn't really look much better, and a professional mode. You also get a 'Live' mode similar to the one we have seen on the iPhone, which takes a 3 second video of the subject alongside the image, but otherwise does not add much value. Although, you might like the feature for making gifs.
Build and Design
All these images are presented on a large 5.99-inch IPS LCD display, which comes in a 18:9 aspect ratio. As you may have noticed from the TV adverts and the images in this review, the phone does have thinner bezels and higher screen-to-body ratio. However, even with the thinner bezels and a relatively slim design, the Vivo V7+ is not much more ergonomic than a 5.5-inch device. That being said, the display certainly plays a major part in the looks of the phone and while it does not make it intriguing, it is certainly interesting to watch video on such a display.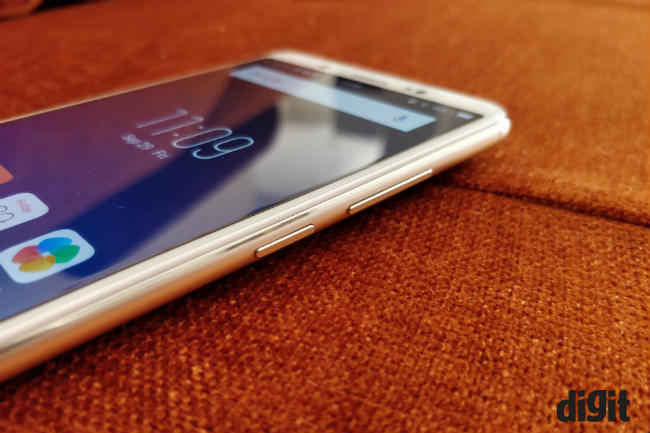 The screen is wrapped in an all metal unibody shell that looks and feels quite premium and is lightweight as well. Vivo has done a good job of integrating the antenna lines with the metal body, although it looks quite similar to the six string antenna lines we saw on the Oppo F3 Plus. The two physical keys on the right are tactile and have good feedback. However, the buttons as well as the fingerprint scanner are a little higher up, which means one might have to shuffle the phone in hand to reach them. So, it is most certainly a two handed device, which is well designed and features good build quality. I would also like to add here that the phone misses out on a USB Type-C port and has a slight camera bump, which does not look good.
Display and UI
As we mentioned earlier, one of the key USPs of the phone is its display and it is an extremely good one at that. Even with lower resolution, Vivo has managed to make the display look good, so once you get over the fact that you can't view 1080p content on this display, it is not bad. Colour reproduction is decent, as is the touch response. What seems quite impressive though is how auto-brightness on this display works. It is not super fast, but it calibrates the brightness just right, somewhat like an iPhone. The display is quite bright as well, our luminance meter touched almost 700 lux on the Vivo V7+ display, which is in the flagship territory.
What is a bummer though, is Android is not yet mature enough to solve the app scalability issue with 18:9 aspect ratio. Hence, almost older apps have black pillars in full screen, which breaks the purpose of this elegant display.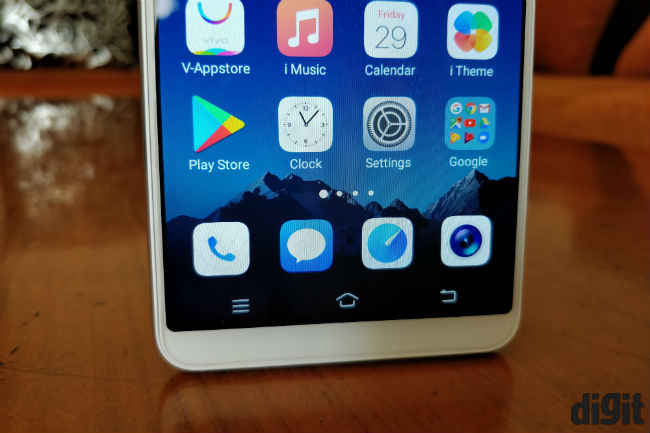 As for the UI, it is business as usual and by usual we mean, iOS inspired. We have called Vivo out earlier for making an identical looking UIs to iOS, but it seems FunTouch OS won't be changing anytime soon. Vivo has tried to make the UI look as identical as possible and has even gone to the effort of hiding essential message settings in the main setting menu, instead of the app itself. The quick toggle menu is a swipe up from the bottom and if you give a closer look at the icons, they appear to be pretty much the same.
All that said, everything remains very functional and is easy to use. Using a Vivo phone comes with a small learning curve, but once you are through that, it is as easy to use as any other device. We are not going to go into the app duplication bit and the theme manager and the V-appstore, as that is something that has been carried forward for a long time now.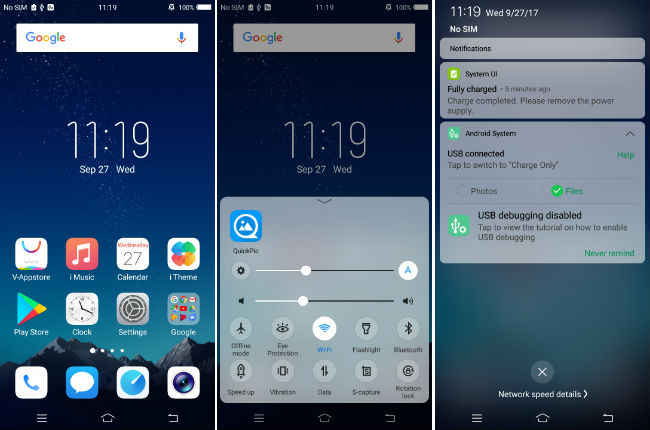 On the security front, the rear mounted fingerprint scanner is fast enough and for that extra something, you also get face recognition. While the fingerprint scanner works as intended, face recognition works with the display on and does not work properly in low light situations. Vivo does mention that this method is not very secure and can be fooled. However, in our testing the device didn't unlock with a picture.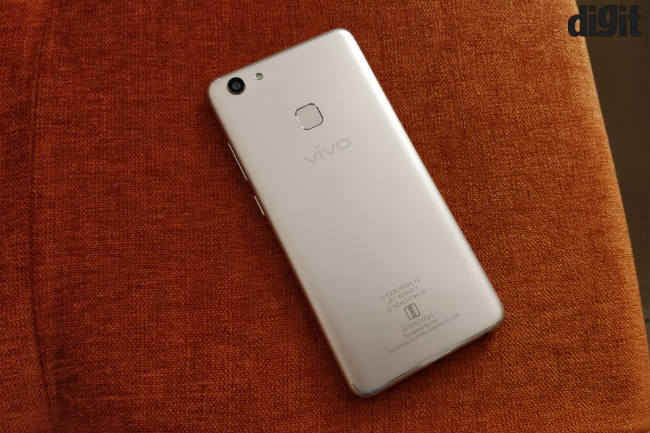 Performance
While the camera does a decent job and we have just minor complaints about the design, the performance something which we are not very happy about. Vivo has employed a relatively new Qualcomm Snapdragon 450 SoC for the task. While this chip is as powerful as the Snapdragon 625 in benchmarks, it feels slightly less 'snappy' compared to the latter. Using the phone for more than week, we saw slight lag in animations more often than expected, making it noteworthy. The phone, however has 4GB of RAM, and manages all kinds of tasks reasonably. It is certainly not the fastest while switching between apps, but if you are not counting time on a stop-clock, it is not a deal breaker either.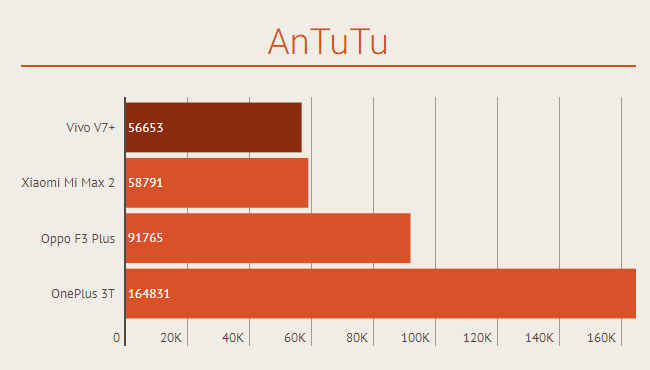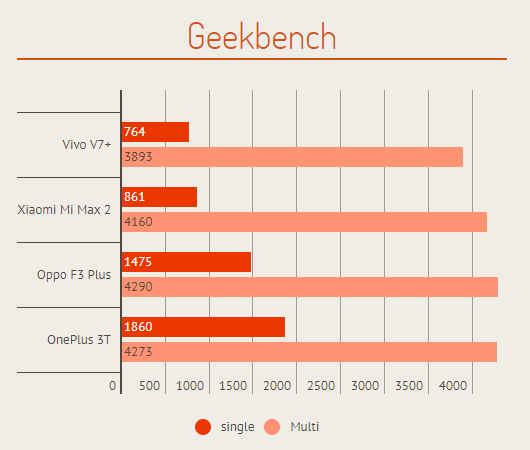 Gaming on the phone is not bad either and games like Vainglory do take advantage of the extra screen space, offering better view of the game and your characters. We did not find any major issues with gaming on the device, apart from some occasional lagging. Game load times are certainly a bit slower, but you'll probably not care about it.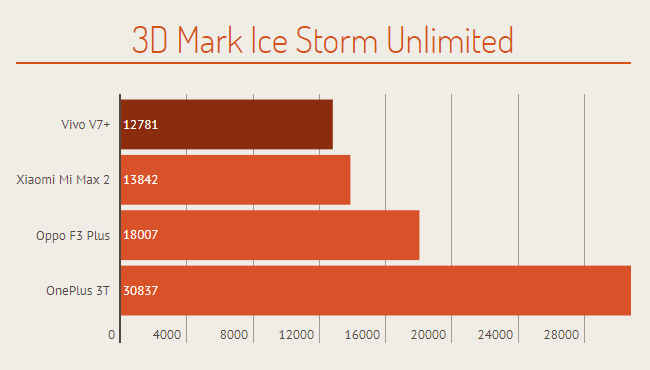 Call quality on either end is quite good. However, we did observe call drops a lot more than usual while using this phone. We also observed loss of total connectivity in underground parkings and other secluded areas, where other test phones have worked in the past.
Lastly, we need to address the audio quality on this phone, which is indeed best in it class. Vivo has employed a (AK4376A) Hi-Fi audio chip, which makes the sound output via headphones much better than usual. The phone truly excels if you have a high fidelity audio on your phone and a good pair of headphones.
Battery life
While performance is not the Snapdragon's 450's strongest suit, the chip is not very power hungry. Powering a 5.99-inch display and taking care of all the apps we threw at it, the phone survived through the day easily. Gaming and camera do burn the battery quickly, but not at a very alarming rate. In our battery test, the phone scored 6 hours and 33 minutes, is expected from a relatively smaller (by today's standards) 3225 mAh battery. The phone also supports fast charging and Vivo bundles a fast charger with the device. Although, it is not as fast as a OnePlus or even Samsung's A series devices.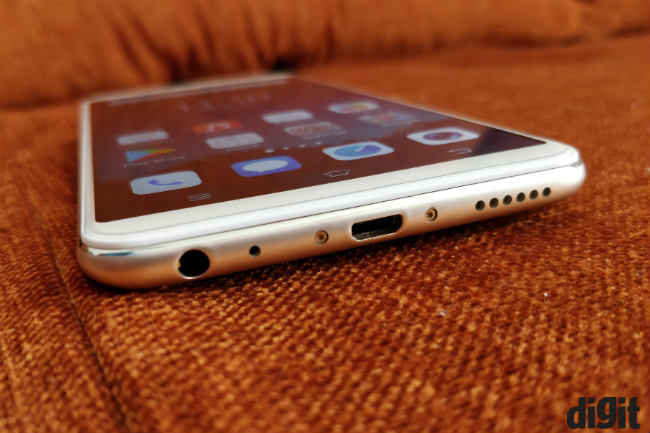 Bottomline
The Vivo V7+ is a decent phone, but at an asking price of Rs 21,990, it is not something we would recommend. The front facing camera is good, but could have been better and the same can be said about the rear camera. We do like the large display and battery life is reasonable, but it would have been a more compelling device if it had better performance as well.
How it compares
Is it the best selfie phone in the market? Well, no. If you compare selfie-to-selfie, the older Oppo F3 Plus beats the Vivo 7+ squarely. The Vivo V7+ does take better selfie than the Asus Zenfone 4 Selfie Pro, which gives it an edge. However, we'd still recommend an Oppo F3 or F3 Plus, depending on your budget.
As for the overall performance, the Xiaomi Mi Max 2 is a better phone than this. If you can raise your budget by around 4K, you will have the Oppo F3 Plus and the OnePlus 3T as option.